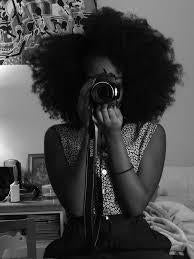 It was January 2015, and almost everyone I knew was either talking about it or doing it. That is, transitioning to natural hair. As a black woman, I have always been used to relaxing my hair, to make it somewhat easy to braid, twist or weave into elaborate hairstyles. So, the concept of having natural hair was one that not only bemused me, but was also a little scary. But the main emotion I felt, more than trepidation and more than fear, was curiosity.
One day in January, I took no more than a pair of scissors while standing in front of the mirror. Within a few minutes, I had cut of most of my relaxed ends and was left with a short buzz cut. I felt a mix of emotions. My scalp felt a lot lighter which in itself was liberating. But I also felt a bit sad. As a black girl, growing long hair takes time and effort and my relaxed hair was about shoulder length. By cutting it off, I had rubbed out years and years of effort!!
But hey, here I was with a badly cut buzz cut so I knew I had to make the most of this. I immediately delved into the crazy world of natural hair, watching endless YouTube videos and having long discussions with friends who were natural. And, like any true Naturalista, I bought a small arsenal of natural hair products as well. In the first year, I played a lot with my hair, from rubbing yogurt and banana mixtures (pre-pooing), to Bantu knots and twists. It was all fun at first, but I realized that no matter what products I rubbed on or how tightly my twists were, my hair never looked like other girls. That is, Instagram girls. I never got those big defined shiny curls as you see on Instagram.
Over the course of the next few months, I learned that my hair type was 4C. Yes, I know, there are MANY, many types of natural hair. 4C is probably the most resilient type of natural hair. With learning about this, I began to appreciate natural hair for what it is; My OWN hair. I realized that I have to use products and do hairstyles that are good for me and that suits this hair type I have.
The most important thing that I have learned on this journey is that natural hair is all about self-love. It's not about copying Instagram photos or getting a particular look. It's about loving your own hair and embracing its uniqueness.
Calling all HuffPost superfans!
Sign up for membership to become a founding member and help shape HuffPost's next chapter