"Have a doughnut and coffee for breakfast, never worry about the weather, never open a window in summer and winter, and you will live to a ripe old age." These secrets of longevity were shared by 98-year-old George Sheldon, farmer and esteemed historian who resided in Deerfield in the 1800s. Mr. Sheldon is credited with preserving and documenting so much about early colonial life in the Pioneer Valley of Massachusetts, that Deerfield is considered by many to be the most documented small town in America.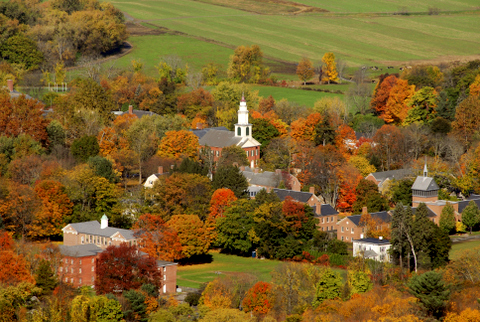 Deerfield in Fall courtesy of Deerfield Inn
It is rumored that Mr. Sheldon attended every funeral in town and asked family members to donate any diaries, papers and journals they came across when cleaning out the homestead. His passion for preservation led to the establishment of Historic Deerfield, a beautiful Main Street village frozen-in-time in 18th century America. We've journeyed two hours west of Boston to Historic Deerfield for a relaxing mid-summer getaway and to peer into the lives and challenges of early settlers in this bucolic valley.
Entering Main Street, Deerfield is like stepping into a picture postcard. Leafy arches stretch across the road in welcome, while colonial and federalist homes stand proudly as they have for two centuries. Every building on Main Street is owned by Historic Deerfield or by Deerfield Academy, a private school established here in 1797.

Main Street, Historic Deerfield, WickedGoodTravelTips.com
But despite its peaceful elegance today, life has been anything but serene for the residents of Deerfield. A brutal attack in 1704 by French and Indian raiders saw 112 villagers kidnapped and force-marched to Canada. Several years later they were ransomed and most gratefully returned to the village, but some stayed behind and chose to live with the Mohawk Indian Tribe. Through the 1700 & 1800s, life revolved around farming, raising cattle to be shipped to Boston, fine furniture-making and maintaining a militia to protect the village and to join the next war... French and Indian, American Revolution, Civil War, etc.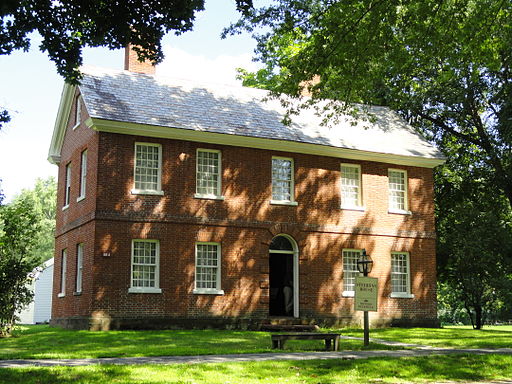 Stebbins House Deerfield, Wikimedia
By the 1800s prosperity had come to the valley as is evidenced by the gracious Federalist homes with lovely fanned doorways that joined the timbered colonial homes. We felt as if we were time-traveling as we visited fully furnished homes and heard tales of the families living here, from the birds-eye blue Wells-Thorn House circa 1724, to the elegant Williams House as it appeared in 1817. In addition to the homes, there are wonderful museums with collections of furnishings, crafts, clothing and implements that will fascinate everyone interested in antiquities and history. The Memorial Hall Museum is a particular delight, as it houses personal items, donated by the residents of Deerfield, making it "The Peoples'" museum. The current exhibit ,"When Women Ruled: The Deerfield Arts and Craft Movement 1899 - 1950, is well worth seeing.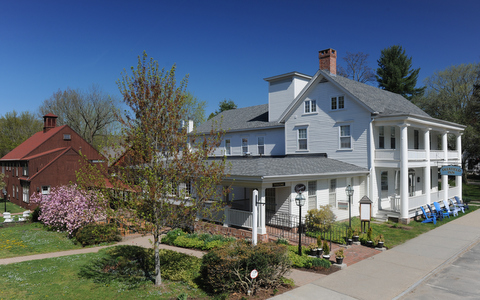 Deerfield Inn Courtesy of Deerfield Inn
During our visit we stayed at the Deerfield Inn, a stately white clapboard Bed and Breakfast inn that stands half way down Main Street and directly across from the Visitor's Center. Established in 1884, the Inn is handsomely decorated with period pieces and has been offering a warm greeting, large comfortable rooms and good food to travelers for over one hundred years. The staff is clearly happy to be working at the inn and it is obvious that this historic gathering spot is well loved by staff and guests alike.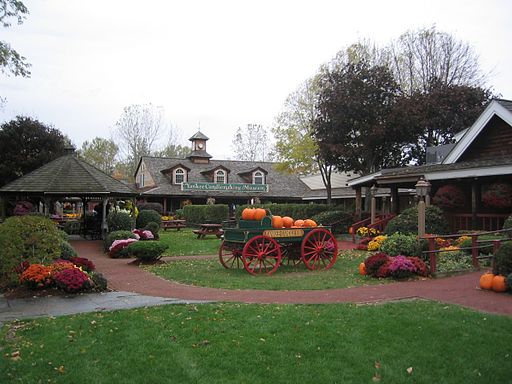 Yankee Candle Flagship Store, Wikimedia
When you're ready to emerge into the 21st century again, there are plenty of attractions nearby to entertain. Our personal favorite was a visit to Yankee Candle Village, the flagship store for Yankee Candle. This shopping adventure takes you way past candles to every kitchen gizmo and decorative accessory you can imagine. Other local favorites include Richardson's Candy Kitchen, the Magic Wings Butterfly Gardens, and lots of local farm stands for fresh picked veggies and homemade jams.
For the remainder of 2013, Historic Deerfield is open 9:30 a.m. - 4:30 p.m. daily, and is closed Thanksgiving Day and December 24 & 25. The Deerfield Inn is a popular destination in fall, so be sure to plan early for weekend visits during foliage season. I can't think of a more charming spot to spend a New England getaway.