PHILADELPHIA — After chewing up television with its wildly popular Shark Week, Discovery Communications aims to snatch an even bigger bite for its popular franchise: comic books.
The parent company of Discovery Channel and Animal Planet hopes to make a big splash when it releases its first comic book, "Top 10 Deadliest Sharks." The book – dubbed a nonfiction graphic novel – comes out Dec. 1 and is being published by Philadelphia's Zenescope Entertainment under the Silver Dragon Books imprint.
Like its namesake television counterpart, the "Shark" graphic novel takes a serious but accessible look at some of the species' deadliest and dangerous members. Using Andy Dehart, the network's resident shark expert – and public face of the annual TV event – the graphic novel boasts 10 stories based on real events and spotlights a particular shark.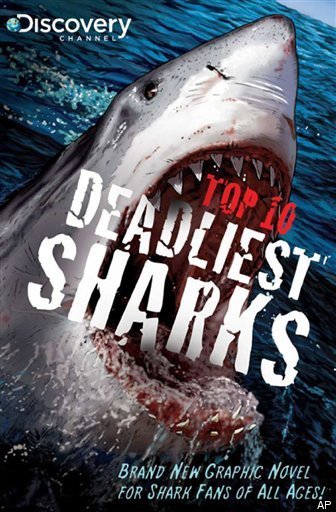 "Discovery's mission has always been to help viewers satisfy curiosity about the world around them through breathtaking imagery and stories," said Elizabeth Bakacs, vice president of licensing at Discovery Communications.
She said it was only natural for the network to leap into graphic novels as a way to not just tell its stories, but garner a new arena for its popular programming.
"We like to call this, instead of graphic fiction, graphic non-fiction," she told The Associated Press. "It has real-life shark attack stories. It has tips on how to stay safe and avoid shark attacks. It talks about the importance of sharks to our ecosystem.
The book goes on sale Dec. 1 in comic book shops, online and Zenescope's website. It will be available in larger book stores starting in January.
"It is definitely going to have a broader appeal beyond the hard-core comic books shops," she said.
Bakacs said the graphic novel is the first, but won't be the last. It will be followed in 2011 by "Discovery Channel's Dinosaurs & Prehistoric Predators" and "Animal Planet's World's Most Dangerous Animals."
The latter will be tied to Discovery Channel's planned dinosaur miniseries, "Reign of the Dinosaurs," that is scheduled to premiere next summer.
The third graphic novel, "Dangerous Animals," examines predators that have, on occasion, been known to sample people, including the Grizzly Bear, African lion and Salt Water Crocodile.
Joe Brusha, of Zenescope, said the new series is a step away from its normal fare – tales of fantasy and derring-do – but that work on the first graphic novel was designed to "capture the visual intensity and first-rate storytelling of Discovery's programming within the graphic novel arena."
The publisher's other works include "Grimm's Fairy Tales," "Return to Wonderland" and "Charmed," which serves as a prequel to the former television show about a trio of young witches dealing with incantations and their own social lives.
Popular in the Community