Discovery Channel and Mythbusters have blinked.
At least "blinking" is what I think they've done. Although, if this was being written by someone at Upworthy, "blinked" would be preceded by the words: "You'll be amazed what..." Anyway... "blink" is the word I think best describes the recent action taken by the Discovery Channel as it relates to my ongoing legal dispute with them and the show Mythbusters.
(You can find my original post HERE)
Where was I? Oh yeah. Yesterday afternoon (as of this writing), February 11, 2014 I pieced together a series of facts into a cohesive narrative.
FACT: On January 4th, 2014 Discovery posted the names and air dates of upcoming episodes for the new season of Mythbusters. The reason this is a fact is because I took a screen shot on that day -- and have the evidence to prove it. Also, my browser saved the information and website in its cache so I am able to access it. And it's a good thing I did.
The new Mythbusters episode touted to air on February 15th, 2014 -- that's this coming Saturday -- is called "The Laws of Attraction." It's an episode all about sex myths.
Well... when I read this, my hair, which is already red since birth, turned an even brighter red -- almost fire color -- indicating my rising temperature. Why did my temperature rise? Because as I have previously alleged, Discovery and Mythbusters misappropriated content from my series, This vs That. And now they were misappropriating even more ideas of mine along with a title for an entirely different show... that I had also pitched to them, called: "The Laws of Attraction."
It took me a few days to recover from this epic gut punch... After all, I had already served them two (2) cease and desist orders to discourage them from airing previous episodes of Mythbusters which I allege contain material that belongs to me -- and after I did some digging, I wrote about Discovery's treachery on January 16th, 2014.
You can read the post featuring my "Laws of Attraction" allegations HERE.
CUT TO: Mid Day February 11, 2014
Because it's a pending legal matter, I decided to check if Discovery was still planning on airing their Mythbusters episode entitled "Laws of Attraction." After all, you'd think they'd want this episode to air, right? It's all about sex. Sex. Sex Sex. And you know what sex does for a TV show's ratings, right? It sends them up. Way up.
FACT: And Mythbusters could use the help. Their ratings on January 18th were off 59% compared to their 2011 premiere. 1.86 million (2011) vs 1.14 million ( Jan. 18, 2014).
So, like I said, you'd think they'd want this episode of Mythbusters to air. Remember, it's all about sex sex sex. Only here's the thing...
Discovery and Mythbusters blinked.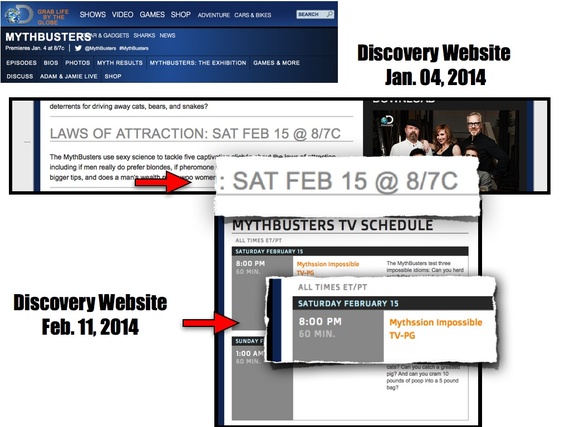 FACT: The Mythbusters episode entitled "Laws of Attraction" has been yanked -- spanked off the broadcast schedule and a future date is NOT listed on Discovery's own website.
You can see in the image above... where I have juxtaposed the actual broadcast schedules from Discovery's own website that "The Laws of Attraction" was set to air on February 15th. Now it is NOT airing.
Instead, Discovery is airing a Mythbusters episode called: "Mythssion Impossible." (FYI Tom Cruise... you may have a case against Discovery now, too.) So, why isn't "The Laws of Attraction" episode of Mythbusters airing? Well, perhaps it's because of what I alleged on January 16th: that it contains material that belongs to me for which I have not been compensated for nor have I given permission to use.
Before I sign off... you should also know that as far as I am aware, there are only three episodes out of more than 250 Mythbusters episodes that have NOT aired in the United States, despite having aired in territories around the world. Those three episodes? The three episodes containing ideas, content and material I allege has been taken from me and my series, This vs That.
1. Fastest Way to Board an Airplane
2. Fastest Way To Navigate Through Highway Traffic
3. The Laws of Attraction
Many people have asked what they can do to help -- for which I'm very thankful -- as I take on these corporate bullies. So, if you'd like to do something very easy to help... that will also benefit you as well....you can find the details on our website HERE.
This is not a complete statement of my rights and or factual or legal position, and nothing set forth here or omitted here from is intended as, or shall be deemed to, constitute an admission, admission against interest, or any waiver, relinquishment, or limitation of any of my rights, claims, interests, defenses or positions, whether by law or equity, all of the same being hereby expressly reserved.
Jon Hotchkiss is the creator of This vs That. And he appreciates everyone's support.
REAL LIFE. REAL NEWS. REAL VOICES.
Help us tell more of the stories that matter from voices that too often remain unheard.