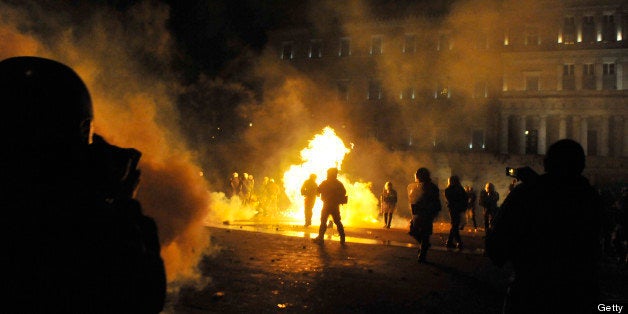 In "World War Z" (and most other zombie movies, let's be honest), Brad Pitt fights a seething swarm of tireless zombies bent on global destruction. This is precisely what it is like watching austerity fans in action.
In the latest episode of the economic theory that refuses to die, the Bank for International Settlements, which is basically the central banker for all the world's central bankers, has published its latest annual report on the state of the global economy. And guess what? Apparently the problem with the lousy global economy is that there has not been nearly enough austerity. And the BIS has the discredited research of Harvard economists Carmen Reinhart and Kenneth Rogoff to prove it.
Our world's troubling austerity deficit is actually not the main message of the BIS' 76-page opus, but an entire chapter, "Fiscal sustainability: Where do we stand?" is dedicated to the topic. And this chapter sounds a rallying cry for more austerity, early and often.
"While progress has been made towards reducing fiscal deficits, many economies still need to increase their primary balances significantly to put their debt on safer, downward trajectories," the BIS frets. "The success of these efforts relies crucially on measures to curb future increases in pension and health care spending."
In addition to making sure that we don't spend any more money on the greedy elderly, the BIS argues that governments should cut spending instead of raising taxes. The BIS admits that cutting government spending does more damage to economic growth in the short run, sure, but it also demonstrates how serious your government is about fighting debt, and it also means you can cut taxes even more in the future! It's just a perfect outcome, unless you are unemployed today or end up unemployed, elderly or unwell in the future. In that case, too bad for you.
But wait! This terrible idea still lives! Pro-austerians still shamble forward, moaning hungrily for sweet, sweet braaaaaiiinnsss. "Evidence" and "shame" have no effect on them, as they seem driven by a near-religious fervor. And now among their ranks is the Bank for International Settlements, which trots out Reinhart-Rogoff, along with a handful of other studies, to restate the discredited case that high levels of public debt are a for-sure drag on economic growth forever and always, amen.
The BIS does address the controversy over the Reinhart-Rogoff research, in a tiny footnote to a sidebar commentary on page 46. It also acknowledges, in that same tiny footnote, that one study one time found that there might be a minor problem with the pro-austerity reading of Reinhart and Rogoff's data -- namely, it showed that slow growth caused high debt, rather than the other way around. Subsequent research has found the same thing.
Calling all HuffPost superfans!
Sign up for membership to become a founding member and help shape HuffPost's next chapter
BEFORE YOU GO
PHOTO GALLERY
Economic Conspiracy Theorists