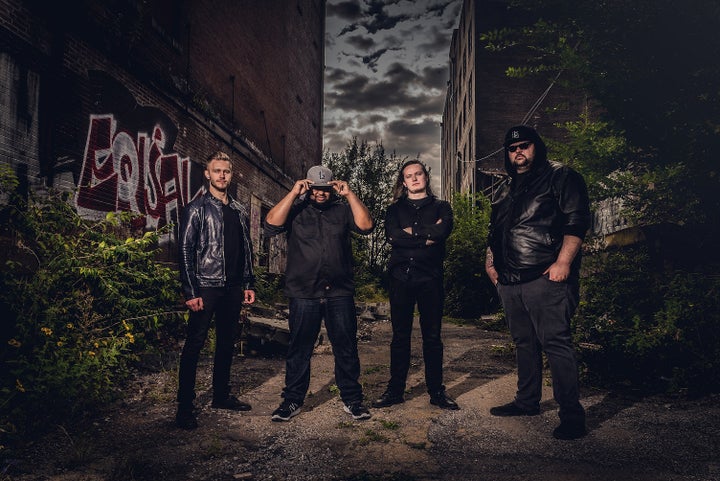 Everything about St. Louis NuMetal / Rock / Hip-Hop / Rapcore band Discrepancies's "Rock the Show" is unexpected. The high energy party rock anthem with jump and dance inciting beats and lyrics diverges sharply from their LP, The Awakening's, darkly serious tone. The video's visually startling collision of suburban block party, raucous college tailgating, and tongue in cheek backwoods celebration makes for a complex mosaic story: cat walking, middle class white hipsters living and enjoying life alongside ridiculous mascots tending their lawns; buttoned up flannel wearing urban 'thugs' and Midwest skater punks jamming out alongside middle aged, working class couples to heavy guitars, fast paced rhymes, and pounding drums. What makes it even more wonderfully unexpected is that the unexpectedness itself is entirely intended.
"Our feelings about our album The Awakening is that it tackles everything from depression to social-political issues while also shining a light on the darker side of relationships such as heartbreak and betrayal. But with "Rock The Show," we wanted to give our audience a chance to step back from their problems by reminding them to enjoy life, if only for these four minutes. "Rock The Show" is a combination of rock and hip hop with vocals that offer a new twist on the iconic Beastie Boys/House of Pain style of delivery. We just wanted to make it fun."
What makes "Rock the Show" even better is that the track is truly and honestly enjoyable. The foursome's intention to harness the energy and virility of Beastie Boys and House of Pain certainly was not in vain, as the bassline and well-structured lyrics are meant to force people onto their feet. At the same time, there are strong hints of such bands as Biohazard and Madfront, and in sufficient quantity to pacify even the most aggressive head bangers.
In the current political and social climate, a return to music as pleasure and unifying power is definitely a welcome change; from hipster suburbanites to urban rap and Midwest hard core fans, "Rock the Show" is definitely a song meant to be enjoyed, but is all the more enjoyable for intentionally bringing together fans.
Comprised of Garrett Weakley (Bass), Addison Bracher (Guitar/vocals), Steve Declue (Drums), and Antonio Metcalf (Vocals) have formed an undeniably powerful sound. The 4 blend together many genres to create an innovative soundscape that is guaranteed to grab your interest.
Their Release of their Debut Album, The Awakening, was met with a lot of love and success. The first single "Raising The Bar" hit 30,000 views in less than 2 days, and continued to rise afterwards. The second single "Art Of War" had a strong release and the video for it was featured n Alternative Press, Metal Injection, and more! "Art of War" is currently on a radio cycle and so far is being played nationally in the US.
Together, the four want to connect with people on a deep level and allow for people to be inspired to form their own opinions free from judgement. Together, the four are Discrepancies.
Related
Popular in the Community