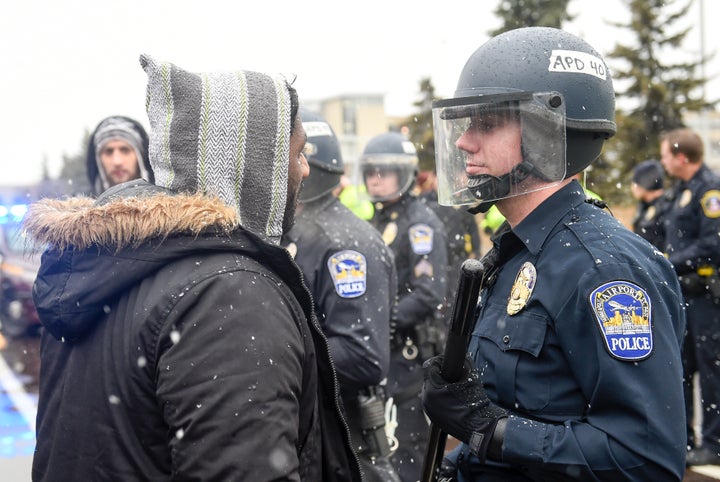 Just over half of voters think the U.S. has a serious problem with racial discrimination. Voters are more concerned about violence against police than violence by police. And a majority of residents in many European countries view immigrants as a threat. This is HuffPollster for Tuesday, July 12, 2016.
VOTERS ARE SPLIT BY PARTY ON RACIAL DISCRIMINATION  - Hannah Hartig, John Lapinski and Stephanie Psyllos: "In the wake of several shooting incidents, a majority of American voters (52 percent) agree that racial discrimination against blacks in this country is an extremely or very serious problem….Just over half of registered voters think racial discrimination against blacks in this country is an extremely or very serious problem. A quarter think racial discrimination is a somewhat serious problem, and 22 percent do not think it is a serious problem. The results vary by party, however. Among Republicans, 42 percent think racial discrimination against blacks is a not so serious or not at all serious problem in this country. Just under eight in 10 — 77 percent — of Democrats think racial discrimination is an extremely or very serious problem. Half of Independents think it is an extremely or very serious problem." [NBC]
VOTERS ARE MORE CONCERNED ABOUT VIOLENCE AGAINST POLICE THAN ABOUT POLICE BRUTALITY - Eli Yokley: "In the days since the mass shooting in Dallas, Texas – the deadliest day for law enforcement since 9/11 – more voters said violence against the police is a more serious concern than police violence against the American public….More than half of voters, 56 percent, said they had very serious concerns about violence against police, concerns that were expressed by 57 percent of white voters, 53 percent of Hispanic voters and 52 percent of African American voters. But only 45 percent of voters said they view police violence against the public as a very serious fear, a view shared by 78 percent of African American voters but just 39 percent of white voters." [Morning Consult]
HILLARY CLINTON IS STRUGGLING TO WIN OVER SOME MILLENNIALS - Julie Pace and Emily Swanson: "Hillary Clinton is struggling to make inroads among young Americans who overwhelmingly supported Bernie Sanders during the Democratic presidential primary, a worrisome sign as she tries to reassemble the coalition that twice propelled Barack Obama into the White House. Opinions of Clinton among young Americans vary by race and ethnicity, according to a new GenForward poll of adults ages 18 to 30. The majority of the nation's younger blacks and Asian-Americans have a favorable impression of Clinton, but the presumptive Democratic nominee struggles with whites and Hispanics. Just 26 percent of young whites and 49 percent of Hispanics have a positive opinion of the former secretary of state. Both groups overwhelmingly say she is not trustworthy….The GenForward poll found that among those who preferred Sanders in the primaries, only half are prepared to say they'll back Clinton in her general election face-off with presumptive Republican nominee Donald Trump. About a quarter say they won't support Clinton, and nearly a quarter say they're not sure." [AP]
But she's doing well among college-educated white voters - John McCormick: "Hillary Clinton is crushing Donald Trump among college-educated white voters, a group Mitt Romney easily won in 2012 and one his Republican Party has carried in presidential contests for decades. White voters with at least a college degree—a group that represented more than a third of the 2012 electorate—back Clinton over Trump 48 percent to 37 percent, the latest Purple Slice online poll for Bloomberg Politics shows. Romney won that group by 14 percentage points, according to exit polls….Since 1952, no Democratic presidential candidate has won college-educated whites, according to American National Election Studies data and exit polls reported by the Atlantic." [Bloomberg]
EUROPEANS EXPRESS FEARS OF TERRORISM, NATIONALIST SENTIMENTS - Samantha Neal: The resurgence of nationalist sentiment that catalyzed the Brexit vote is prevalent in other European countries, according to a Pew Research report released on Monday. The sentiment is linked overwhelmingly to fears of increasing refugee populations, terrorism, and resistance to cultural diversity. An overwhelming number of Europeans perceive a powerful link between the recent surge of refugees and the threat of terrorism ― majorities of respondents in eight of the ten European nations surveyed believe that incoming refugees increase the likelihood of terrorism in their country. The negative perception of refugees extends beyond security considerations ― many Europeans believe them to be a cause for economic concern. Fifty percent or more of respondents in half of the nations polled believe refugees will take away jobs and social benefits. When it comes to crime, the link to refugees is far less salient. However, almost half of respondents in Italy and Sweden say that "refugees are more to blame for crime than other groups." [Pew]  
UNINSURED RATE AMONG AMERICANS STANDS AT A RECORD LOW OF 11 PERCENT - Stephanie Marken: "In the second quarter of 2016, the uninsured rate among all U.S. adults remains at the trend low of 11.0% reached in the first quarter of this year. This is down from 11.9% in the fourth quarter of 2015, which was prior to when health plans purchased through government exchanges during the most recent open enrollment period took effect in early 2016….Across income groups, the uninsured rate has declined the most among those living in households making less than $36,000 annually. In the fourth quarter of 2013, 30.7% of these individuals were uninsured, compared with 20.4% of in the second quarter of 2016….The uninsured rate has also declined precipitously among Hispanics and blacks since the fourth quarter of 2013." [Gallup]
HUFFPOLLSTER VIA EMAIL! - You can receive this daily update every weekday morning via email! Just click here, enter your email address, and click "sign up." That's all there is to it (and you can unsubscribe anytime).
TUESDAY'S 'OUTLIERS' - Links to the best of news at the intersection of polling, politics and political data:
-Hillary Clinton leads Donald Trump by a slim margin in Nevada. [Monmouth]
-Newt Gingrich drives the most Republican enthusiasm as a potential vice presidential nominee. [Morning Consult]
-Most Americans want power to be concentrated at the state level rather than the federal level. [Gallup]
-Kathy Frankovic explains why Americans have a dim outlook on the economy despite low unemployment. [YouGov]
-Paul Hitlin analyzes how scholars, companies and workers and are utilizing Mechanical Turk. [Pew]
Samantha Neal contributed reporting.
Calling all HuffPost superfans!
Sign up for membership to become a founding member and help shape HuffPost's next chapter