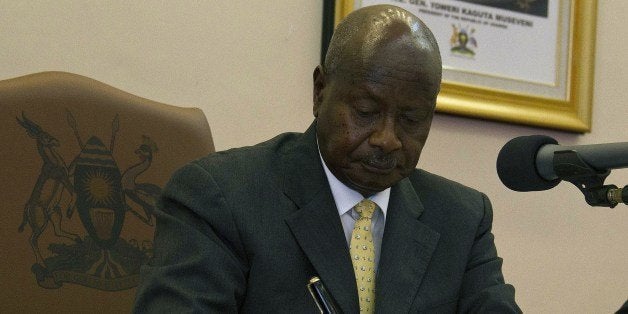 On February 24, Ugandan President Yoweri Museveni signed the notorious Anti-Homosexuality Bill into law, instantly criminalizing the very existence of our client Sexual Minorities Uganda (SMUG) and outlawing LGBTI people's ability to advocate for their lives and their rights. Such a fundamental denial of rights to an entire class of people is illegal under international law as well as the Ugandan constitution and it demonstrates precisely why SMUG and the Center for Constitutional Rights' fight to hold Scott Lively accountable for his role in engineering this persecution is so important.
Just three days earlier Lively stood in the National Press Club and proudly announced that he was forming a new group to fight the global LGBTI rights movement. The move came less than a week after a mob and police officers viciously beat a group of gay men in Nigeria, part of a wave of violence that has followed that country's enactment of a draconian anti-LGBTI law in January, and three days after Gambian President Yahya Jammeh called gay people "vermin" and vowed their eradication "the same way we are fighting malaria-causing mosquitoes, if not more aggressively." With the international spotlight on Russia's anti-gay law, arrests and vigilante violence thanks to the Sochi Olympics, Lively also took the opportunity to praise President Putin for signing the law and reminded people that he has been to Russia several times.
A human rights crisis is brewing for LGBTI people in these and other countries, and if there is a silver lining to this terrible situation it is that by advertising his role in feeding the crisis Scott Lively has helped U.S. activists raise awareness in our country of the connection between U.S. extremists and global developments. That connection, of course, is the heart of SMUG and CCR's case against Lively: he is a persecution consultant, flying around the world to advise religious and governmental authorities on what to say and what to do in order to strip LGBTI people of their fundamental rights and criminalize their existence.
Lively decries the lawsuit as an attack on his "religious liberty." That Orwellian fiction comes from the same playbook as those who in the U.S. are trying to pass Jim Crow-like laws that allow businesses to deny service to LGBTQ customers. The Kansas and Arizona bills briefly made headlines in February, but there are 14 other states where similar laws have been proposed. Their proponents claim that their religious liberty is infringed upon if they are not allowed to discriminate against people they don't like -- because the reasons they don't like them are religious. Note also that right-wing Christian organizations make the same argument in objecting to anti-bullying laws and policies -- that requiring children not to torment their classmates infringes on religious liberty if those children think homosexuality is a sin, a fact that angers me considering that 83 percent of U.S. LGBTQ youth report being verbally harassed at school, 33 percent report being physically harassed, and queer youth face four times the risk of suicide than straight kids.
But as even many Republicans understand, the U.S. Constitution does not recognize a right to discriminate or bully in the guise of religion. And Scott Lively's days of roaming the globe to whip up anti-gay hate are numbered, too. Lively has filed three separate last-ditch attempts to prevent our lawsuit from moving forward since the judge tossed out his motion to dismiss in August. All three have been promptly dismissed. The day that we begin discovery in this case and start unearthing all the details of his persecutory pursuits is drawing closer. His day of reckoning is coming.
You can support Sexual Minorities Uganda's case against Scott Lively here.
REAL LIFE. REAL NEWS. REAL VOICES.
Help us tell more of the stories that matter from voices that too often remain unheard.