BEHIND THE SCENES OF THE END WITH JEFF TREMAINE & CHRISTIAN LAMB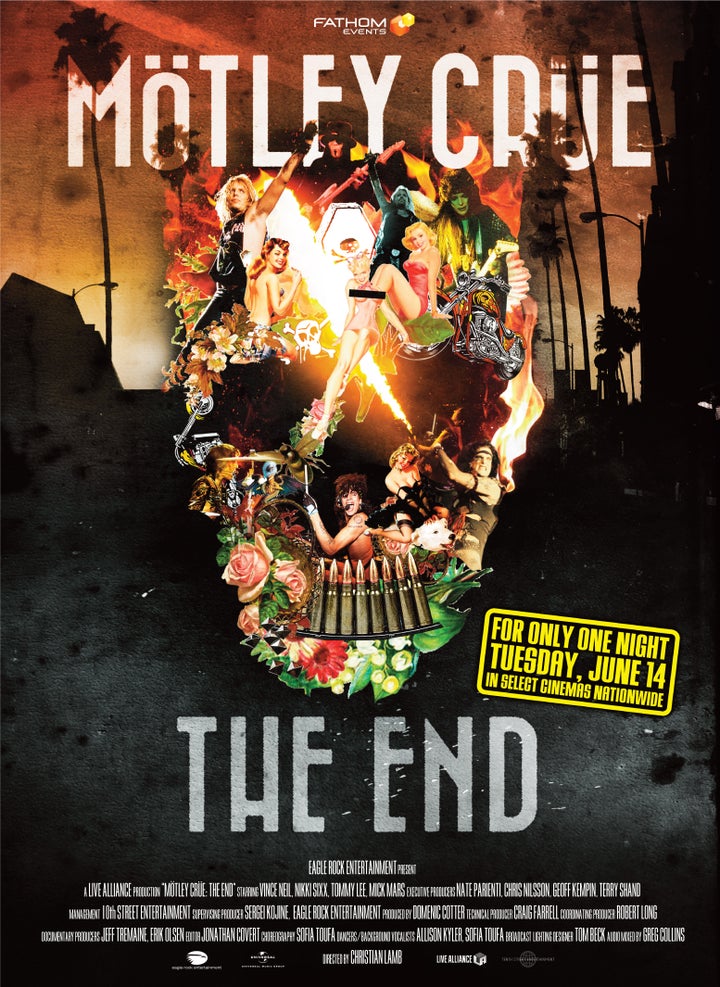 A Conversation with Jeff Tremaine and Christian Lamb about Mötley Crüe's The End
Mike Ragogna: Jeff and Christian, what does Mötley Crüe mean to you? Do you have any concert memories or favorite recordings?
Jeff Tremaine: To me, Mötley Crüe was always party music. You don't sit around and paint pictures to them, you go out and tear shit up when they're playing. I've seen a lot of stuff get broken while "Live Wire" was playing, so I've always loved that song. "Girls, Girls, Girls" is a must own album for everybody.
Christian Lamb: In high school, I was surrounded by metal heads. Danzig, Sabbath, Scorpions, Iron Maiden, Dokken, and Mötley Crüe, you name it--those t-shirts filled our halls. "Dr. Feelgood" was the tour then and several of my classmates made the show. At that point, I was a diehard Pink Floyd and U2 fan so my dollars were spent at the Oakland Coliseum. I never got a chance to see Mötley Crüe live. I followed them in the press and I knew the music from the radio but my only sightings were their videos on MTV. I think every teenager at that point lived vicariously though those videos.
MR: What were your thoughts about the very famous band members before starting the project and how did that change by the project's completion?
JT: Over the past few years, I've met with Nikki, Tommy, Mick and Vince to discuss the film adaptation of "The Dirt." Each of them have been very helpful and supportive of me helming the project, so I have a very positive impression of them. Getting the opportunity to sit them down and interview them as well as follow them around before their last show was an amazing experience, and I feel I got a chance to see who they really are. They were all very honest, insightful, and retrospective about all that they've been through and what the end of Mötley Crüe means to them.
CL: I only knew them through headlines. I'd see Tommy in the press and Vince and Nikki from time to time. Eventually, I caught documentary segments on the Crüe, where you heard the stories, the music, and the debauchery that became "The Dirt." I was always fascinated by them--this raw unadulterated existence that they seemed to embody.
As the project neared I was flown to Minneapolis to meet the band and to watch them perform live for the first time. When we entered the arena myself and my producers Nate Parienti and Domenic Cotter sat down with Nikki and Tommy. We pitched ideas back and forth, collaborating on what this would be. They were both passionate and had very similar thoughts in terms of tone and storytelling for this film. We were adamant that this would not be another Behind The Music but rather a time capsule--a final goodbye, the band in their current state looking onward to what the future held for each. It was not going to be nostalgic. It was the coming of the end."
MR: Christian, what were you trying to capture in directing the concert portion of The End? What were your personal favorite moments?
CL: "It was more than the concert, I wanted to see the underbelly of the tour. Having worked on several tours in the past I have relationships that go past the creatives and towards the people who really act as the structure in that world. We shot a parallel documentary from a crew's perspective. Some of this footage is what you're seeing throughout the intro. I'd wanted to capture the first chalk marks going down on the floor, witness the riggers high above dropping points, and then see the entire stage develop on the ground from lighting and sound into pyro. To me much of this process gets lost in concert films that solely focus on the creative side. Stage shows are accomplished as a family, an insanely dysfunctional one at times, but a family nonetheless. These are the guys that the band depend on each night to realize their vision as the show moves across the globe, and I wanted them to have some voice as such in our film. I interviewed specific personnel from tour management to band techs to get greater detail into what it is that they do and then in turn their personal take on how this show came to evolve.
Once we began the actual concert capture, I'd always imagined it with a heavy focus on the cinematography of it. We filmed two nights, using mostly Cine lenses on our Sony F55's. We kept it in a filmic world knowing the potential of a big screen release. The cameramen were hand picked, most of which I'd worked with on previous projects. Obviously key personnel, as they are my only eyes in the moment. Knowing the weight of these shows, the iconic nature of these performances, I pushed to have a Phantom Flex shoot from various positions throughout the arena capturing preselected moments, and a myriad of others improvised. These served as those frozen moments in our show and the entirety of our credit roll. When I first saw the playback of Nikki's flame thrower in action at 500fps, I was in awe. Some of those compositions were stunning in the end.
As far as my favorite moments I'd have to choose two. One sentimental and one a small disaster that actually turned the show unique. Vince as he broke down in Home Sweet Home encapsulated The End. One couldn't help but feel the gravity of his last lyrics in this final song. He knew they were done after this and the audience, several of whom were also tearing up, felt those same emotions as he gathered himself at the mic. The other would be Tommy and his drum coaster. We'd filmed it fully operational the first night without a gaffe. The second night however, the big night of the two falling on New Years Eve and truly as the final show, he got stuck. It could have been a death nail to the show, especially if the kit hadn't have made it back to the main stage, but Tommy played it off as only he could. The audience embraced the moment chanting his name. It went viral all over the net becoming a story unto itself. At that point we had to tell that story, we had to be truthful with it as it happened that night. But it was rock 'n' roll, it was Spinal Tap, it was Mötley Crüe.
MR: Jeff, what did you discover during the interview process? Who were the most interesting interviewees?
JT: "I love Mick Mars. He did a private sound check on stage in the empty arena for us and played any song I would yell out. It was awesome. They are all so different, it's amazing they lasted as long as they did.
MR: In the bigger picture, what do you think Mötley Crüe meant to rock and to culture?
JT: I have no idea what Mötley Crüe means to rock and culture. To me, their songs are some of the best anthems that inspire destruction. Over the last 35 years, if me and my friends were blasting Mötley Crüe, something was going to get broken. I mean that in the best way possible, although my liver disagrees. You don't just sit around and be mellow and listen to Mötley Crüe.
CL: I think they meant the world. When you look at their history, when you look at the Los Angeles music scene and this bourgeoning genre that they helped to create, you see how the Crüe took music on an entirely different tangent. They told the stories of LA. They weaved in this vivid tour life with awe inspiring musicianship. Fashion looked to them--you saw shades of Vince, Nikki, Mick and Tommy on the streets. Their personas permeated society in those days. You can't overstate how influential Mötley Crüe were to culture through the 80's and into the 90's. They were rock gods. In the classic sense, they were that generation's Zeppelin.
MR: How did working on The End compare with your previous projects?
JT: At this stage in their lives, they're not as willing to shove things up their asses or ride a bungee Porta-Potty as some of my other subjects, but I think we have a pretty good understanding of each other. They've pretty much done and seen it all.
CL: Each project is unique. Each has it's own parameters and personalities, each challenging in their own right. Flushing out the story and seeing an artist in an alternative way is what captivates. This was no different. Once we'd collectively decided on what the film would entail, I started on my due diligence, to research and to map out everything we could capture in an abbreviated timeframe. The clock was ticking on us faster than any other project I'd put together of this scale. From Nate and Domenic to Craig Farrel, our tech producer, we had to mind meld to pull this all together in what amounted to four weeks.
MR: Christian, what were the most challenging aspects about the shoot from a technical perspective?
CL: Time more than anything as I'd mentioned previously. Under such a tight schedule to acquire so much in terms of documentary content parallel to the show capture itself, it was decided to bring in Jeff Tremaine on the band's side to focus on their interviews and Broll. Delegating and communicating the overall concept, sometimes blind as to what I was going to be receiving from another crew, was paramount. It all needed to fall under the same vision to make it flow seamlessly.
Camera positions are always a slippery slope, but between the Staples Center reps and Crüe's production manager Robert Long, we managed to lock down a shifting camera plot between the two nights we were to film. They were instrumental in helping us to squeeze into an oversold show. We had very few seat kills to work with, virtually all space was at a premium.
With all of our planning in place, the actual filming was the easy part. The band laid it all out those nights, and the crowd was nothing if not electric. I was astounded at the devotion of their fans. I'd never seen anything quite like it to be honest. They had memories they shared with us. They had MC tattoos and vintage shirts from every show that they'd attended. It was inspiring to talk to these diehards and hear what the band had meant to them.
After the shoot, I was a shadow of myself and took off to Mexico for a ten day decompression. Back in LA, once I'd returned in January, the real work began. We started our post at Sunset edit in Hollywood where Jonathan Covert (my editor) and I lived for three weeks straight. With two bays editing simultaneously, he and I stitched together the film. Documentary in one room and multi-cam live in the next. The revelation was in finally piecing it all together as one. We knew at that point that we had the show and, just as importantly, the story of the show. We coined it The End.
MR: Jeff, do you think you caught any information that no one knew about Mötley Crüe before and who revealed it?
JT: I'm not sure, although it was funny to hear the different accounts of their first show.
MR: What advice do you have for new artists?
JT: Don't just talk about sh*t, make sh*t happen. NO is not an acceptable answer. It's better to say you're sorry than to ask for permission.
CL: To live really. To not use anyone else's career as your own path. Your vision, your experience, is ultimately your lens. And how you see the world is what helps to define you as an artist. I was an architecture major to begin with. I never imagined myself sitting in a TV truck or directing music videos and commercials. Life is serendipitous, take advantage of it.
MR: Do you have any dream projects you would like to get to and what's next on your agendas?
JT: To once and for all make "The Dirt."
CL: The old cliché...I'm actually working on a film script. Ten years in the making.
LIGHTWAVE EMPIRE'S "KILL ME WITH LOVE" EXCLUSIVE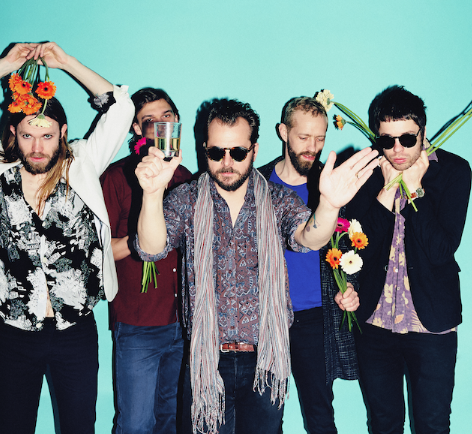 According to Lightwave Empire's Bjarke Niemann...
"I found myself reacting to hyper-uplifting and sunny music because of our situation at the time I think. My wife's mother ended her own life on Christmas Eve a couple of yours ago, leaving my wife in a fragile state. Sad, confused and lonely. You can imagine… It was a very f**ked-up time. Anyway, back in my studio lighter tunes really started to make sense to me instead of whatever I had been doing before. Love songs, I guess, 'the world is f**ked-up insane but hang in there, I got you' kind of songs."
GONZALLA'S "WE STILL RUN" EXCLUSIVE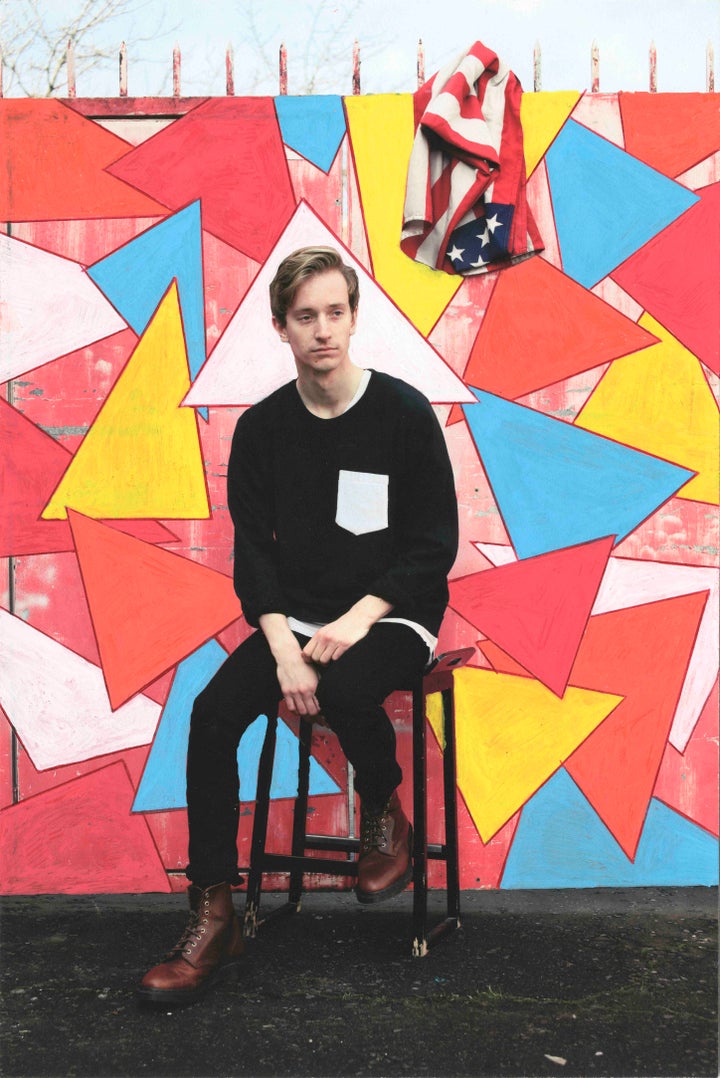 "I wrote 'We Still Run' about a year ago in England on my $4 Farfisa organ in my previous apartment. It was quite a simple song really, It came together quite naturally because I wrote it with such a distinct message to tell. To me the lyrics are some of the most meaningful I've ever written. One of my good friends was going through a hard time and was in and out of the hospital quite a lot which conflicted her happiness as you can imagine. I wanted to help her through it and show her it's not over till It's over in a way. It's one I'm very proud of and I hope it can help other people through hard times as well. It was great fun recording it as well, I was lucky enough to record it with Turin Breaks who are fantastic. It's been one of my best songwriting & recording experiences so far."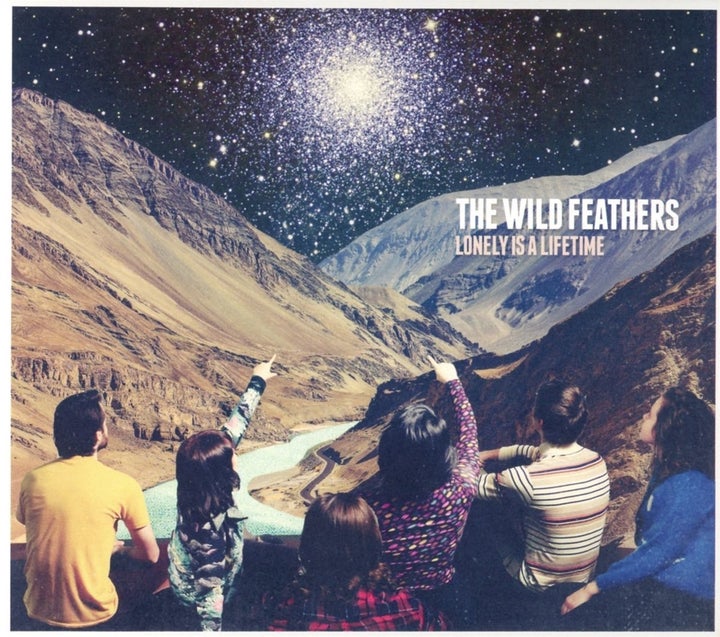 A Conversation with The Wild Feathers' Ricky Young
Mike Ragogna: Ricky, what has this year been like since the band's last album?
Ricky Young: This year has been full of excitement and anticipation. We took a lot of time off last year to write and record and just to get our minds back after three years of heavy touring, doing a hundred and fifty, two hundred and fifty-plus dates a year. So we were home for a while in Nashville, and then after the new year, we knew the record was coming out in March so we started getting that Christmas Eve feeling, or the last day of school before Summer. You're getting ready to put the new record out, you're getting ready to go back out on the road and play in front of people again, it's just super exciting. The morale is always super high because you're looking forward to doing what we think we do best. It's been exciting, the shows have been great on this tour, we've got five more left--which is crazy, because it was like thirty-something dates on this tour--and it's just been a ton of fun like it always is. Maybe too much fun.
MR: The Wild Feathers have some presence now with Warner Brothers backing your new album, Lonely Is A Lifetime. What has the trajectory been like for the band?
RY: It's been a nice, steady climb. We're definitely not trying to take over the world with one song and fight tooth and nail to stay on top. We prefer to go the slower route, like a steady climb. It's been good, it's been what we thought it was going to be, and hopefully, we'll be around for a long, long, long time. Hopefully, we can look back and say, "Man, that was a great time, we were at that level and look at us now, we've really come a long way." Really it's just about us getting back on the road and reconnecting and playing in front of fans, which is our favorite thing to do.
MR: Now let's get into the album. What a great title, Lonely Is A Lifetime. What are you exploring with that, and how is it relative to the album's content?
RY: I think it's just like accepting the facts when you're a lonely person or struggle with that kind of situation, that the more you accept it the more you just move and realize that's how it is. We wrote that song a couple of years ago, before the first record came out. We happened to be staying in the room Gram Parsons died in, actually on his birthday. Joel Taylor and I went and had a crazy awesome time. We went to Pappy & Harriet's and Pioneertown and we came back and wrote that song in that room. I think something about the desolation of a quiet desert down. It's hot in the day and cool at night. I think maybe "Lonely Is A Lifetime" is someone--whether it be me or anyone--surrendering to the fact that, especially for a touring musician, there's home, but home is always kind of at the end of a tunnel, or on the other side of the mountain. You're always desperately trying to get there, wherever it might be. We wrote that forever ago, and then when we started writing the new song for this album we realized it still had that spirit, that desperation, the desire to find somewhere you feel at peace and in love and at home. Once we realized that all of the songs had that common theme we realized, "We should really title the album that," because it kind of sets the whole thing. It's weird how that worked out.
MR: The album cover has you guys in the canyon, pointing up and staring at the cosmos. It's almost like you're saying, "That's your home," as in everything is your home.
RY: Yeah! It's accepting. It's sad in a way but it's also kind of not. You're just there.
MR: When you jump into the album with "Overnight," there's an enthusiasm and a positive outlook despite the bigger concepts we just talked about. There's a common theme in these songs but there's also a level of discussion that you have within all the songs. Let's start at the top, what went into writing "Overnight?"
RY: Joel was messing around with the topic of society we live in today, where it's like if you want to be a rock star or a pop star, younger generations think you just wait in line to get on a reality show or something and sing in front of some judges and next thing you know, you're a huge star. Well, the kind of school that we come from is actually saving up money, buying a shitty guitar and a shitty amp and setting up in your garage and banging it out when you're thirteen, fourteen, fifteen years old and doing it, committing to it because you were so passionate about it for years and years and years with huge lows and defeats and all kinds of stuff like that, literally blood, sweat and tears over years of working your ass off. It's more like a resentment in a way, and it's not just about music, it's about everything in this culture today. Everything's so "Right now," and no one feels like they need to work for anything. Fortunately we were raised where we think that's what we're supposed to do.
MR: How have the relationships in the band grown? Do you guys find yourselves coming closer?
RY: I definitely think we're closer. We'll be on the road for months and months and months at a time and then we go home and the next day we're at our favorite little bar all sitting together. It's really strange. We really do enjoy each other's company and being around each other. Any human needs a break from anything--you're just in the same bus, the same dressing room, the same stage for months at a time, it's nice to get away, but we always end up hanging with each other in the next day or two. We'll have a big cookout in my backyard or go to one of our neighborhood bars. We're just all buddies. All of our wives and girlfriends are really close, so they hang out a lot, too. We're like one big family that kind of cruises around Nashville together, it's pretty fun.
MR: "Don't Ask Me To Change" is interesting because although you know you have to, you really don't want things to change. Is that basically what the topic is?
RY: I think it's just making a stand and saying I am who I am, I am what I am, I can convince you that I will change but I'm not going to form and turn into something that you or something wants me to be, because I'm just who I am. Whether it be music, or a relationship or any sort of everyday situation, I think it's just standing firm in who you are and having confidence and faith in yourself as opposed to turning into something that society or other people want you to be as an artist or as anything.
MR: And then you want to be "Happy Again." It implies that it's going to be alright.
RY: Yeah. There's a pretty heavy drug content in that song that were not going through personally but a lot of our surrounding friends were. It put a spin on that. Again, desperation always comes up. "Please, someone help me out. Help me get happy, I don't know how I can do it by myself." But I think towards the end of the record with songs like "Into The Sun" and "Hallelujah," it's definitely more of a brighter side of things. So I think it's pretty well-rounded as far as sadness, loneliness, and then hope at the end. I feel like it's pretty complete to me.
MR: What advice do you have for new artists?
RY: I don't know, because I'm still seeking advice myself. When you're doing this and you want to make a career out of it, you have to be hopelessly optimistic, but you have to be determined and realistic, too. There's no way in hell that I ever would've thought how I got to where I am today would've happened the way it did. There's no way of knowing that. Everything is so crazy and it all gets so twisted, you just never know from what you're doing today what you might wake up and be doing tomorrow. To be hopelessly optimistic, but with a realistic approach, if that makes sense. It makes perfect sense in my head.
MR: You're writing sensitive lyrics and you have to have that level of sensitivity and vulnerability and you get affected by the crap that happens on a daily basis but you have to stay optimistic! That's a hard mission for most artists.
RY: It really is. But it's worth it. It's the best job I've ever had. You've got to be grateful. You can always look on the other side of the fence at someone doing bigger and better things, but on the other side of the lot people are trying to get where you're at. It's good to be humbled and grateful for the opportunities and also determined to get where you want to go, and never really get complacent. A lot of artists get really comfortable and I think their art suffers and their career plateaus. I always want to fight for what I get. I always want to feel like I earned it.
MR: Do you think that's a quality in you that was able to overtake the loneliness in your life? Was that something that buoyed you?
RY: Sure, yeah. And then us just being such close friends and always being there for each other. No one can ever possibly understand what it's like to be in a band unless you're in that band. We always joke about how we're just in this one little bubble that bounces down the highway and stops in every city. We have our own language; it's crazy. People are like, "What are y'all talking about?" and we're communicating through inside jokes and stupid things we say to each other that make perfect sense to us. Then we get home and our wives and girlfriends are like, "You have to stop talking. You have to get back to normal." It's kind of like locker room stuff. It entertains us and it keeps us going.
MR: What's the path to the golden ring? What are you doing to reach that?
RY: I think that we're constantly challenging ourselves. We're already writing and talking about the next album, and this one just came out a month ago. I don't know, we just never want to settle. We want to make records for a long time. I feel like as long as we're respecting each other and appreciating each other and what everyone puts forth into this band, that we can do that. Joel and I have already been busting the guitars out on the bus or backstage and working on new ideas and new melodies. We just want to always get better; we just want to constantly improve.
MR: Is there one song on the album that best reflects Wild Feathers at this point in time?
RY: The first one that comes to my head is "Goodbye Song," because I had written that first verse and chorus forever ago, but I could never get it to feel right in sound checks. We messed with the tempo, we messed with this, that and the other, never really felt right, but knew something was there and we just kept plugging away and kept plugging away. Then we took it into the studio and said, "Let's just strip it back, slow it down and let song be the song." That's one of the few songs we did completely live in a room. It took us all day and then it turned into this epic Pink Floyd-esque musical journey. It freaked us out. We worked so hard on that and it just proves the spirit of us, that we can work hard and achieve it. We're very proud of that song, as we are the rest of the songs, too, but the way that song came out about was very special to us.
MR: And it seems like you were saying goodbye to something larger. What were you saying goodbye to?
RY: That's really from the perspective of a drug addict who's kind of given up. A selfish drug addict that doesn't know any better because he or she is so wrapped up in their addiction, but they're not meaning to be, they just don't know any better because they're so engulfed in it. It's like, "Take it or leave it, this is who I am. If I die, I die, if I don't..." and it's sad for the surrounding people who love this person. It's kind of a really dark subject matter, but it's real and true to us.
MR: We lost Glenn Frey recently, and your group often has been compared to The Eagles.
RY: It's flattering. They're a very successful band with a long career. I personally don't think we sound anything like the Eagles.
MR: You don't, but you do get compared to them, which is wild, so to speak.
RY: We do all the time. I would love to trade bank accounts with Don Henley, that would be awesome. I think a lot of people see us up there playing guitars, the band has three singers and the songs are catchy. To me it doesn't make the most sense, but whatever.
MR: How much fun was it making that video for "Overnight?"
RY: Personally, not very much fun at all honestly. I don't like making videos. I don't like the whole process. But it's fun hanging out, the in between shooting is always a blast because we're always just goofing around. I'm not a big fan of cameras and all that crap, but it's just part of the job.
MR: Do you like playing live or recording albums more?
RY: I love writing and recording, but playing live is my favorite because there's an energy that you can feel. Sometimes you can't really feel the energy when you're playing live and you have to seek it out. Sometimes that's difficult. But other times it's overwhelming in the room and it feels good. I like to look at people in the audience singing with their eyes closed and think, "I wrote that two years ago walking around my living room and now here we are in a full room in Minneapolis with everyone singing their hearts out." It's a pretty special feeling.
MR: Are the songs evolving past the original versions on the albums?
RY: Yeah, a little bit. We always told ourselves we didn't want to play stock sets, "Okay, same set every night, play it like this, this tempo." We like to mess around and jam a little bit and go different directions. Once you become in the groove and you've been on the road for a while...it's usually about two weeks in for us when we really start reading each other's minds on stage and we're really in tune with each other, then it's pretty special. So yeah, songs do take on different directions and different forms and stuff. It keeps it exciting, too.
MR: How do you predict Wild Feathers is going to evolve?
RY: I don't know, like I said earlier I just hope that we continue to write better songs and that our live shows continue to grow and people walk away from it saying, "Wow, that was not only entertaining but I took something emotional away from it." Everything I've ever seen from some of my favorite bands and concerts, you're just vibrating when it's over, and it makes me happy to think we're capable of doing that to some people. Like I said, I hope we continue to do what we do and just get better at it, making people happy and making ourselves happy, too because it's a lot of fun, but it is a lot of work. We're not afraid of working hard and trying to get where we want to go. We're just happy to be here, doing it.
Transcribed by Galen Hawthorne
Closing Tour Date: 6/25 Nashville, TN - The Ryman Auditorium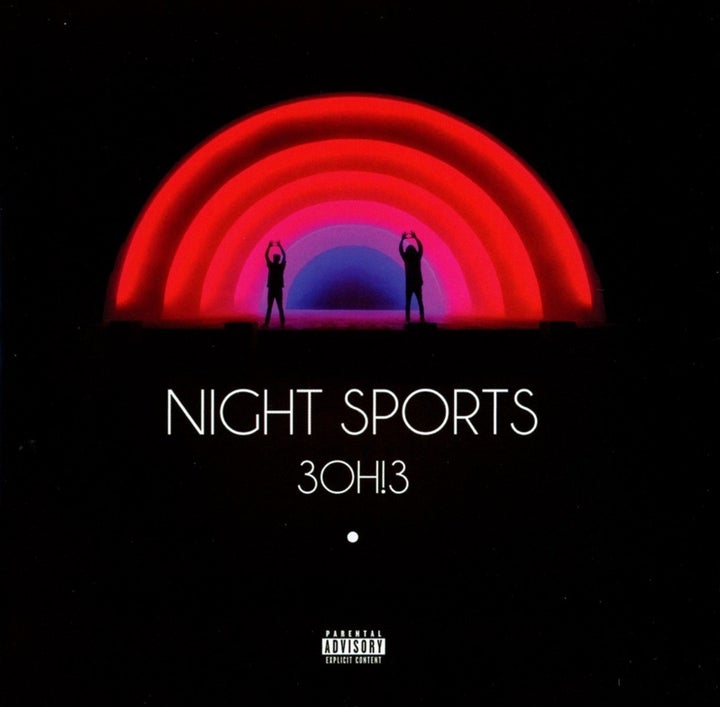 A Conversation with 3OH!3's Sean Foreman & Nathaniel Motte
Mike Ragogna: Guys, I just listened to Night Sports. Was anyone hurt during the process? And gee, I wonder what these night sports are of which you speak.
Sean Foreman: I tweaked a "hammy" but other than that, no one was hurt in the process of recording Night Sports. You know the usual Night Sports. Late night refrigerator rummaging; ottoman jousting; 7-11 relays. All the good stuff.
Nathaniel Motte: Hello Mike, thanks for listening to the record, my guy. We do our own stunts here at 3OH!3, so the possibility of real injury is right around the corner. Thankfully, we avoided injury this time around and we trained day and night to stay fit for you guys. The Night Sports of which we speak. The Horizontal Tango, the Supine Two-Step, the Prone Drone... you know what I'm talking about...
MR: Yes, yes, understood. So are your production values, sonics or beats the result of new samples and creations in your studio or from building and experimenting with what's current in electronica, hip-hop and pop? Sorry for the serious question.
SF: I will defer to Natilus--just one of his many producer idioms--on this one.
NM: As a producer, I'm always trying to grow and expand my sonic language. As you allude to, I have frequent periods of "sound-generation," when I hole-up and concentrate on making new sounds--new drum hits, new synthesizer patches, new effects, etc. I suppose that I'll do that with current, past and future sound references and influences in my mind as I'm working. During those times, I try and resist the urge to dig in and make songs from the sounds I am culling and sorting--that can be really hard! That said, those periods of pretty mundane work and producer "homework" can really pay huge dividends going forward. 95% of what I make during that time might never get used, and it might rot away in a dark and dusty digital corner of my hard drive, but that other 5% might become some of my favorite "brushes" with which I try to paint these damn songs!
MR: In "Freak Your Mind," you're saying your partner is beautiful but you admit she's not a "10" and all she has to do is have a heartbeat. Is that basically bro humor or are you saying she's fine the way she is really? Both? So confused...
SF: I'm saying that you don't have to be the societal definition of a "perfect 10" because you are perfect to me. By saying, "...if your heart is beating," it's saying, as long as we both are here, living, let's get together and FREAK. I say before that line, 'Don't have to be no centerfold for me to want to take you home," meaning that I'm not necessarily looking for the airbrushed, photoshopped girl they put in the magazines; I want you, the way you are. In the bridge, I repeat, "...you are beautiful," and I really mean it. But before we get down to business in the bedroom, let's get MINDFREAKED--and no, that has nothing to do with Chris Angel.
NM: ALL WOMEN ARE BEAUTIFUL. Women are the stronger sex, there's no doubt about that, and we are constantly amazed, enthralled and in awe of their strength and resolve. And that song is meant, in part, to be funny and tongue-in-cheek. We walk a lot of lines here at 3OH!3. "Freak Your Mind" is just one of those, baby.
MR: Those were awesome answers, nice. Okay, another kind of technical question. You've written or produced for acts ranging from Beck to Maroon 5. Do you pick up any techniques or invent new ones for the acts you work with? And do you ever find yourself taking elements you liked about their projects back into 3OH!3's?
SF: Every writing session is a learning process. Every artist/producer/songwriter has a slightly different approach to creating a song, so it's incredibly enlightening to sit and learn from the process. I worked with an artist recently who said that he preferred not to use any metaphors in the song we were writing. At first, I thought that was pretty strange, but then he explained to me that he feels like metaphors can be crutches in a song. He said that when writers skirt the real concept/story, they veil it with some grand metaphor. I tend to agree, although I'm a sucker for a great metaphor but even more a great pun.
NM: That's a great question, and it's something that I find most satisfying about collaborating with other artists, for their projects. On one hand, it is wonderful to be able to help another artist's vision and aesthetic. It's so rewarding and cool to feel like you're helping someone else do what they want to do, and create what they want to create. A bit more selfishly, writing with and for other artists is also so great for your own education and craft in music. I learn something new every time I work with someone else. Whether it's something tangible like a new production technique or a new way of phrasing a word in a lyric, or something more abstract like building chemistry with someone in a writing session, I love it all. And certainly I've incorporated that knowledge into our music. From working with a great producer and master musician like Greg Kurstin, and biting his phrasing, compositional style and trying to emulate some of his incredible and immaculate technique, to learning so much composition and orchestral knowledge from my homie Joseph Trapanese, it's all come into our music. I hope it's made our stuff better and more interesting to listen to. It has certainly made it more fun and rewarding to make.
MR: Which song or songs on the album are you most proud of and why, and how do you guys work in the studio these days? How is it different from when you started?
SF: We've sort of spun full circle with our studio process. It started in a basement in Boulder with me and Nat and that is where we wrote this album. We ended up writing about 46 songs for this album and whittled that down to the 11 on the album, so we really approached this with a hungry work ethic. Our motto is sort of "if we're aren't having fun in the studio, shut it down," so we tried to keep things fresh and exciting. I think songs like "Basmf" and "Inside Boy" really show that. While writing those songs, we were literally giggling like they were the first songs we ever wrote. But love the range of songs like Claustrophobia and 7-11, the production and mood feel very special to me.
NM: I'm proud of all of the songs. It might be for different reasons, but I'm proud of all of them. I might be proud of them for very different reasons, but I am proud of all of them. "7-11" is minimalist and very simple, but packs a big punch. I'm proud of that. "Hologram" is very produced and layered, and evolves throughout the song. "My Dick" is pure fun. I think "Claustrophobia" does a great job of tying lyric and subject to instrumentation, and the resulting feeling of the song is crazy. They are all linked by the same idea, however; we're just a couple of best buds having fun and making music for fun. That's stayed the same since we started making music together in 2003.
MR: How do you think the old PMRC would react to "BASMF" and "My Dick"?
SF: I actually had to google what PMRC meant.
MR: Yeah, just messin' with ya...
SF: When we write we don't think how the PMRC or parents or critics will take our music. We write with our friends, family, and fans in mind and just have fun. Both of those songs were conceived while having tons of fun in the studio and I think it puts a smile on peoples faces. We are aware that the lyrics are "out there" and carry a certain amount of shock value, but with that said, we don't push the envelope just to push the envelope. We do it because it's fun!
NM: Haha... I Googled it too, Sean. It's funny, I don't think we write music to be overtly offensive. Our goal is never to offend people first. When we were writing a song like "My Dick," we were singing some great melodies and laughing with the lyrics that became that song. It's funny, and it's meant to convey that humor and that sense of fun to the listener. The same goes for a song like "BASMF." That punchline is funny, it's not really offensive, in my mind. We do want to push the edges of what's okay in the popular forum and pop culture, but we're not out there to offend people. We're out there to make people smile, and to create a convivial atmosphere around our records, our shows, our videos and our lives.
MR: Are there any acts out there that you want to work with?
SF: I love to work with my homies and people I know I get along with, so The Chain Gang of 1974, Naked and Famous, All Time Low, Teenage Wrist, Elohim, Luna Shadows. All great peeps!
NM: There are a lot of acts out there I'd love to work with. Just like our own tastes in music, and our own music itself, they are wide in variety and style. Gallant, Nero, Justin Timberlake, Labrinth, Joanna Newsom, Seal, God, God the Father, Taz from Space Jam...
MR: In the closing song "Hologram," you sing lines "I lost touch with who I am, I am just a hollow man in love with a hologram" and even more self revelations.
NM: I'll defer to Sean-zy on that one.
SF: It's about a girl that cheated on me back in New York City. I found out from a friend of a friend and it fucked with me. That was a number of years ago, but felt cathartic to put out. Soon enough, we will be sleeping with Holograms, so it felt current.
MR: What advice do you have for new artists?
SF: Enjoy the process and take pride in learning the steps along the way. A lot of artists feel like they need a manager or agent to get them to that next level, but I think all the tools are right in front of us. Be creative with the use of mixed media--i.e. videos and social media--to convey your songs and message. Experiment with different platforms such as Hypem or music blogs to reach new audiences and don't be afraid to fail while learning. It's inspiring to see young artists writing/producing/editing/engineering their own music then directing or creating their own videos and doing things all across the board. Rather then waiting for a crew of people or a label to enable them to chase their dream they are saying 'fuck it' and hustling it on their own. And they leave the process having learned many valuable trades.
NM: It's interesting, whenever we get asked that question I am a bit torn about what answers to give. Our rise and path through the music business has been a pretty unique one in that we started doing this shit for fun. That fun became more fun when we realized we could go on tour and put out a record. That became ever more rewarding when we could do it and make money, and keep advancing our project. It's been ongoing like that for us for the past 10 years. At least initially, we never set out to make money doing 3OH!3. We wanted to make some songs, rocks some shows for our homies, dance, and have fun. So that's kind of the only advice I feel truly capable and genuine in offering, and that's have fun with your music. Do things that you like and that you think are new, different, creative, but most importantly, fun. Whether that takes the shape of upbeat and energetic music, or slow and sad music, or anything in-between, have fun with it.
PILGRIM SPEAKEASY'S "PLAN D" EXCLUSIVE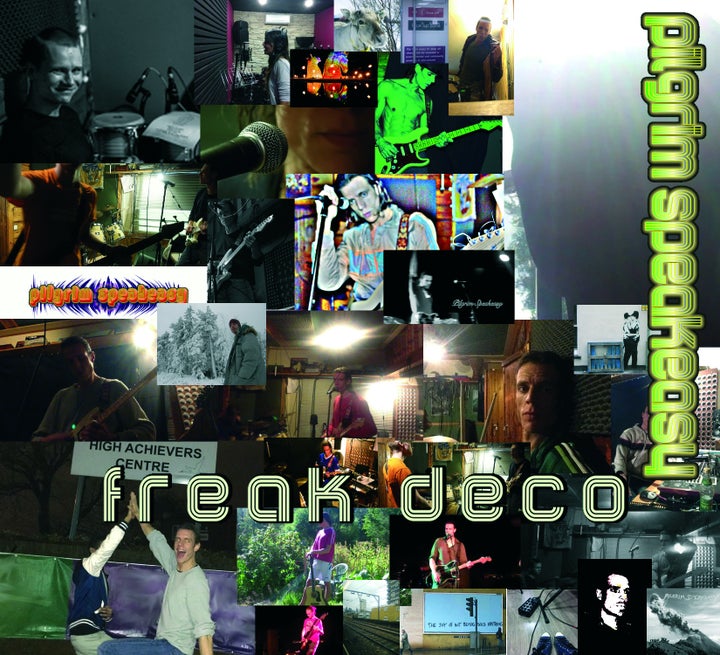 According to Pilgrim Speakeasy's US pals...
"Finland's avant pop collective Pilgrim Speakeasy share the video for their new single 'Plan D.' The video has a decidedly apocalyptic vibe bursting with loopy, chaotic energy. The song features world music legends Meissa Niang (Orchestra Baobab) on vocals & percussion, Sakari Kukko (Piirpauki, Orchestra Baobab, Youssou Ndour) on sax and Mika Myllari (MMQ) on trumpet and thus a serious groove envelopes the nihilistic lyrics of founder Roger Roge. 'Plan D' is the second in a series of eclectic singles that will be released in advance of a new album Freak Deco—their first to be promoted Stateside. Freak Deco will be released on July 1."
ERIC AMBEL'S "HEY MR. DJ" EXCLUSIVE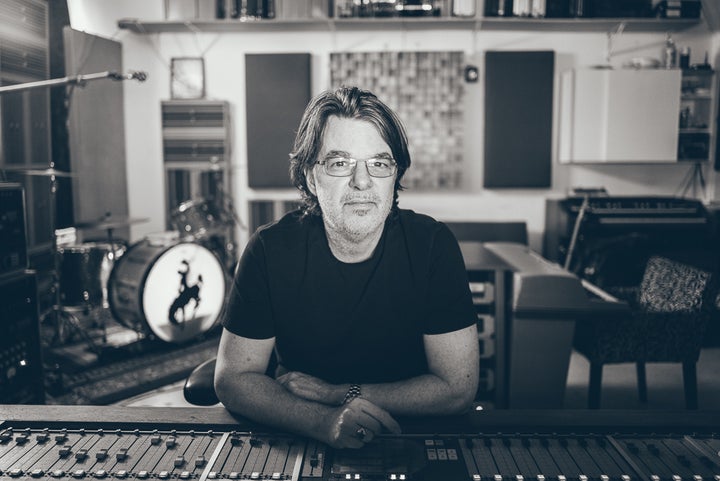 According to Eric Ambel...
"When I heard this song I flipped out. I'm not ashamed to be old enough to have made it through the first disco invasion but I never thought there'd be another one. The new one is a little different. The Disco Load Out. You might have noticed it if you were at a show at a club. If you play music You Know what I'm talking about. Right after the band finishes, there's a lot of scurrying by the staff of the club to get the band and their gear off the stage now to make way for the DJ! The DJ is gonna save the day and he's gonna be twice as loud as the band and twice as fun. Now I love a great DJ, but that person with the iPad that just kicked us out of our own gig? Not so much. There's a lot of philosophical chicken/egg discussions to be had but this one's clear: The record came before the DJ. From my new Lakeside LP, written by my producer, the Jimbo Mathus, and sung by me, here's 'Hey Mr. DJ.'"
COLONIAL BLUE'S "BREAK YOUR BONES" EXCLUSIVE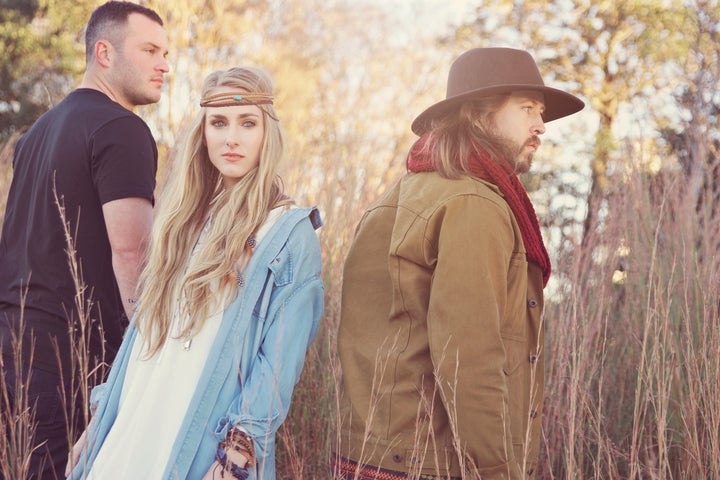 According to Stephanie Rice…
"Break Your Bones is about turning around and facing the things you fear the most. I had been running for so long fueled by a survivalist, primal instinct, but although I was alive, I craved more than just the act of existing. I stopped in my tracks and took a genuine look back into my past and to the voices telling me I was damned. This process meant I had to be broken all the way down before I could build myself back up. In this song, I compare the process to a flood coming your way--you can see it--you know you can run the other way--but you let it wash over you. At the time I was writing 'Break Your Bones,' I was in the midst of the flood and did not know what the outcome would be. But today, I can honestly say that I am shamelessly proud of who I am. If anyone is going through something similar that I was going through--please know that you are not damned, it's not a choice, and there is nothing wrong with you."
"VELOCIRAPTURE" EXCLUVE BY ALEX VANS' BAD BUSINESS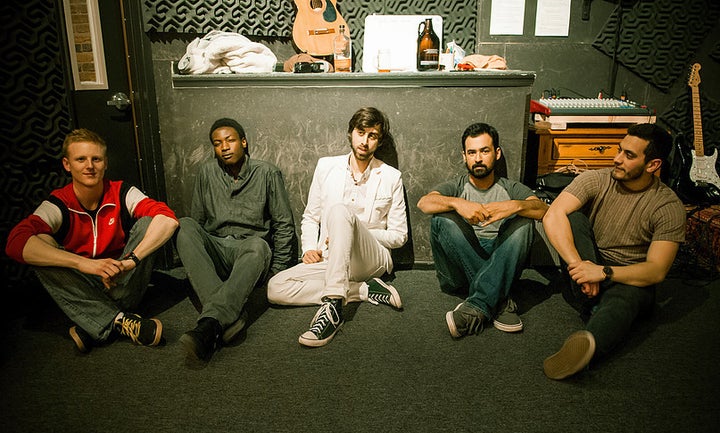 According to Alex Vans...
"Growing up in DC, I've always been a bit of a political junkie. Lately I've been getting more and more frustrated at how folks from both the right, and, disappointingly more and more, the left, have become increasingly irrational, rhetorical, and ideological. 'Velocirapture' tells the story of someone who is so attached to his beliefs and ideas, he is willing to watch the world burn for it. Also, my co-writer Andy Valenti and I had just spent the afternoon binging on all four Jurassic Park movies and had raptors on the brain; and you can't write a good post-modern anthem to the apocalypse without raptors. The record, Buy American Vol. 1, is an extension of that in a lot of ways. I try to explore what its like to navigate life in an increasingly noisy and irrational world. All while trying to remind not to take it all too seriously."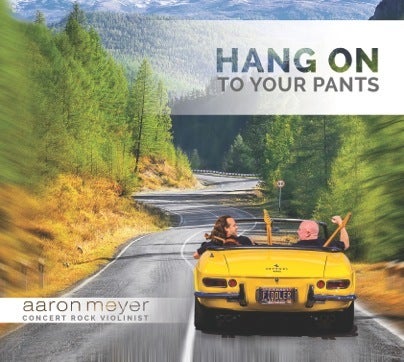 A Conversation with Aaron Meyer
Mike Ragogna: Aaron, why rock violin? Why now?
Aaron Meyer: I studied classical violin, and lived and breathed the classical music world from age 5 to age 19. My father, Julian Meyer, who instructed me from day one in our home, was a one of the top classical private violin teachers for young children on the East coast. Dad taught Sarah Chang as a youngster and she went onto be become one of the most famous classical violinists. I had an instant love and talent for playing the violin and I truly enjoyed playing classical music, but I found it was just too rigid for me with too many rules, and not enough room for new music, or my own creative ideas. My father recognized my love for the violin, was a strict teacher, and knew I had an ability so, childhood for me was all about practicing the violin day in an out, often 4-5 hours a day.
I took a much-needed break from the violin at age 19, and stopped pursuing classical music as a career. I graduated from Lewis & Clark College in Portland, and immediately following graduation; my adventurous side led me to take a year long trip all over Southeast Asia [1995-1996]. It was a life-changing trip that I realized later had a profound effect on my life and career. I returned to Portland, needed a job quick, and the only real skill I had was playing the violin. After sharing with a housemate that I could play the violin, one phone call connected me to a band called Pink Martini, and instantly I learned that I could combine classical music with other styles of music, which is what Pink Martini was all about. With this creative new music style, there were fewer rules about what you can and cannot do musically, instantly I found my musical calling, and a way to express my own creativity with the violin.
I learned and enjoyed my time with Pink Martini, yet craved my own band and style of music. I was familiar with the term "Concert Violinist," which would describe musicians such as Itzhak Perlman or Joshua Bell, but I knew that label was not exactly me. I truly loved classic rock, and rock music, and going to concerts and so I always dreamed of being on stage, playing like a rock star, so in 1999 I made a decision, that I would call myself a concert "rock" violinist, even though I really had absolutely no idea where that would lead me, or what others would think this even meant, but it just felt right to me inside. So, off I went on my journey to define what exactly that was, as a violinist, and composer. "Concert Rock Violinist"--it was perfect for m. Now I knew I was heading down my own unique path, with passion, purpose and a new self appointed description of who I am as a musician. Since 1999, I have been recording my own music and arrangements of classic rock tunes such as The Beatles, Zeppelin, Pink Floyd, Queen, Mark Knopfler, et cetera. Along the way, I discovered who I am as a violinist, and concert rock violinist as I worked on each project. It's been my journey. My mother always told friends, "Aaron marches to his own beat." I now have created my own style of music, different from all other violinists I knew, and have a full time independent music career, with the help of several great mentors.
MR: You have a friendship Everclear's Art Alexakis. How and when did your association begin and what has he done for you lately?
AM: I met Art when he got married in Oregon, and hired me to play at his wedding ceremony and reception in 1999 or 2000. We immediately hit it off. Later, he was working at Kung Fu Bakery Recording studio with his band Everclear in Portland on his record, Slow Motion Daydream. He needed some string arrangements and the studio owner and my good friend, Tim Ellis, referred my name to Art. Art hired me to write, arrange, and record the string parts for the song "Science Fiction." It was one of my first string arranging gigs and I did not want to mess it up. I learned a lot from Art about production and working in the studio on that project. I saw Art over the years, but most recently I saw Art in February 2016 in Portland. Our mutual friend Tim Ellis, who became my guitarist in my band, my bandleader, friend, and producer for the last 8 records of mine, suddenly became sick with advanced melanoma at age 59. Tim had given Art guitar lessons at his studio, and both had become very close.
We put on a benefit concert for Tim on his 60 birthday on February 15, to help raise funds for Tim's medical expenses. I organized one of Portland's most unique concerts, bringing Pink Martini, Art Alexakis and other well known musicians on one stage for one night all to help one of the Northwest's most talented musicians and producers, Tim Ellis. I invited Art to come play at the concert with many other artists. Art was able to fly up to Portland even though he was on tour and he paid his own way and volunteered to perform at the fundraising concert for Tim. Art was a total gentleman and could not have been more helpful or kinder. We were able to raise $145,000 for Tim and his family from the concert and Art was a big part of that.
MR: Hang On To Your Pants is the title of your latest endeavor. Why the title—as if we didn't know…maybe we don't—and what nudged you into recording a ninth album. What, like 8 isn't enough?
AM: Tim Ellis--my guitarist who co-wrote and arranged all the music with me and produced all the music for 8 albums--and I had already produced 3 records of mostly original music and 2 Christmas records. I knew that we did not need any more original music at this point in time. We needed an album of popular & recognizable songs from 1960s and 1970s. We had covered "Comfortably Numb" on a previous album--although I titled our arrangement "Classically Numb"--and our listeners loved it and we loved playing it. Tim was a kid during the classic rock era and he was a lead rock guitar soloist. He group up with that music and loved it. Tim even saw the first tour of Queen when they released "Bohemian Rhapsody" in 1975. I knew that if we came up with our own arrangements of anthem timeless rock tunes it would be a great showcase for Aaron on the violin and Tim on guitar and help us reach new listeners with familiar and well loved music. I wanted to pick several tunes that Tim and I were really excited about and that would translate well with a violin playing the melody. My wife, Renee suggested "Bohemian Rhapsody," Tim suggested "Carry On My Wayward Son." I thought "Sultans of Swing" and "Hotel California" would be cool. So off we went working on these tunes. I also really wanted to do a progressive rock version of Vivaldi's "Winter" from "The Four Seasons." Vivaldi, to me, is like rock music. The harmony's are similar to rock music and the music does rock out pretty hard…especially when you add heavy electric guitar power chords.
We had fun working on these arrangements. We added three horns to our band to make it a nine-piece band--violin, guitar, electric bass, keyboards, percussion, drums, trumpet, sax, and trombone. The horns helped us fatten up the sound plus they were great support in some of the melodies particularly on "Bohemian...." I had never named a title of one of my albums on my own. Tim and Renee seemed to always come up with great names for the past albums! Hang On To Your Pants was the first album I ever named, and the name just came to me and felt right. It definitely gets some giggles and I like that. For the cover shot, my friend let me borrow his 1967 330 GTS Ferrari convertible, which I also just featured again in my first music video that we filmed in Venice, Italy. I knew that several of our unique versions of these tunes would make people laugh in a good way because here I am a classically trained violinist playing anthem rock tunes. Since we recorded a version of probably the most complex vocal rock tune of the 1970s ["Bohemian Rhapsody"] and did an instrumental version of it, which now that I think about it, it's kind of outrageous. I thought with the image of us on the cover in the car driving….I want a record title that makes people laugh out loud. I said, Hang To Your Pants. Tim laughed and said, "Great." Now, every time someone picks up the record and reads the title, they laugh. I am glad I can bring laughter to people.
MR: Let's catch everyone up by giving a complete history of your musical education and adventures up to this point, leave nothing out.
AM: I was born the son of a violin teacher, Julian Meyer. Julian specialized in teaching young musicians the violin, ages 5-14. My father taught me the violin starting at age 5. Julian gave me a great technical foundation on the violin, the passion for the violin, and the drive to success and work hard. I attribute these qualities to my father and to much of his success.
MR: What's the favorite question you love being asked?
AM: What motivated you to seriously practice your violin so hard at such a young age?
MR: Aaron, what motivated you to seriously practice your violin so hard at such a young age?
AM: The short answer is the violin cake. That is a cake shaped like a violin that was a personal prize from the teacher, for the winner of the children's Philadelphia Orchestra competition.
MR: And what is the long answer?
AM: Julian Meyer, taught violin privately in our home seven days a week. The kids came in for lesson, and they went out all day long. I thought every kid in the world played the violin. When I was five years old, my father took me to a concert at the Academy of Music in Philadelphia, Pennsylvania, where one of Dad's eleven-year-old violin students won a competition to solo with the Philadelphia Orchestra. The Philadelphia Orchestra is by far one of the greatest orchestra's in the world. I saw this concert and watched the girl on stage play her solo. After the concert, I immediately turned to my father and said, "Dad, I want to do the same as the eleven year old girl and solo with the Philadelphia Orchestra." After the concert, at our home, my father held a party for the girl who won the competition and soloed with the orchestra. At the party, out came a giant cake in the shape of a violin. I turned to my father and said, "Dad, forget that concert, I want that cake!" And that is how it all started. Dad said, "Son, you will practice, you will win the competition, you will solo with the Philly Orchestra and then I will buy you your very own violin cake. On February 4, 1984, I received my prize, the "violin cake." Oh, and I did solo with the Philadelphia Orchestra, and it was a unique performance because after I played the piece for an audience of 3,000 people. The conductor turned to the audience and said, "Do you want to hear it again?" And it was a yes, no question about it. A second run performance. One of the most incredible moments of my life.
I continued to study the violin with my father, Julian Meyer, who taught the world-renowned Concert Violinist Sarah Chang. My training continued w Luis Biava, associate conductor with the Philadelphia Orchestra, and also at Indiana University with Yuval Yaron, a student of Jascha Heifetz, where I enrolled as a violin performance major as a freshman in college--1990, age 18. After one year of classical violin training on the university level, I quit the violin. Julian Meyer always said, "Do not go into music unless you cannot live without it." I asked, "Why," and Dad said, "Because it is so hard to make a living as a violinist." I saw too many really good violinists playing in really average orchestras with very little pay and the competition for those spots was fierce. I thought, I can do something else and keep music as a hobby. I changed majors to math, then left Indiana University because I really wanted to be on the West Coast. I graduated from Lewis & Clark College in 1995 in Portland, Oregon, with a degree in natural science/pre-med. I thought I would become a doctor but he had no clue where I was going, or what I was doing. After graduating from Lewis & Clark College in May 1995 at 22 years old, I spent one year traveling in South and Southeast Asia (SEA) as a backpacker. I was trying to find the most remote places in the world and get as far off the grid as I could.
I hiked for 65 days in the Himalayas in Nepal and spent 4 months living in Cambodia learning to speak Cambodian language. Biking thru Vietnam, wandering around Myanmar and Laos. This was a pivotal time in my life and this is how I fell in love w Southeast Asia. There was no violin playing at this time in my life. Now I tour in SEA every year for a month usually in December/January visiting life long friends, performing concerts, soloing with the Bangkok Symphony Orchestra four times and performing for the exclusive Aman Hotel "Amansara" New Year's Eve Gala in front of a 1,000 yr old temple in Cambodia and performing at schools and in villages where most people have never seen a violin except in a movie. I love SEA, the people, the food, the climate, the lifestyle, the architecture, and way of life. After traveling in SEA, I returned to Portland in October 1996, and I needed a job. My only real skill was playing the violin even though I had not studied music since I quit in 1991 but I could still play after a 5-year hiatus. A housemate suggested that I contact Thomas Lauderdale with the band Pink Martini. I picked up the phone and cold called Thomas. He invited me to a band rehearsal, and then asked me to play something for the band. Five days later, I was on stage with Pink Martini performing live. This is what brought me back to music and the violin.
Thomas Lauderdale grew up studying classical piano and had a very similar intense classical training as me. Thomas organized a small band/orchestra around him. I liked how Pink Martini could combine classical music with Latin, cocktail and jazz styles. There were fewer rules with this music; in fact there were no rules. There was less emphasis on being a perfect technical player and way more emphasis on just having fun and being creative with music, and now I was getting paid doing something I loved. PM was working on their first record at the time, called Sympathique. This was before PM had any kind of commercial success; they were just a local Portland band. Sympathique ended up selling over a million copies, and the music on this CD is played all over the world. I played and wrote the string parts for two of the songs on this album. Recording fascinated me and this was my first project. I was brought back into music, I learned from Thomas and PM about directing a band and learned how to sell myself to get more gigs, the business of music. I was taught how to play the violin but no one ever taught me how to get a gig or sell music or navigate the business end of music.
After one PM gig in 1997, someone came up to me and said, "We are having an event and we would love to hire you to play with a three-piece band." They said, "You have a band don't you?" I did not have a band, but said yes anyway because I wanted the gig. I knew I could go to another guitar friend, Tim Ellis, who I met in Portland and Tim could put a band for me. I saw Tim perform with another guitarist, Jim Walker. Tim and Jim had a great duo going and they had me sit in one time with them for fun. I said to Tim, "why can't you and jim play and I will play along too." That was how my first band and gig came together and how I started a musical partnership with Tim Ellis, who later one would become my right hand guitarist and producer and music collaborator.
In 1997, Pink Martini did not really need a violinist at the time, and they had too many people in their band. Thomas and PM let me go from the band as I was the most disposable musician at the time. I was devastated but it forced me to continue on my own musical journey. I was asked to play with a local pianist Michael Allen Harrison. Michael had an established career and regular gigs for me. We worked together for three years [1997-2000]. Through Michael is how I was introduced to Tim Ellis, who would later on become the most influential musician and music collaborator in my life. I played several gigs with Tim but our time collaborating together was to come later. In late 1999, I started working with a guitarist and songwriter Bill Lamb. Bill was a singer songwriter singed by Warner Brothers and ended up in Nashville. He wrote songs that Kenny Rogers and Crystal Gail cut. Eventually Bill left Nashville and music behind.
I needed to find someone who was more available and had time to write new music and help me develop a sound--"concert rock violin" sound, whatever that was. Bill and I worked together for 6 years and released 6 independent home studio records together; this does not count any of the records I did with Tim…I don't' sell any of that music anymore or play it. Bill helped me write original music and he helped me develop an audience. We played together for 6 years. At the end of 2006, Bill decided he did not want to play live music anymore. It was time for me to move on and I was not sure what to do so I went to my friend Tim Ellis for advice, who I knew was a successful and knowledgeable musician. I needed a guitar player and a music collaborator. Everyone in Portland loved and respected Tim and he was the go to guitar guy for any lead guitar gigs or recording sessions in Oregon. Tim had put together Oregon's finest commercial recording studio the state had ever seen in 2000. I thought Tim would be too busy to work with me. Tim asked me, "What show dates do you have." Tim was able to play all the shows and off they went. The biggest challenge at this time was, Tim wanted me to start recording in a commercial recording studio and get away from a home studio. Tim also wanted me to raise the level of the band playing and musicianship.
I had been recording in a home studio at this point and would spend approximately $3K to $5K per record. Using Tim's recording studio, Kung Fu Bakery Recording, hiring a higher caliber of musicians for the band, hiring a top notch recording engineer, et cetera. All of a sudden, the records were going to cost $30,000 to $40k, a huge jump. This was a big leap and way more expensive. This was my biggest fear. But I took the leap of faith and never looked back and Tim Ellis made my music and recordings sound 1,000 times better and more professional. Tim also took over as the bandleader, he was a natural bandleader and he hired players he has worked with for years who would be a good fit for my band and the music, were fun to work with, and were professionals. Tim passed away in March of 2016 from advanced melanoma. Tim was a master composer and arranger. He was a master producer and very efficient in a recording studio. He owned the finest commercial recording studio in Oregon. He had amazing work ethic, he was an unbelievable lead guitarist and could play almost any style of music, and he could play almost any fretted picked string instrument. We fit together perfectly. We were a great team. The letters of the word team are their initials Tim Ellis Aaron Meyer. Tim raised the level of my music exponentially. We played together for 8 years and produced 8 records together. We performed all over the US and internationally in Thailand, Cambodia, Canada, Fiji Islands, Mexico, and Jamaica together.
My first record with Tim producing in 2008, The Journey, not the Destination, was the first record that I feels defines my Concert Rock Violin sound. There are several original tunes that have a kind of music from around the world theme and we also recorded arrangements of "Eleanor Rigby," "Comfortably Numb," and the movie theme, "Lawrence of Arabia" on The Journey album. I did another original record, Warming Up, in 2009 w the same band and 2 Christmas records in 2008/09. My Christmas records are so not traditional. For example, in the album title cut, "Do You Hear What I Hear?" we start out traditional; the tune speeds up and the band switches into an Indian Raga groove. The tune speeds up more with Indian harmonic minor improvisation sections trading between the piano and violin…of course we had to add electric sitar to this track….then we kick into the chorus of The Who's "Baba O'Riley." I have an annual Christmas Concert Series in Portland. This year will be my sixteenth season. The concert series is all totally independent and self produced. Four concerts over three days; over 3,000 people attend annually. In 2011, I wanted to produce a record that showcased my classical side and symphonic style as well as the edgier rock side of my music collaborator Tim Ellis. I wanted to have small string section, then I thought I wanted a small woodwind section, brass… What I really wanted was a full orchestra playing along with my band. I started looking into the reality of hiring an orchestrator and musicians and it was just too expensive and nothing was coming together.
Finally I reached out to Jeff Tyzik, principal pops conductor of the Oregon, Rochester NY, Seattle, and Vancouver B.C. Symphony Orchestra's. Jeff wanted to help me and he orchestrated six of my tunes/arrangements. We recorded this music with 28 members of the Oregon symphony in sectionals--ten strings triple tracked, six woodwinds, seven brass, four french horns, orchestral percussion. All this went onto a record called, Two Sides To This Story, which showcased the symphonic side versus the rock side of Tim and my music. I premiered this music with the Oregon Symphony in April 2011 and now I solo with orchestra's all over the world including the Bangkok Symphony Orchestra in Thailand. Two Sides to this Story was my biggest project at this point in time. I decided to take a break from recording. I recorded a meaningful record in 2014 with my father and first violin teacher. Dad and I played a series of duets together when I was 16-18 yrs old. Dad set up concerts in Philadelphia and all the money we made, went towards my college education. I wanted to record this music and we did it on a record called, Father & Son.
In 2015, I knew I did not need more original music at this time. I had three albums of mostly original composition. What I wanted was an album of recognizable anthem tunes from the 1960s and 1970s. Songs that people knew and loved. I wanted to record "Bohemian Rhapsody," "Carry On My Wayward Son," "Hotel California," and "Sultans of Swing." My wife Renee and I recently produced a music video set to my progressive rock arrangement of Vivaldi's "Winter" from "The Four Seasons." We were on our way to Venice, Italy, and Renee said, "You should hire a video team and make a music video of 'Winter' from your new CD, Hang On To Your Pants." After all, Vivaldi was born around the corner from San Marco Square in Venice. So we did it last minute, a few weeks before the trip, we tracked down and hired an Italian production team, and spent a full day all over Venice fiddling and filming up and down the Grand Canal and all over the city. Renee owns a niche honeymoon travel agency http://www.unforgettablehoneymoons.com and we were both in Venice scouting for Renee's business, while I had a concert at Aman Venice Hotel. We wanted to combine our passions and careers, travel and music. The music video, "I Dreamed of Venice" is a true artistic collaboration of our passions in a music video format. This is the first of several music videos we want to release combining my music and Renee's love of travel.
Another performance I am really proud of is the concert we did at the public talk for the visit of His Holiness The Dalia Lama to Portland, Oregon, in May 2001. I so badly wanted to meet the Dalai Lama when I was in my 20's especially after my big trip to Southeast Asia. I was even prepared to fly to India where he lives and see if I could track him down. The Dalai Lama came to Portland for a series of events. I found out about this and found my way to the organizers of this event. They agreed to allow me to compose a piece of music for the Dalai Lama and I did this on stage and played it to him with him sitting 15 feet from me in front of 10,000 attendees. It was really a fun event.
MR: You're getting a lot of attention for your cover of Queen's "Bohemian Rhapsody." Why did you pick on that poor song?
AM: My wife Renee usually has most of the good ideas. It was her idea to record, "Bohemian Rhapsody." She started telling me years before we recorded it that I needed to record that song. Then she started to nag me. Well, I have written and arranged all my music for the last eight years with Tim Ellis so I presented the idea to Tim and at first he said that song would be really hard to arrange. He explained to me on the original Queen tour in 1975, which Tim witnessed first hand, the entire first section of the song was not played live, it was a recording. He also said that vocally it was so complicated and the song was so vocal driven. Well, I started to nag tim saying he couldn't do it and giving him a hard time. I knew we could pull this song off because so many of the melodies are so lyrical and have long sustained lines. This translates well for the violin. We added a 3-piece horn section and I just knew between the violin, the electric guitar, the horns, and the rest of the 9 piece band, we could do it and it would be fun. I think it is one of the best arrangements on, Hang On To Your Pants.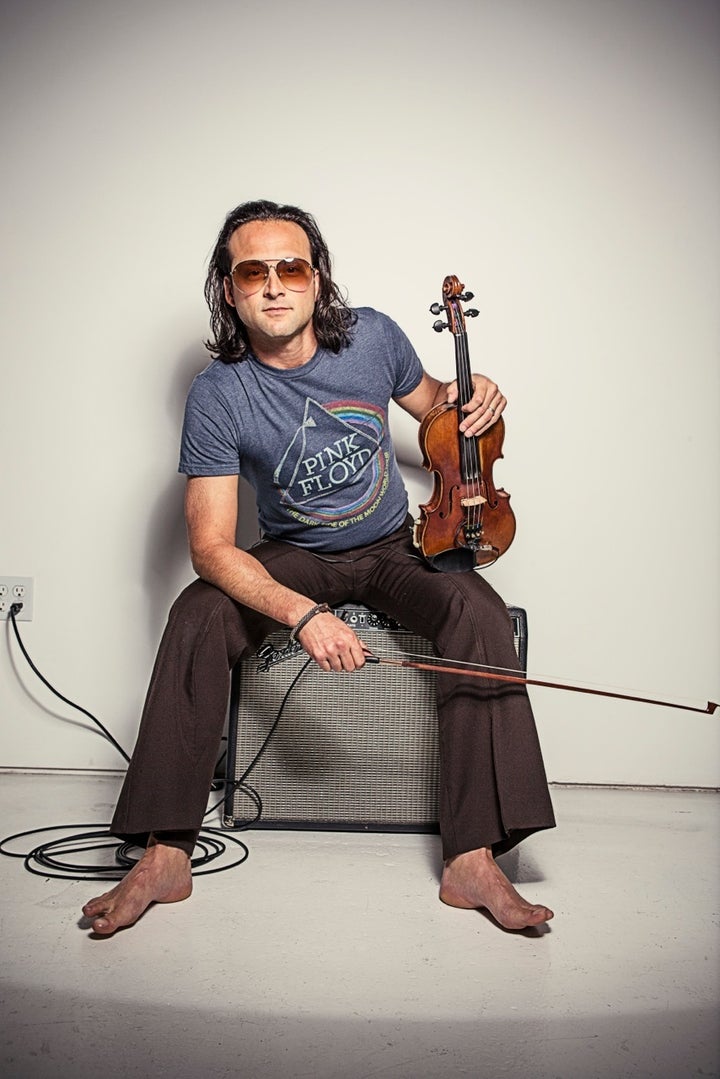 MR: What's the tour on the rest of the album's creative process? And how improvisational do you allow yourself to get at least during the initial recording attempts?
AM: The good part about being the producer and totally independent is you can do whatever you want. No record company is telling me what to do. The down side is I have to pay for everything and figure out how to sell my music. Songs like "Bohemian...," we stayed pretty close to the original tune and arrangement. We really did not stray away from the form, melodies or harmonies. If you listen to our arrangement of "Sultans of Swing," there is an entire middle section that is original. We wanted to create a middle section that made you think of a Sultan. I love this, where the song you already know takes a complete 90-degree turn and goes somewhere the listener has no idea what to expect. Yet because of the name of the song "Sultan…., it fits, at least to me, thematically and then we come back to the original tune for the last verse, chorus, and big guitar solo. Same thing with "Carry On My Wayward Son." There is an entire section at the end that is totally original and improv that features the piano first, violin, horns, and electric guitar.
As far as how improvisational we get, first, we play through the tunes and try ideas before we record it. Tim was our producer and he directed so I listened to him boss all of us around. He just knew what to do and had an incredible ear for what was appropriate and what would make sense musically. All the violin parts were scratch as well. I would record on basic tracks with the band but all my violin parts were replaced so I had time to play with ideas and get my act together.
MR: What about those other eight albums?
AM: I am really proud of all the records I have done with Tim since 2008. I did one record without Tim in 2007. It was a classical record, From The Beginning, with violin and piano and I picked songs I played from age five on up to seventeen years that were important to me including the piece Kabalevsky's "Violin Concerto in C Major, 1 Movement" that I played when I soloed with the Philadelphia Orchestra at age eleven.
So Tim and I did eight records together since 2008. The thing I am most proud of is that none of the records sound the same. They are all thematically and stylistically different. Tim was adamant about working at the highest standard possible and pushing our music and our band as hard as we could to be as good as we could. Every album we did covers different ground and the intention was to showcase the diversity in styles that we could cover as a band as well as the level of musicianship and production.
MR: Have you ever heard of, what's his name...Jean-Luc Ponty? He's apparently a really talented cat. Might even make it big someday.
AM: Of course I have! He is definitely one of the people when you think of contemporary violin or jazz violin and for pushing the boundaries of the violin. I want to meet Jean-Luc. I know I could learn a lot from him and I believe on passing on traditions and sharing. I also want to meet Charlie Daniels and record a music video of him and I playing "Devil Went To Georgia" down together. But my favorite non-classical violinist is Stéphane Grappelli. I love his music and playing. He is the ultimate improvisationalist on a violin. No one can come close to him. He is self-taught and plays the piano as equally as well as the violin. He played till the day he died, wheeling him out to the stage to perform in his wheelchair at the end of his career. Stéphane could rip crazy improvised solos over really complicated tunes. Tunes I tried to play and the chords are complicated and changing so fast. He was so tasteful with his playing. I am a huge fan. And there are non-violinist musicians that I admire. I love Mark Knopfler's playing. If I had the chance to pick an artist that I could collaborate with, I would pick Mark. I recently saw him perform with this band. His attention to detail and the players he surrounds himself with is amazing. All the players in his band can play multiple instruments proficiently and the integrity that they play with is at a very high standard. Its great ensemble playing. I am a big fan of Jimmy Page and Zeppelin. I love bands that have a strong instrumental component to their songs. One of the most enjoyable shows I saw was when Sting toured with his own orchestra made up of members of the Royal Philharmonic Orchestra. I loved hearing his voice with nicely thought out orchestrated arrangements. Very pure sounding. Stings tunes are strong melodically and always very pretty. I wish that Sting would ask me to sit in with him one day.
MR: You covered "The Devil Went Down To Georgia," Sultan's Of Swing," and "Hotel California." But your other nod was to Supernatural, "Carry On My Wayward Son." Why those choices and how big a fan of Sam & Dean Winchester are you? If you're not, the interview ends here.
AM: "The Devil..." was easy. Everyone asked me if I knew how to play that tune. I was tired of saying no. I almost had the chance to meet Charlie Daniels in Durango several years ago. I played a show in Durango where Charlie has a house and the concert was held at an art gallery. I did not know it but the gallery owner was a friend of Charlie and Charlie saw posters around town that said, "Concert Rock Violinist, Aaron Meyer." Well, Charlie wanted to know who the heck this CRV kid was. Unfortunately, Charlie had to go on tour and could not come to my show. Another reason that I recorded that song is because I hope that one day I can play the tune with Charlie, maybe even make a music video together.
The reason we picked the other songs, "Sultans...," "Hotel...," and "Carry On..."? The idea for Tim and I on this record, Hang On To Your Pants, was to pick songs we really loved and that would translate well on a violin. We both love Mark Knopfler and his playing and we loved "Sultans Of Swing." It's great music! Playing the melody line on "Sultans..." was tough for me on violin because Mark hovers around a few melody notes in a kind of Bob Dylan-esque way. That is not easy to re-create on a violin. It works fine for a vocal but much harder on the violin. "Hotel..." was fun because its so popular and an anthem tune. We both said Reggae plus we can feature our awesome trumpet player and horn section on this tune as well.
"Carry On..." was another flagship tune. The record opens with "Bohemian..." and closes with "Carry On My Wayward Son." They are the most powerful tunes on the record in my opinion. Tim knew that "Carry On..." would be great for our band because the verse and chorus melodies are so lyrical; good for the violin. The way the verse starts with only piano and vocal (violin) is somewhat classical in nature….then there is so much great guitar work and band riffs throughout the tune.
MR: You had a cohort, Tim Ellis, who recently passed away, sorry. How did the two of you creatively work together? Do you have any stories about him or your boring on a song?
AM: Tim and I were dearest friends. We were a perfect match. Our skill sets complimented each other so well and that allowed us to work as a team so well. Tim oversaw more of the composition, writing, arranging, producing, and recording of the music. He led the band. I certainly helped with the writing and arranging but he was a master at it. I didn't have to worry, will the music be good or will the band sound good. It always was fabulous with Tim. He had the highest standards and integrity when it came to music. I oversaw booking all the gigs, marketing, PR, branding, I bank rolled all of the records, and making sure we were all making money and getting paid. We enjoyed working together. We enjoyed being on the road together. We hung out after gigs and even when we were not working. We vacationed with our wives together. We were best buds. We played 100-plus shows a year for over eight years together. We did summer music camp clinics, artist in residences in schools, master classes, we were both very passionate about music education. And when we played music live, it was so easy to do together. He was the best guitarist I have ever heard and I got to listen to him all the time. He made everyone around him better. In our band he was our MVP. A quiet, humble, super star. He never wanted to draw attention to himself. And his network of friends and colleagues was extensive. Every musician and fan had the highest regard for Tim. His playing spoke for itself. And when other people heard him play in my band everyone was impressed. He made me look good.
Tim always listened to and embraced my ideas for songs or arrangements. Tim was a consummate producer. His other incredible gift after playing lead guitar was producing. He always knew what to do with music, how to make it appropriate, how to make the artist better than they would ever be on their own and he played and produced with integrity. He taught me so much about writing and arranging music, recording, and leading a band. Now when I look back, I feel like he was preparing me for when he would have to leave me. Unfortunately, he left me far sooner then we all anticipated. We thought we would play another 20 years together. My favorite Tim Ellis story. We were traveling in Southeast Asia performing concerts. We had a show in Siem Reap, Cambodia. After the show, we were out having fun with all our local Cambodian and expat friends and carrying on drinking cocktails late into the night as it was our last night in Cambodia. Tim said at about midnight, "I am going to bed." We were going to wake up early the next morning to go see some incredible 1,000 year old temples, then we have to fly to Bangkok, navigate Bangkok traffic and we had our rehearsal with the Bangkok Symphony Orchestra (BSO) that next night for our performance the following night after that. Tim tried to get me to go to bed but I was having too much fun. I said, "I am staying up and I am not done!!" He said, "When you are too tired tomorrow night at rehearsal, don't' complain to me."
We show up to rehearsal with the BSO the next night and of course I am exhausted and I have a headache. We get to a song Tim wrote called "Six Gifts," which is about his 6 children. The song has a section with very tricky rhythm and a conductor is reading off a score and leading the 80-person orchestra to match the violin and guitar soloists. I play by memory so I have no music in front of me. We get to section where there is a bar of 4 beats in one measure followed by a bar or 6 beats and the rhythms are very tricky for the orchestra and soloists. This would be a trouble spot for the best of players. Very easy for a train wreck. We play it and it's a disaster. We do it again, another disaster. Again. I had switched the two bars in my mind--six beats then four beats--so we get to the bar of 6 beats and I yell out as I normally do at the conductor "3 and 4"--meaning beats 3 and 4--but they are really beats 5 and 6. So, of course, the conductor and the orchestra are 2 beats behind as he/they are following my cue's, which is incorrect information I am giving him. Tim finally stops and says to me in a stern way, "Please go look at the conductors score and tell me if there is a bar or 4 followed by a bar of 6 or the reverse." Very short tempered and tired at this point, I turn to him and say, "We don't' need to do this, I am certain I am correct. This is how we did it w another orchestra, I am certain of it." Tim said very calmly, "Please go look and tell me what you see." Finally, I do, and I see that I am wrong and Tim is correct. As I walk back towards him with my tail between my legs, he is staring at me and his staring is starting to piss me off. He doesn't stop so I say to him in not a very nice way, "Don't look at me that way!!!!!!" Two hours later, I profusely apologized and we laughed. From that point forward, whenever we got to that same spot in the song "Six Gifts," we would both mouth to each other, "Don't' look at me that way!!" I have so many stories I could tell. Even though Tim is not physically on this planet, I still think of these funny situations and they make me smile. By the way, Tim's wife, Susan was very proud of me for standing up to Tim because most people were too intimidated by him. In 19 years of working intensely together and traveling on the road, we had 2 misunderstandings, both of which were cleared up within 24 hours.
MR: Beautiful story, sorry for your loss. Okay, so you could have learned rock guitar and are done with it. But no, you had to learn violin and twist that instrument's fate. Why, Aaron, why? And what is it about the violin that cries to your sensitive side?
AM: It was inevitable that I would twist the fate of the violin. I had to do it my way. Marching to my own beat. I was always the kid who was thrown out of classical orchestra as a kid. I could not do it other people's way. And I was terrible about following rules. I had no choice about playing the violin. Neither did my sister, Rebecca. Our father was going to have us play the violin. My father's parents were too busy trying to make money and get themselves out of debt when my dad was a teenager and therefore they were not able to take much interest in my dad's music when he was younger. So my Dad wanted to give what he wanted as a child to his children, a parent who really took interest in them. My Dad was extreme. I don't remember ever asking to play the violin. I just wanted to do it because everyone around me did so I naturally wanted to do it but it really was "The Violin Cake." After I soloed with the Philadelphia Orchestra at age 11 and got my cake, I told my Dad I was done with the violin. I had achieved my goal. One of the top violin teachers in Philadelphia in 1984 at The Curtis Institute of Music, David Cerone wanted to teach me privately. I did not care. I was done. My Dad said, "oh no you are not." My Dad would not let me quit. He said he knew that I loved the violin and music and the only reason I wanted to quit was because of peer pressure and wanting to fit in w other kids at school. I was tired of being Aaron, "The Violin Kid." Trust me, the violin was not very cool in middle school. My Dad was right but I did not know it at the time. I am glad he made me stick with it because I would have quit at the time. I really did want to play violin, I just needed a break and to come back to it on my own terms. March to my own beat.
My father only listened to classical music. He knew nothing about any other kind of music and he was strongly opposed to it. So I had no education about any other kind of music in my home other than classical. My first experience playing non-classical music came when I befriended a guitarist in high school who loved to play music of the '60s and '70s. He took the sheet music away from me, started playing some chords and said, "Play." I said "Play what?" "Play anything…make something up!" This was hard for me at age 17. I had no experience with improvisation. Then I quit the violin at age 19 and did not pick it up again until age 23 when I needed a job. It was Pink Martini and Thomas Lauderdale's fault that I began tampering with the possibilities of the violin. Really because of Pink of Martini, I discovered that you could combine different styles of music and I thought that was so cool. I was learning how to improvise. I had started listening to Stéphane Grappelli, "The Grandfather of Jazz Violinists," and Ponty, Peter Rowan, Vassar Clements, and Vanessa Mae, anyone who was doing something different with the violin outside of classical. After listening to Grappelli, I was really inspired to learn how to improvise better, although some days, I wanted to break my violin because he was so good at it and I struggled.
I really liked how combining styles was cutting edge and different. It was like being a musical pioneer. I was on new undiscovered terrain. It was almost like I was inventing my own style of music, my own sound, my own brand of music specific to my playing just for me. When I started composing my own music or riffs, I never had any formal training in composition. I did not really know what I was doing. I just played from my heart and played what I thought was interesting and what sounded good to my ear. I liked how there were no rules…I could do whatever I wanted with the music. I liked how outside of classical music, most listeners were not critically judging my playing…they just wanted to listen and enjoy the music/playing for whatever it was worth. This was the beginning of my journey to creating my own sound. I never wrote music for anyone else or to fit a certain mold. I only wrote music that felt right to me.
I was lucky to have my father who gave me the fundamentals for the violin and the passion for it. I was lucky to have Yuval Yaron as a violin teacher at Indiana University who was incredibly strict and who taught me how to practice and gave me techniques I would use on when I came back to music and make it my career. I was lucky to meet Thomas Lauderdale who brought me back to music and showed me a way to combine classical with other styles and how to sell your music and get gigs. I was lucky to meet Bill Lamb who I worked w for 6 years and who really helped me develop my first style and sound. And most importantly I was blessed to know and work with Tim Ellis for 19 years but the bulk of our work and time together was 2007, early 2016. As I started to have some success as a "Concert Rock Violinist," get more gigs, make more money, et cetera, I really liked the fact that I was doing something different. There are a million rock guitarists, really good ones and lots of competition. But how many rock violinists are there even now?
MR: How about touring? You like to do that? I heard not all the time, what's that about?
AM: I like to tour but I don't like to be on the road relentlessly. When I am on the road, I don't' have the luxuries I am used to like my wife, my bed, my three dogs who sleep in my bed, my regular routine, my kitchen, being able to control what I eat as easily, et cetera. Airports are much more complicated these days with so much waiting around. And I love where I live in Portland, Oregon. However, I love to perform and I am eager to play in new places with my band and I am up for more touring in the future. I am also very eager to start collaborating with other popular artist if they ever want to have a guest rock violinist sit in. I think the violin has so many possibilities in today's popular music. I would like to explore those options.
One nice thing is I am able to work and perform and teach all year long in the pacific northwest and I can easily drive to Seattle, San Fran, Vancouver BC and all the little towns in between. I love regional touring and there are so many places to perform between San Fran and Vancouver. I love touring in Southeast Asia for a month every year. That tour is a combination of interesting work and concerts and a lot of fun. Usually soloing with the Bangkok Symphony Orchestra, playing concerts in really fun towns like Siem Reap, Cambodia, Luang Prabang, Laos, and Ngapali Beach Myanmar. Master classes with the symphony in Hanoi, Vietnam and visiting local schools in more remote areas. Last year, I even performed for some elephants at an elephant camp in Burma. They seemed to like it. I have done several charity concerts for the luxury hotel brand Aman Resorts in Cambodia and Laos and after my concerts I get to take advantage of these wonderful resorts and the amazing attractions these locations offer. Plus the weather in Southeast Asia in December/January is amazing and the food there is wonderful.
MR: Aaron, what advice do you have for new artists?
AM: Find a good mentor who can guide you and learn from them. This has been the most helpful thing for me. I have been lucky to have such great role models and guides to navigate the music business. Find other artists who are more successful than you that are doing what you want to do and try to learn what worked and what did not. Try to reach out to those people. Surround yourself with other musicians who are working and making things happen. Surround yourself with people who are good at what they do and successful, who are better than you. Challenge yourself.
Listen to great musicians and players and listen to as many different styles of music as you can. Learn as much about music theory and harmony. Don't be afraid to sell yourself and get out there and knock on doors and ask for gigs. Be a nice person, be on time, be respectful to other musicians and people who take the time to come listen to your music. Learn your instruments as best you can. If you can play nicely and you are a nice person and not afraid of hearing the word no many times, chances are you will work as a musician.
MR: What advice would you have given yourself nine albums ago?
AM: I would have listened to more styles of different music and made more of an effort to learn music theory and harmony. I had access to so many musician friends who could have taught me more about theory, composition, and improvising. I made some attempts at doing this earlier on but I could have done more and that would definitely help me become a more complete composer and better at improvisation. I wish I had a better understanding of orchestrating music so then I could orchestrate my own songs for full orchestra instead of having to hire some else to do it.
MR: What does the future bring? Perhaps a tenth album?
AM: I am working on more touring dates and more performances for the future with my 9-piece band and reaching out to other artists to collaborate with. I would love to see my music in film and TV. This is my main focus right now and I want to perform more. I love soloing with symphonies on their pop's concerts series. I am working on putting together a pops symphony concert show that features my classic rock favorites on rock violin with full orchestra, like "Bohemian...," "Carry On...," "Hotel California," "Sultans...," "Comfortably Numb," "Eleanor Rigby," "Kashmir." These songs are really powerful with a full orchestra blasting behind and supporting the band. This type of programming is a great way to get new listeners to the symphony orchestra concerts, which there are less and less of these days.
I am working on a tenth album and it will be a tribute to my friend Tim Ellis. I don't need another album by any means but I am doing it for Tim, his friends and fans. I will not be the only artist. The album will feature many of Tim's musical friends and colleagues who cover many different musical styles from singer songwriters to a Mozart divertimento featuring twelve members of the Oregon symphony and me, to a gospel a cappella group, The Brown Sisters. The feature song of the album is a rendition of Leonard Cohen's "Hallelujah" with Tim's 28-year-old son playing guitar. I play a verse & chorus on the violin, 2 musical friends sing a verse and chorus each, and we end with the brown sisters singing the 4 verse all gospel'd out. My band plays w 4 added horns, 40 strings, and a full choir made up of some of Tim's children and his dear friends. It's really big and powerful. My mother told me to record this song and I poo poo-ed her saying this song has been done too many times. But when Tim was sick towards the end, one day I woke up and I knew I had to record the song for him with all his friends. There was no question in my mind. This is how I decide to record a song or not. I just know if it's the right thing to do. I will release the CD at our annual holiday concerts this year.
MR: You also covered Vivaldi's "Four Seasons." Doesn't that make you want to give up your "Rock 'n' Roll Fantasy"—by the way, you haven't covered that yet, hint, hint—and do a strictly classical project? Maybe at least an EP? Come on, do it for mom.
AM: I still want to be a rock star when I grow up. I love classical music and I am so thankful I was given the opportunity to train with great teachers who gave me great technique on the violin. There were too many rules in the classical world for me. I don't like rules. So I am glad that I am not immersed in the classical world anymore. I still love the music and I like to play it but I don't want to do an all-classical album right now. I like throwing in a classically influenced tune here and there on my records like we did with Vivaldi's "Winter."
I like to take classical tunes and Meyer-ize them, like we took Carl Orff's, "O Fortuna" from "Carmina Burana"--its on the CD, Two Sides To This Story; we did our own version of it and it has a heavy metal feel to it with really crunchy electric guitar. The song is dark and ominous so this was easy to do in this style. We add our own musical ideas in the middle but used Orff's ideas and melody to set up and close the tune. I love doing this with classical music. We also did this with "Paganini's Rhapsody" on Hang On To Your Pants. It's a melody written by Paganini, his most famous melody and we used it for inspiration for one of our tunes. And recording classical music is so hard. It's just so difficult. I would make too many mistakes and end up driving the recording engineer and myself insane with all my errors and evil bow hisses. However, when I have to learn and practice classical music, it makes my playing better. Gets me in better shape.
MR: So what haven't we covered? Blood type? Genealogy?
AM: Funny you mention genealogy, my wife's addicting hobby. She traced both of our ancestries, and has found some interesting tidbits, and interesting coincidences in our family histories. Renee found out recently that her late great uncle from Paris was a violinist, and composer, Manuel Rosenthal, who was discovered by Prokofiev in the 1920s in Paris at a composition competition and went on to become one of France's most influential conductors of the 20 century. Manuel was a student and lifelong friend of Ravel; Ravel had three students and Manuel was #3. Manuel lived for one year with Igor Stravinsky where they shared an apartment together in Paris. He even conducted the Seattle Symphony in the 1950s and has guest conducted all over the world with some of the top orchestras including the Metropolitan Opera Orchestra. I wish that we had the opportunity to meet Manuel but he passed at age 99 before we had a chance to meet him. We went to Paris to meet Manuel's son a few years back to learn more. One of my favorite movies is Midnight in Paris with Owen Wilson, where he goes back in time to Paris in the 20's and hangs out with Hemingway, Cole Porter, the Fitzgeralds, et cetera. I've watched it 100 times. I just loved that era, and the music of that time, and we both decided we will be filming a music video in Paris next. I might have to cover more Django/Grappelli.
Related
Popular in the Community