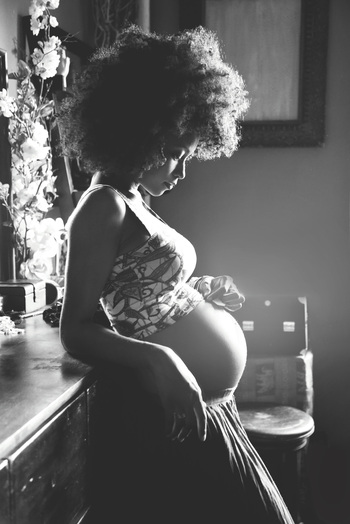 Last week, The Glow: An Inspiring Guide to Stylish Motherhood hit shelves. Billed as "the parenting book for the new generation of hip moms" it features "a rare glimpse into the world of fashionable mothers at home." The coffee table book is the logical extension of the website, The Glow, which was launched in January 2011 by author Violet Gaynor and photographer Kelly Stuart. When I was engaged, I quickly discovered the best websites to spend countless hours on for inspiration or to learn when stephanopoulos are in season and where to order monogrammed stamps. Now I know The Glow is the best resource for chic nurseries and organic onesies. Recently I asked Gaynor and Stuart about the book, the process, and their own guiding principles.
Louise McCready Hart: Critics of your website have made much of the aspirational light you cast on seemingly glorious lives, but in your introduction, you say "The Glow is not about perfection, or having it all." Can you elaborate? Or defend what, at least from the outside, appears like perfect lives?
Violet Gaynor: Kelly's shooting aesthetic is naturally very bright, airy and ethereal, which ends itself beautifully to our subjects of mother and child; however, even though the imagery is aspirational and beautiful, the advice, tips, and tricks that each woman shares is an honest account of their experience as mothers.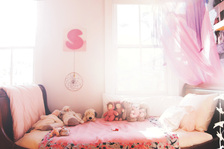 LMH: And turning your own questions on yourself, what has been the hardest part about working on The Glow?
Kelly Stuart: What has been the hardest part has actually turned into the most rewarding. Learning the true meaning of balance has been our biggest challenge. Being the Photo Director for Hearst Digital Media by day and all things The Glow on nights and weekends has had its challenges. During the production of our book I got engaged and planned the wedding of our dreams. Needless to say time has become my most precious treasure. Learning to balance time between work and my home life is an ongoing learning experience and challenge but ironically learning how to juggle it all is beyond rewarding.
VG: Balance! We are workaholics by nature, and always put 150 percent of ourselves into anything we do, which means there's never enough time in the day to properly focus on everything we want to. Now that I'm a mom, my time is stretched even thinner.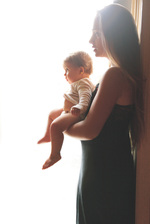 LMH: Most surprising part...
KS: How unbelievable fun it is to photograph children! The Glow is my first photographic study on children and it has been a blast! The hectic, sometimes loud and unruly atmosphere is just full of love and beautiful energy.
VG: How rewarding the experience has been. I wake up thinking about it and can't wait to dive into each feature and project.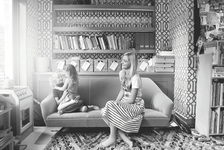 KS: Holding our book in my hands, years of hard work paid off in a beautiful and tangible keepsake.
VG: Being able to turn our site into a coffee table book. We started The Glow as a creative outlet and a way to explore the idea of motherhood and balance. One year after launching the site, Abrams contacted us about doing a book. To see our vision come to fruition in this way is a dream come true.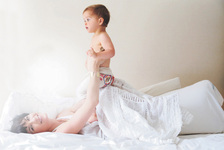 KS: Our husbands, who are always there to field endless questions regarding our site, book and brand. Our family and friends and all the amazingly inspiring women featured on our site that made this whole journey possible. And, of course, our amazing mothers and mothers-in-laws, who surprise, inspire and push us to be the very best at what we do.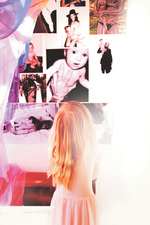 LMH: Personal home style...
KS: Rustic elegance. Being in love with all things reclaimed, my home is filled with reclaimed wood pieces. From my farm table to open shelving throughout, I love the juxtaposition of mixing soft creams and feminine whites with the beauty of aged wood and masculine pieces such as large longhorns. I also love using the unexpected in my home decor, including an antique wood iron cart that serves as my coffee table, and a massive piece of driftwood that acts like a bench in my living room to a vintage wood latter that houses all our treasured blankets. As an avid antiquer, our home is filled with family heirlooms and keepsakes from my world travels including vintage cameras, and old iron chandeliers.
VG: Light and airy. Lots of gray, cream, and white. And in my daughter's room, I added pops of hot pink and a dreamy watercolor wall. While I was pregnant, I went through a purging process where I looked at all the stuff I'd accumulated over the years and got rid of lots of things that just didn't have meaning anymore. As a result, our home is much calmer. Although now the space I cleared out has been filled with baby gear.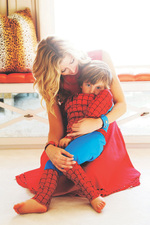 KS: Anything is possible and with hard work and a love for what you do, you can achieve your dreams.
VG: Don't be afraid to take a leap of faith. The fear is worth it; it is what pushes us to keep moving forward.
Popular in the Community