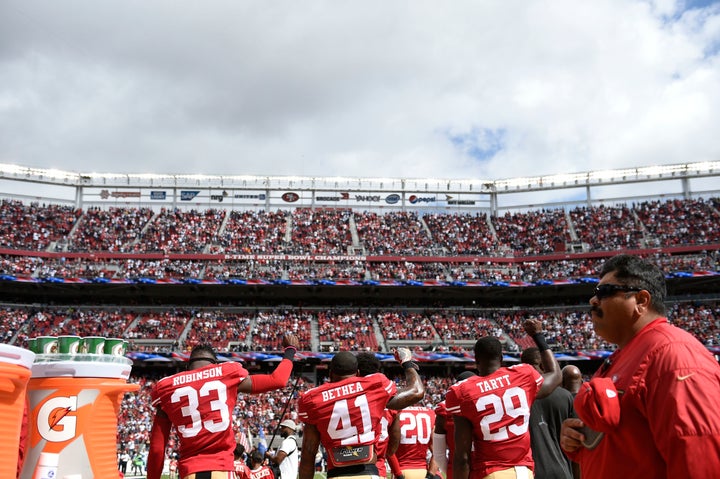 The telephone in sports agent Adisa Bakari's plush Northwest, Washington D.C. office is ringing.
On the other end [of the line] is one of his 40+ clients  —  San Francisco 49ers free safety Antoine Bethea. The call is important.
Bakari has represented Bethea for twelve years. They speak regularly about family, social issues, and other happenings off the field. But now, Bethea has a serious question for Bakari:
"I'm going to raise my fist during the national anthem," Bethea told his agent. "What do you think about that?"
The gesture could cost his client endorsements, fans, or even worse, his spot on the team. But Bakari's response is less calculated than one may assume; he's supportive.
"He was all for it," Bethea recalls, now a member of the Arizona Cardinals. "He was like 'man, you should do something.' He said that it was great, and he commended me for it."
Certainly, Bakari reminded Bethea that there could be some type of repercussions for his actions, but overall, Bethea ― a three time Pro-bowler ― remembers his agent being assuring.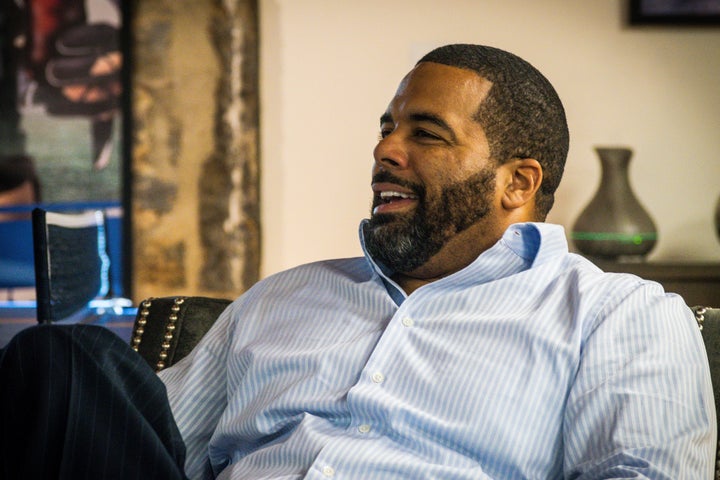 On September 12, in Santa Clara, California (the first game of the 2016 NFL season) Bethea and teammate Eli Harold officially join the protest. As the national anthem sounds off inside of Levi's stadium, spectators stand and begin to place their hands over their hearts; most of the players do the same. With his agent's blessing, Bethea clenches his right fist tight and raises it in the air, punching the sky. He's steps behind the 49ers second string quarterback Colin Kaepernick and fellow safety Eric Reid. They have been kneeling since September 1.
Bakari, an attorney and the principal founder of the Sports & Entertainment Group PLLC , has had to field these types of questions from his rolodex of athletes lately. Players like Bethea, Le'Veon Bell of the Steelers, Jordan Howard of the Bears and many others consult Bakari when faced with difficult decisions. Negotiating contracts can be complicated but, advising a player on how to respond to injustices ― specifically, whether or not to protest during the national anthem ― can be even more convoluted.
"Ultimately, what's happening is there is a growing sense of consciousness among professional athletes, not just in the NFL, but throughout all major sports," Bakari said. "They're understanding their level of influence within the industry, within business, but also in their respective communities and they want to use that voice to spark social change, and that's a noble endeavor.
"They're in many cases putting their careers in jeopardy to bring awareness to a very longstanding and a very real issue and that's the issue of social injustice and inequality in communities of color."
On September 22, after nearly a year of silent protests, President Donald Trump addressed a crowd at a rally in Huntsville, Alabama, adding more fuel to the fire on the field.
"Wouldn't you love to see one of these NFL owners, when somebody disrespects our flag, to say, 'Get that son of a b*tch off the field right now ― out. He's fired! You know, some owner is gonna do that," Trump stated to a cheering crowd.
Then, a day later, Trump tweeted: 
As the NFL community scrambled to respond accordingly, Bakari says his agency "took a preemptive approach."  
"We called everybody, we certainly called all of our players ― our veteran players who have a level of influence ― and we gave our advice. We reassured them that whatever their decision was, we would be behind it," Bakari recalls. "Some of our players wanted to take a knee and I endorsed it, some of our players, although supportive of the cause that was initiated by Colin Kaepernick's original protest, chose not to take a knee and we supported that decision.
"We wanted to let them know, that we agreed that in light of President Trump's comments, that something should be done, those comments should not go without response. We also admonish these players that this is a reactionary position and  generally in life we want to be proactive and not reactive, so let's not let one individual dictate our behavior. In this instance, it warranted a response in our mind."
The majority of the 32  NFL teams chose to either link arms or kneel together, in an act of unity. Some teams even released statements condemning the president's remarks. The message sent by the league was clear: all of us are in this together, and even comments that may come from an individual who holds the most significant office in the land will not divide us. It was a weekend where most players felt a great deal of pride.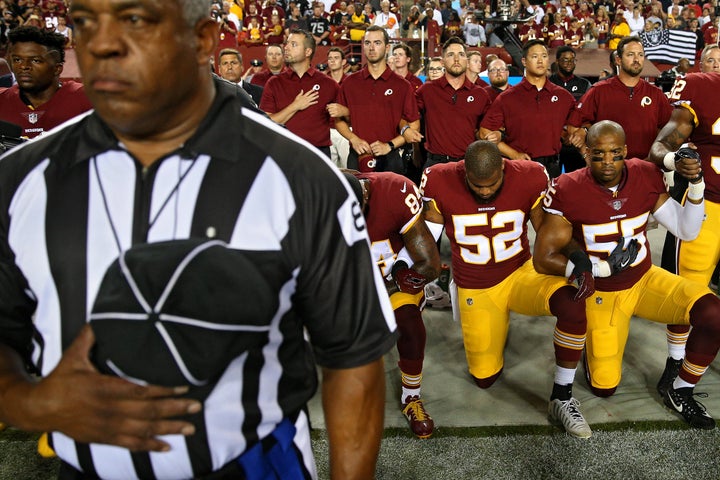 The murder of 18-year-old Michael Brown by Ferguson, Missouri, police officer Darren Wilson, and his subsequent acquittal, rattled the United States. Several other prominent cases involving unarmed black men being killed by police sparked a national conversation on police brutality and racial inequality in the country.
 Looking to address many of his client's concerns, Bakari centered his annual weeklong player's retreat ― at the Fontainebleau hotel in Miami ― around the shootings his players had seen on their smartphones and the headlines dominating national news coverage. The theme, created by the Sports & Entertainment Group staff, became "The Athlete as a Social Change Agent: Using our Platform to Promote Good."
"We let the players ― throughout the weekend― just have a conversation about what they felt their role was as a professional athlete, how they thought they can best impact their communities, what they felt about whether or not to do so," Bakari explains. "Demaurice Smith, the NFL Players Association Executive, came and we tackled some very pointed, challenging issues about how best to use their celebrity capital as again, an agent for change, and it was a very frank conversation... We really wanted the players to have a dialogue among each other, as opposed to inviting a bunch of outsiders in to tell them what they should be doing ― that was the concept."
After the financial seminars, panel discussions, and fellowship, some of the older players decided to meet one night by the pool to talk. Bethea was there, brainstorming ideas and listening.
"We were really talking about impacting lives and what we can do in our neighborhoods, and in our respective cities that we play in," Bethea said. "There were guys talking about what they've been doing as far as getting with police chiefs, or riding with police, and just seeing what they do on a day-to-day, protecting us. Just being able to sit down and talk about life, and how it's impacting us, and impacting our families; it was just real to be able to hear different points of views and to throw ideas off each other. It was a special moment."
Retired running back Maurice Jones-Drew ― a member of Bakari's agency since 2006 ― was "enlightened" by his peers during their late-night powwow.
"There's some guys in Adisa's agency that I didn't know felt like this, to be honest. I learned a ton from them," Jones-Drew said.
Nearly two years before Kaepernick knelt, and just two weeks after Mike Brown's polarizing murder, Jones-Drew, then a member of the Oakland Raiders, wanted to make a statement. Feeling like he could no longer sit back and watch the uproar in the country from the sidelines, Jones-Drew deliberated with Bakari and his wife, and decided to take a stand. In the first quarter of a game against the Green Bay Packers, Jones-Drew scored a 40-yard touchdown. In the endzone, the all-pro running back dropped the ball, raised his hands (palms open) and mimicked the exact "hands up, don't shoot" pose Brown reportedly did before being shot at least six times. Protesters in the streets of Ferguson, in Oakland and across the country had been emulating the stance and chanting the phrase.
"At the time, my nephew was living with me and I have two boys, so I have three black boys that I'm raising in the Bay area. I'm playing for the Oakland Raiders, we just had the Fruitvale Station incident happen a couple years before that and then all these killings started to come out: Michael Brown, Tamir [Rice] in Cleveland, all these things start happening... Imagine as a parent that one day, you see your child [son or daughter] walk out the house and the next day they're gone. That's horrible," Jones-Drew said. "That alone is what had me willing to do the 'hands up, don't shoot' and [also] to let people know in Ferguson and St. Louis, Missouri, there's other people out here that see your pain, and I wish I could walk in the streets with you, I would love to be in the streets with you, but obviously, I have a job, as well."
They don't simply want to score touchdowns and hoist trophies..."
Like Bethea, Jones-Drew considers Bakari more than just an agent. He's practically "family." Though he admits, there are times when he's told Bakari what he was going to do and other times when he has not.
When Jones-Drew began contemplating opening a gym in the Bay Area for underprivileged kids, he called Bakari. They spoke for four months going over the pros and cons, until Jones-Drew felt confident. Eventually, each agreed this was a great opportunity to help out the community and a great start for Jones-Drew in becoming an entrepreneur.  
The moment a player is signed by the Sports & Entertainment Group, they're reminded that to play in the NFL is a blessing; it's not an entitlement. Bakari boasts about how philanthropic his clients are and can name each of the foundations they've created. No matter what the issue is he says," if it's something about helping ― our players say, 'hey what's the best way?"
"At the end of the day, this platform that we're given, being role models, that's what we're supposed to do," Bethea said. "Receiving is easy, but being able to give back that goes a long way for me. That's one of the biggest things that I hold close to my heart. Being able to give back and put smiles on mother's face or little kids' faces. Whether it's  a camp or a turkey drive or a Christmas toy drive that I'm doing or whatever the case it may be,  this is about life and trying to affect people in a positive way."
"Our players are concerned about this country," Bakari said "They're concerned about their communities. They don't simply want to score touchdowns and hoist trophies; they want to use their platform to make a better tomorrow for their kids and their families. So, when they see things throughout the country and they think they can somehow positively affect it, we don't have to initiate conversations with them, they call us."
The NFL recently proposed a new social justice initiative, which will purportedly allocate financial resources ($100 million) to social justice programming. The league has also agreed to give players access to government relations on a federal, state, and local level, plus, there will be a new league wide effort to amplify stories of players making a difference. The Players Coalition, comprised of over 40 active players, participated in negotiations and is expected to hold the owners accountable.
REAL LIFE. REAL NEWS. REAL VOICES.
Help us tell more of the stories that matter from voices that too often remain unheard.