LAS VEGAS -- You will soon be able to watch ESPN without shelling out a huge amount of money for a cable package.
Dish, the satellite TV operator, is set to announce on Monday a $20-per-month online television service that offers a dozen networks -- including ESPN, a crucial channel for most cable and satellite subscribers.
The new service, called Sling Television, brings us a step closer to freedom from the huge and increasingly expensive cable bundle. Subscribers get 12 channels, including ESPN, ESPN2, CNN, Disney Channel and Adult Swim. For $5 extra per month, you can buy additional bundles aimed at kids, like Disney Junior and Boomerang, or a "news and info" package, which includes networks like the Cooking Channel, HLN and Bloomberg. The company says an additional sports package is coming soon. The service is set to launch later this month.
Unlike traditional TV subscriptions, Sling Television doesn't require a set-top box or DVR, doesn't have equipment rental fees and doesn't need to be installed. It doesn't even have "Dish" in the name, suggesting that for this specific offering, the company wants to shed the image of a satellite protruding from your home. Sling Television is an app, with live and on-demand TV streamed over the Internet, and you can watch it on nearly anything -- like your computer, tablet, smart TV, XBox One or streaming devices from Amazon and Roku. For now, it's not available on Chromecast or Apple TV.
"We're not trying to replicate traditional pay TV -- it's a really well-served market," Roger Lynch, the CEO of Sling TV, said in an interview here on Sunday. "It's a saturated market. And frankly, it's a declining market."
At the same time, Americans are spending more time watching video online. Watching any kind of video on the Internet, from services like YouTube, Netflix and Crackle, was up 60 percent in the third quarter of 2014 over the same quarter in 2013, according to Nielsen. (As the Wall Street Journal notes, this number is likely even higher, because it doesn't reflect time spent watching on mobile devices, game consoles or streaming devices like Roku.)
"Millennials go out and get their first home, they get broadband and they already have a wireless phone," Lynch told reporters at an event previewing the service last month. "But they don't get pay TV nearly to the same level as the generation before. So that has really always been our target -- we want to go after that market."
Crucial to that market, said Lynch, is ESPN. "If you look at any research about cord-cutting, people who have cut the cord -- the biggest thing they miss is ESPN," Lynch said last month. "People who are thinking about cutting the cord, the reason they don't cut the cord, is ESPN. It's the number one channel that comes up each time. Obviously it's very, very key to our strategy."
Sling TV's interface looks a lot less like a traditional TV menu and more like Netflix or HBO Go, with tiled images indicating specific programs. Channels don't have numbers -- they appear on a carousel in the middle of the screen. And unlike a traditional TV/DVR setup, you can't use Sling TV to record specific programs. Some networks have on-demand programming and allow for "look back," where you can watch programs that have already run. And some allow you to start certain programs over if you start watching halfway through. Others, like ESPN and ESPN2, for example -- only allow you to watch live TV.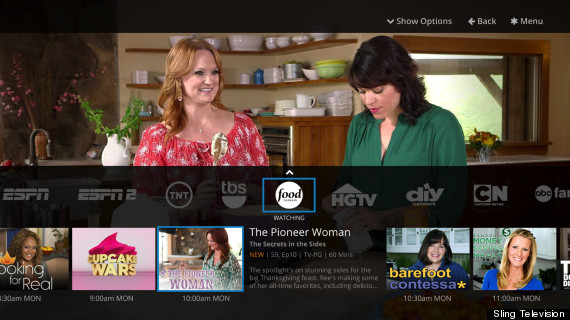 An image of Sling TV's "Sling Guide." The new online TV service aims to appeal to millennials who have cut the cord or never subscribed to pay TV.
Sling TV's Internet-delivered TV service has the potential to spur cord cutting. Although the service is much more pared down and lacks some of the features of a typical TV subscription, some current cable and satellite subscribers may find Sling TV's offering attractive enough to ditch their cable subscription.
Dish executives say they aren't worried about Sling TV cannibalizing their existing satellite business. Dish customers tend to be older and live in more rural areas, Lynch said last month, while Sling TV is going after the under-35 city-dwelling crowd. "It really is targeting a different group," Lynch said.
Dish has learned from the popularity of services like Netflix, Hulu and Spotify, which are easy to join and easy to quit. The company is positioning Sling TV as an app complementary to these options.
"This isn't a service designed to compete with them," Lynch said of Netflix and Hulu Plus last month. "It's a service designed to sit side-by-side with them."
This post has been updated with additional information.