It's not called fake news when it emanates from a foreign power's intelligence agency, as we have been told was the case in the recent U.S. election.
It's called disinformation. And it's used to destabilize organizations, movements and governments.
Of all the things I've known and studied, it's the thing I perhaps know the best. I spent a semester examining the issues related to the use of government disinformation while at Brown with my concentration adviser, a former Inspector General of the CIA, and wrote a major paper on the CIA's efforts to topple Chile's elected Marxist president Salvador Allende using disinformation. I spent months going through every file released under the Freedom of Information Act related to the FBI's domestic disinformation campaign, COINTELPRO, for the first in-depth look at the program for 20/20, produced with Lowell Bergman and Andy Cockburn. I researched and co-wrote a NPR documentary that Scott Simon narrated on the uses of radio to spread disinformation by both sides during the Vietnam War. And on.
What the Russians are alleged to have done during the recent election, stealing internal campaign communications, and then using it to create "fake news," which is just one tool in the disinformation tool box, is no joke, should not be taken lightly, and is as significant and dangerous as any other state attack against another.
The fact that it appears not only to have been done with the involvement of a candidate for president, but was actively and publicly cheered on by him, is no small thing, and needs to be examined thoroughly including the possibility that it was treasonous. That's why seven members of the Senate Intelligence Committee just asked President Obama to declassify information relating to the Russian government and the U.S. election (see letter below).
It's also another reason the electors of the Electoral College, which at its core has three responsibilities: to prevent from becoming president anyone unqualified, or who is a demagogue, or who is under the influence of a foreign power, must deliberate and decide if Donald Trump should be elected president, or whether they should choose a consensus, responsible Republican.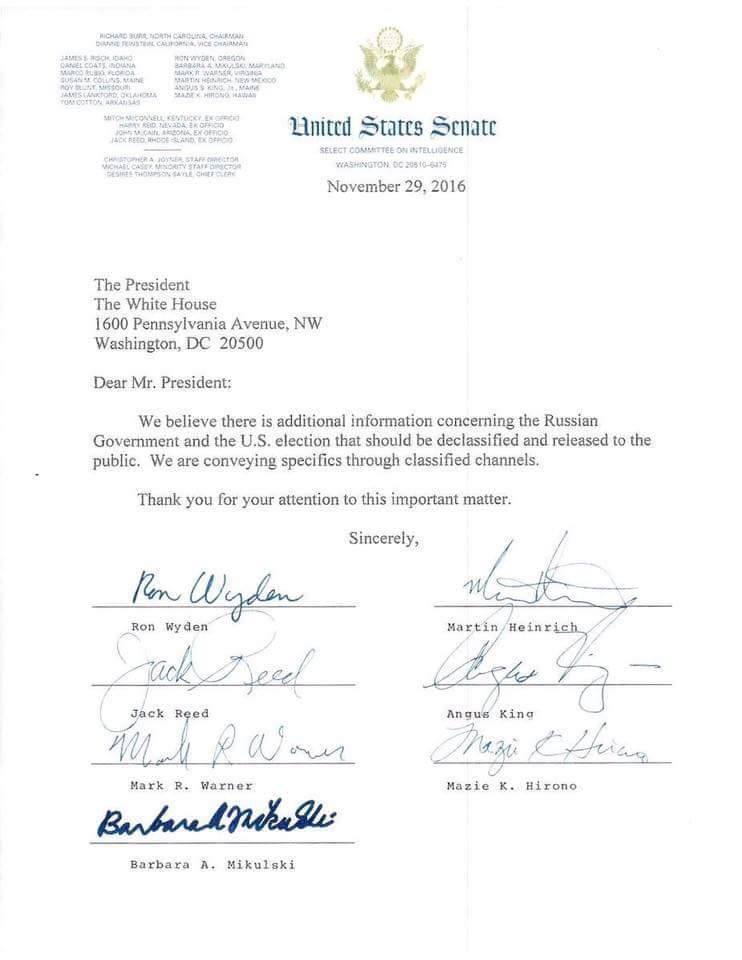 Calling all HuffPost superfans!
Sign up for membership to become a founding member and help shape HuffPost's next chapter
This post was published on the now-closed HuffPost Contributor platform. Contributors control their own work and posted freely to our site. If you need to flag this entry as abusive,
send us an email
.