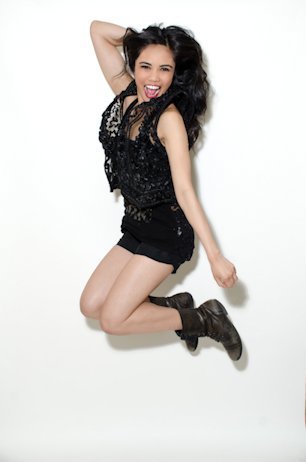 Louriza Tronco plays Yuki in the Disney Channel original movie Zapped which is based on the popular tween fiction novel Boys are Dogs. Watch the premiere on June 27th. Louriza's Twitter: @LourizaTronco. Photo by Westley Olson.
Louriza Tronco sure knows how to enjoy life! She embraces everything with a smile, high energy and positive outlook.
Some quick tidbits about Louriza before we delve into the interview: She almost applied to massage therapy school before getting into performing arts school. When she was a kid, she wanted to be Baby Spice from The Spice Girls. She always sleeps on one side of the bed, never the middle!
You play the "not too bright" Yuki in the upcoming Disney Channel original movie Zapped. Tell us about your audition.
I got the audition with the help of my amazing manager, Deb. I was originally up for the part of Taylor Dean and was living in Victoria, BC at the time so I self-taped. I didn't really think anything of it -- I didn't even know it was Disney at that stage! I was away on vacation when I had an inbox full of messages from my manager saying they wanted to bring me in for a callback. The next day I hopped on a boat and then a plane to Vancouver. I read for the director, Peter DeLuise, that day. A couple of days went by and I got another call saying that they wanted to see me for another role, Yuki. I went in for a second callback. They wanted to make sure I could dance so they asked me to do a couple of turns on the spot -- so I literally kicked off my heels and danced a hip-hop solo that I happened to remember from when I used to compete in dance. They were playing the Janet Jackson song off my iPhone and I was dancing on the carpet in a small room -- it was so fun!
Do you think when you're 30 years old you'll remember all the lines from Princess Diaries 1 & 2?
I will definitely still remember all the lines then! I think I loved watching the story of a young lady finding out that she was born a princess. I mean, what little girl wouldn't love to be in her shoes?!
What's your family background? Who named you? Are you named after anyone?
Both my parents are Filipino -- they moved from the Philippines to Winnipeg, Manitoba in their mid-twenties and that's where I grew up. My parents named me using my Lolas' (Grandmas in Filipino). My mom's mom is Lourdes and my dad's mom is Rizalina. They took half from each name and got Louriza! Both of my Lolas are super hard working, so I'm definitely proud to be named after them.
Give us a behind the scenes story from Zapped.
Our director, Peter DeLuise has this theory of never asking his actors to do something he can't do. Since Zapped has a lot of comedic parts, there is definitely a lot of physicality involved. He asked the jock guys to do something called "locker swimming" which is basically using your own arm strength to push your body from locker to wall while laying down... and before they shot the scene he did it! He also wanted to give me more sass as Yuki, so he would pose his body in a "S" shape using his hands on his hips and asked me to copy.
What was it like growing up with two older brothers?
I was always into Barbies and playing dress up as a kid and they wanted to play Nintendo and action figures, so it got lonely sometimes. I always got my own room, because they didn't really like my ruffled curtains or pink sheets. RJ is almost two years older and Emmanuel is four years older than me. They were super helpful with my pre-cal and chemistry homework which is awesome. Not so great with asking them to come watch my three hour dance recitals; we would have to drag them to sit in the audience. I guess that's payback for them not letting my Barbies have a play-date with their Power Rangers.
You play Andrea in the upcoming star-studded film "Night at the Museum 3: Secret of the Tomb." Describe your character.
Andrea is known to be the cool, popular senior at Nick Daley's high school who is played by Skyler Gisondo. He is absolutely fantastic -- great energy on set and just a cool guy all around.
What beauty and hair products do you use?
I use a lot of Sephora and Mac products. When I see a hairstylist I usually ask what their opinion is on what hair curler or hair crème to use -- it changes consistently. As long as I feel good wearing it and I have no allergic reactions it's all good.
What's the most valuable acting lesson you've learned so far?
I've had a lot of fantastic coaches and teachers who continue to support and push me as an actor. One of them is Andrew Mcilroy who I take classes with consistently. I always believe training is very important. It keeps me sharp and on my game especially in a competitive field. Andrew has always reminded me to put story before anything else. The story of a script is the most important; when in doubt while building a character he always asks, what helps the story? Go back to the story! Thank you Andrew.
What's your dream house look like?
No clue. I haven't really thought of that. I just know I want a couple of dogs running around.
If you had to shave your head for a part, would you do it or have to think about it?
If shaving my head helps tell the story of the character I'm playing then absolutely yes! I love having long hair but, it'll grow back so it's all good!
What's it like being at a press photo shoot?
Oh, it's so fun. If I could, I'd do it more often! It's all based on personal preference on how you'd like to prep for it and how you'd like to present yourself. I love being hands on and love getting involved as much as possible with whatever project I'm doing. I love blasting music during shoots. It definitely brings out energy with you and it takes the pressure off of trying to make things "perfect". It also makes me dance in between takes so that's sweet.
What's your favorite dog breed?
Oh my goodness. My favorite breed changes like every week! It's kind of ridiculous. Growing up I loved Shih tzus. Then I saw one with really long hair and a bow and I wasn't really into that. Then I started to print out pictures of golden retrievers but I know they shed a lot and they're also almost bigger than me, so that's a thing. Recently, I've been getting really excited every time I see a French Bulldog walking down the street so that's this week's fave.
Anything else you'd like to say?
I'm so excited for this movie, Zapped, to come out! The cast and crew have all worked so hard and I hope that everyone who catches it will have as much fun watching it as we had making it.