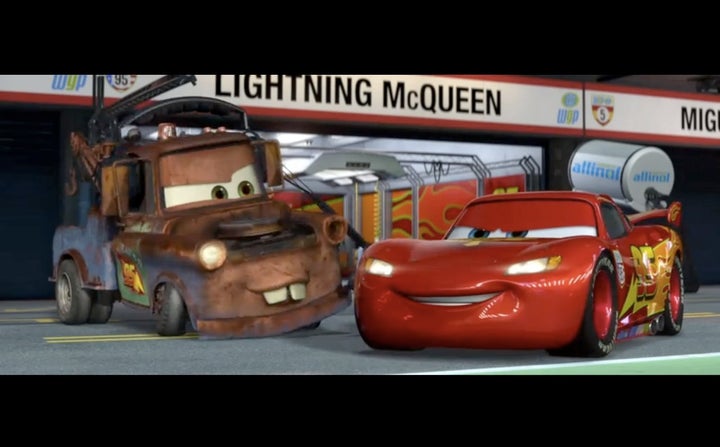 Given that Cars 2 (after just over a week in domestic release) has already earned over $100 million, it's clear that moviegoers can't get enough of Mater and Lightning McQueen.
But that said, one wonders if this Pixar franchise would have been as successful (since the first Cars film was released to theaters back in June of 2006, global retail sales of merchandise featuring these anthropomorphised autos are rapidly approaching $10 billion) if John Lasseter and Co. had gone with the studio's initial concept for this animated feature. Which -- rather than being built around an egotistical American race car -- would have starred a cute little foreign electric car.
Strange but true, folks. As Michael Wallis recounts in his excellent making-of book, The Art of Cars (Chronicle Books, May 2006), while Pixar was wrapping up production of A Bug's Life back in the Fall of 1998, story development artist Jorgen Klubien began cooking up a concept for a brand-new animated feature. One that would actually draw its inspiration from recent Danish history.
"In Denmark there has never been car production because the country is too small," said Jorgen. "Yet in the 1980s some enthusiastic folks got the idea of making a three-wheeled one-person car that ran on electricity. They put it into production and it worked great in the city, but out on the highway it was too slow. People also thought that (this) car was ugly."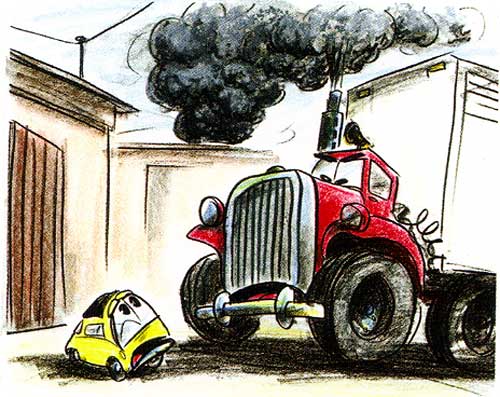 © Disney/Pixar
Image courtesy of Chronicles Books, The Art of Cars. All rights reserved
"I thought that the electric car was ahead of its time, and it struck me odd that my fellow Danes didn't agree," (Klubien continued. "What happened with this car) reminded me of The Ugly Duckling by Hans Christian Anderson. This famous Danish character wasn't accepted at first, but in the end it proved to be right on the money."
So -- using The Ugly Duckling as his inspiration -- Klubien mapped out a scenario for "The Yellow Car." Which was supposed to have this uniquely American fairy tale that was set in this small town where there were no people. Where the only residents were cars.
Anyway, "The Yellow Car" 's story keyed off of what happened when a small foreign automobile suddenly rolled into town. Initially the small-minded local residents are suspicious and distrustful just because the Yellow Car has three wheels and looks different. But -- over time -- this new arrival eventually earns the respect and affection of these somewhat prejudiced locals. Which is why the Yellow Car then eventually becomes a cherished member of this automotive community.
Well, when John Lasseter reviewed Jorgen's concept for "The Yellow Car," he found a number of things that he liked. A story set in a world populated only by cars, for one. And Lasseter particularly loved a couple of the characters that Klubien had created for The Yellow Car to interact with. Chief among these was a hippie-like VW bus named Fillmore and an uptight, by-the-book Army Jeep called Sarge.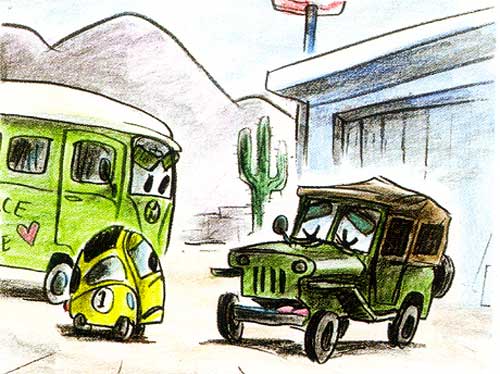 © Disney/Pixar
Image courtesy of Chronicles Books, The Art of Cars. All rights reserved
But as for "The Yellow Car" 's whimsical, fairy tale-like storyline, John just didn't think it was strong enough to support an entire animated feature. The small town setting that Jorgen had initially dreamed up with was fine. But Lasseter just felt that -- in order to create conflict -- a bigger, stronger character needed to be dropped into this bucolic setting. Which is when Lightning McQueen entered the picture.
But even then -- after John and his Cars co-director Joe Ranft began fleshing out the world of Radiator Springs, trying to come up with all sorts of colorful small-town characters that their big city race car could then interact with -- they still hit plenty of plot potholes. Repeatedly found themselves dealing with seemingly intriguing story threads that suddenly turned into creative dead ends.
One of the characters that Lasseter and Ranft wound up leaving by the side of the road was Mr. Windshield, Radiator Spring's optometrist who sold prescription windshields. And then there was an elaborate action sequence where -- in an effort to put this town back on the map -- Lightning staged the first-ever Radiator Springs Grand Prix. Where McQueen's competitors from around the country were to have journeyed to this remote corner of the American Southwest and then staged a charity racing event (which not-so-co-incidentally would have also given this small town plenty of much-needed publicity).
Of course, what's kind of ironic about this Radiator Spring Grand Prix sequence being cut out of the original Cars is that when Lasseter and Brad Lewis were looking for a fun way to end Cars 2 they just reached into Pixar's story recycling bin and pulled out the proposed finale for the first "Cars" film. Which -- with some judicious story trimming -- John and Brad then turned into a cute coda for this Pixar sequel.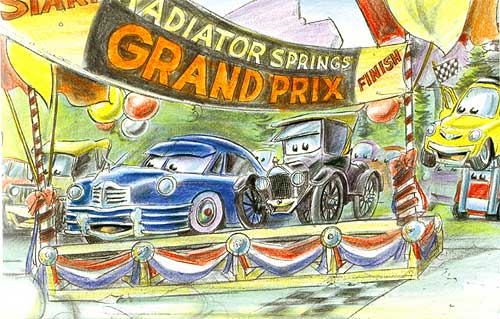 © Disney/Pixar
Image courtesy of Chronicles Books, The Art of Cars. All rights reserved
And -- to be honest -- that happened a lot in Cars 2. Characters and story ideas that had initially been proposed from the first Cars movie film were dusted off during the development process for its sequel and then inserted in that movie's storyline. Take -- for example -- Finn McMissile.
As Ben McQueen recounts in The Art of Cars 2 (Chronicle Books, June 2011), the origins of the super-spy character that Sir Michael Caine voices in this Pixar production can be traced back ...
"... to a discarded scene from the first film in which Sally and McQueen go on a date to a drive-in movie theater. Rob Gibbs (story artist on Cars) and the late Joe Ranft (head of story and co-director of Cars) created the 'movie within a movie,' a spy film with an ultracool car named Finn McMissile who dispatches bad-guy 'Taxis of Death' with hi-tech gadgetry and copious amounts of aplomb.
"We just had fun designing this spy character,' Lasester says," And we named him Finn McMissile, because, well, he's got missiles hidden all over him." And -- in a neat little throwback to Jorgen Klubien's original concept for a film that was set in a world entirely populated by cars -- who do Mater, Finn and Holly Shiftwell go to see when they desperately need info about the criminal mastermind who's out to disrupt the World Grand Prix? This unlikely trio journeys to Paris where -- in a covered bazaar modeled after the Les Halles Marketplace -- they then meet with a small foreign car who only has three wheels.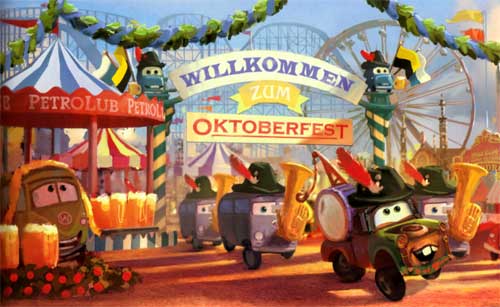 © Disney/Pixar
Image courtesy of Chronicles Books, The Art of Cars 2. Copyright Disney Pixar. All rights reserved
But -- as happens with every film that Pixar makes -- there were sequences that were created for Cars 2 that, while memorable and entertaining, still wound up hitting the cutting room floor. So will we ever get the chance to see Lightning McQueen going off-road as he races through Germany's Black Forest? Or -- for that matter -- Mater Om-pah-pahing his way through a biergarten while dressed in lederhosen, as this rusty old truck has a grand old-time at Octoberfest?
Given that Cars 2 clearly leaves the door open for a sequel (More importantly, given that Walt Disney Studios Home Entertainment will be launching that Cars spin-off series, Planes in the Spring of 2013), it's entirely possible that -- someday soon -- we'll be visiting that scary scrap yard in Prague that Pixar's story artists dreamed up. Or the bustling port of Calais. Or -- better yet -- encountering the James Bond-style super-villain that Lasseter and Lewis initially dreamed up for Finn McMissile and Mater to do battle with: Zil, the nefarious failed race car.
But -- for now... Well, let's just enjoy the movies that we actually got. Rather than wonder about all the roads that weren't taken on Pixar's Cars films.
Your thoughts?
Jim Hill is an award-winning entertainment writer who lives in New Boston, NH. Over the past 30 years, he has interviewed hundreds of veterans of the animation & themed entertainment industry and written extensively about The Walt Disney Company.
Jim is currently working on a behind-the-scene history of the development & construction of Disneyland. For his more immediate musings on movies, TV shows, books and theme parks, please check out his blog, jimhillmedia.com.
Popular in the Community