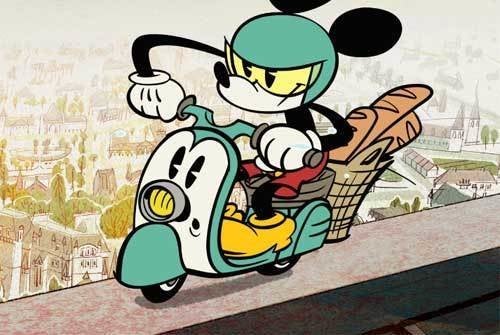 In Hollywood, it's customary for stars of a certain age to periodically go under the knife. Freshen up their look every now and then, if you will.
In Mickey Mouse's case, when The Walt Disney Company recently decided it was time for their corporate symbol to get back into the animation game, they drew their inspiration for a brand-new series of 2D shorts from a number of different sources.
As for the sorts of stories that would be told with these 19 cartoon shorts (which will premiere on the Disney Channel, Disney.com and other platforms beginning on June 28th), the team at Disney Television Animation reached back 85 years. Back to the type of tales that Walt Disney himself used to tell when Mickey & friends were first being introduced to the world. So expect stories that -- while they may have the sort of pacing that contemporary audiences have come to enjoy -- still have that sense of innocence & impishness that those original "Mickey Mouse" cartoons had back in the late 1920s / early 1930s.
More to the point, these 2D shorts will feature retro versions of the Fab Five (i.e. Mickey, Minnie, Donald, Goofy and Pluto). So expect to see a pie-eyed Mouse starring in all-new animated adventures that will take these classic Disney characters from Paris to Tokyo to the Alps and NYC and all points in between.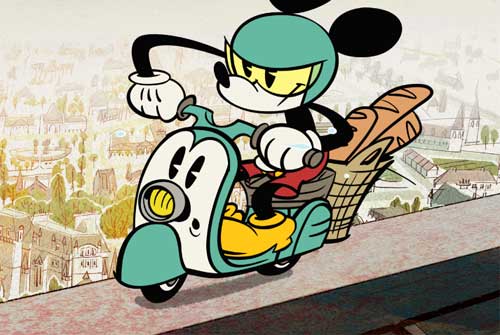 Now where this gets interesting is that, while the character design featured in these new animated shorts will be coming straight out of the 1920s and 1930s, the backgrounds that Mickey and friends will be performing in front of will be directly influenced by the graphic design sense of 1950s and 1960s.
And to make sure that this ambitious mix of contemporary pacing, 1920s/1930s storytelling & character design as well as backgrounds influenced by 1950s and 1960s graphic design all pulls together in one coherent piece of entertainment, Disney Television Animation has assembled a dream team of modern animation talents to work on this very ambitious project. These include directors Aaron Springer ("SpongeBob SquarePants," "Gravity Falls") & Clay Morrow ("Dexter's Laboratory," "The Powerpuff Girls") and art director Joseph Holt ("The Powerpuff Girls").
Serving as executive producer for Disney's new 2D "Mickey Mouse" shorts project is animation veteran Paul Rudish. Who was just thrilled when Disney Television Animation reached out and gave him the opportunity to be part of this Mickey Mouse makeover. Which seeks to restore to this much-beloved cartoon character some of the playful qualities that moviegoers used to see back in the late 1920s / early 1930s.
"As a kid growing up in small-town Missouri, the legend of Walt Disney was always an inspiration to me, in particular, his early character of Mickey Mouse. I felt Mickey was an embodiment of Walt's and Ub's (Iwerks) own inventiveness, humor, and resilience, qualities that resonated with audiences in the 1930's," Rudish stated. "In starting a new chapter of the Mickey Mouse legacy, I am honored to find myself on the path laid by artists I've admired and hope to re-imbue Mickey with those classic qualities that I believe still resonate with audiences today."
So what might a new series of "Mickey Mouse" 2D shorts that draw their inspiration from so many different eras of Walt Disney Company history actually look like? As part of today's announcement, which keys off of the 2013 Upfronts presentation for Disney Channel Worldwide to be will be held in NYC later this evening, Disney Television Animation released a sample short, "Croissant de Triomphe," which shows a pie-eyed Mickey zooming around Paris on a scooter as he battles rush hour traffic, gendarmes and goats in his efforts to deliver freshly baked croissants to Minnie's cafe.
So what do you think of Mickey's makeover? Based on this sample, do you think that a new series of 2D animated shorts -- which mixes contemporary pacing, 1920s / 1930s-style storytelling and character design along with backgrounds influenced by 1950s & 1960s graphic design -- will be the sort of thing that Disney Channel viewers worldwide will embrace?
Jim Hill is an award-winning entertainment writer who lives in New Boston, NH. Over the past 30 years, he has interviewed hundreds of veterans of the animation & themed entertainment industry and written extensively about The Walt Disney Company.
Jim is currently working on a behind-the-scene history of the development & construction of Disneyland. For his more immediate musings on movies, TV shows, books and theme parks, please check out his blog, jimhillmedia.com.
Calling all HuffPost superfans!
Sign up for membership to become a founding member and help shape HuffPost's next chapter