It's the fundraiser that Disney fans happily and willingly get out of bed at 3 a.m. to take part in. The one that people actually schedule their Southern California vacations around, with some participants flying in from as far away as Texas, Illinois and Connecticut.
Which event am I talking about? The largest walk for pediatric care in the nation, Children's Hospital of Orange County's annual "Walk in the Park." Or as this 5K is more fondly known to the thousands who participate annually, CHOC Walk.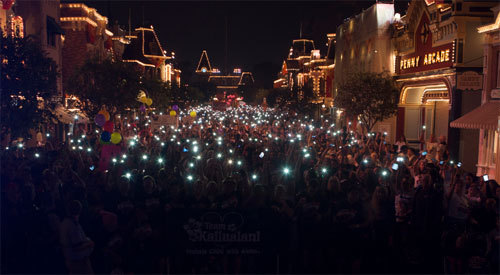 So what is it about CHOC Walk that compelled about 16,000 people (FYI: That's the largest field of walkers to have ever signed up for this event) to make their way to Anaheim earlier this morning? To stand around in the predawn dark and cold out on the Disneyland Esplanade before they were then allowed to mass on Main Street, U.S.A.?
Well, there's actually a number of reasons that Disney enthusiasts eagerly sign up to take part in this event each year. One is that it raises money for an organization Walt Disney personally helped get off the ground. Back in 1960 when an executive council was first being formed to address Southern California's growing need for a regional children's hospital in Orange County, Walt immediately said "Yes" when he was asked to join the council. More to the point, when fundraising efforts for the construction of this children's hospital officially got underway, Walt then threw the resources of Walt Disney Productions behind the project. Which is why -- just four short years later -- Children's Hospital of Orange County was actually able to open its doors.
And as the years went along, the Mouse was always there to backstop and support Children's Hospital of Orange County. Whether it was the $5 million gift that the Disneyland Resort made back in February 2012 to help fund construction of the hospital's new 426,000-square-foot patient tower or the Cast Members who regularly bring the Disney characters by CHOC to visit with patients there, Mickey has always been there for the Children's Hospital of Orange County.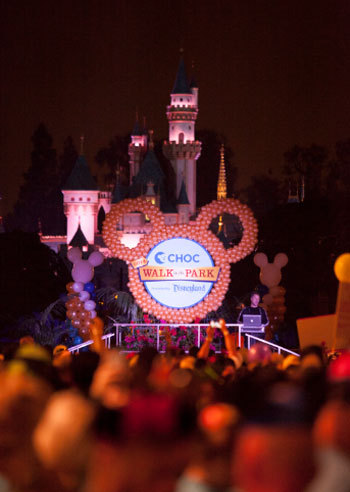 Which is why -- when CHOC decided to launch a fundraising walk back in November 1990 -- the Mouse agreed to let the hospital use the Disneyland parking lot as that event's end point. But starting in 2002, CHOC Walk participants were given the opportunity to actually walk around inside of Disneyland and Disney California Adventure Park during the early morning hours. And over the past decade, the number of people eager to participate in this annual fundraising event has just gone through the roof.
"This year, we have 900 teams and over 35,000 people who have donated," said Zach Abrams, CHOC Director of Special Events, during a recent phone interview. "And the Disneyland Cast Members? They not only help run this event, they actively participate. The 2014 Disney VoluntEARS team that's walking in today's event is over 700 - 800 Cast Members strong."
According to CHOC officials, this year's event raised about $2 million. However the fundraising continues through October 31st.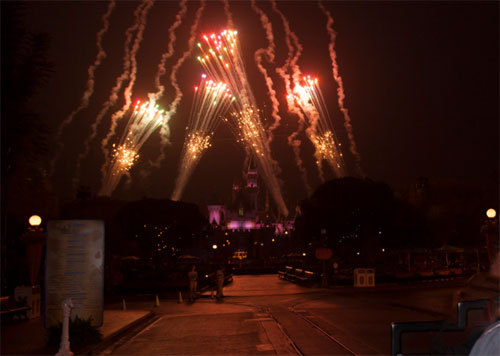 "Disneyland Resort really turns on the magic for CHOC Walk," Abrams enthused. "The whole thing starts off with fireworks exploding over Sleeping Beauty Castle. And then as people begin moving through the Park, they encounter characters and surprises all along the way. Cheer squads. Pep bands. You name it. It's genuinely a one-of-a-kind way to experience Disneyland and Disney California Adventure Park."
And this year's event was certainly no exception. From Flora, Fauna and Merryweather (i.e., the three good fairies from "Sleeping Beauty") standing in front of Sleeping Beauty Castle cheering on the walkers as they stepped off to all of the Disney Princesses riding King Arthur Carrousel, Fantasyland was like a dream come true for Disney enthusiasts. And the character encounters continued as people wandered through Frontierland and bumped into Chip 'n' Dale at the Mark Twain Riverboat dock and then John Smith & Pocahontas along Big Thunder Trail.
Over in the Small World Plaza area, walkers could pause en route to get their pictures taken with Peter Pan, Captain Hook, Mr. Smee and Tinker Bell. Meanwhile over in Tomorrowland, event participants could snag a selfie with Buzz Lightyear before slipping behind-the-scenes at Disneyland Park where they could then see what the backside of Space Mountain actually looks like.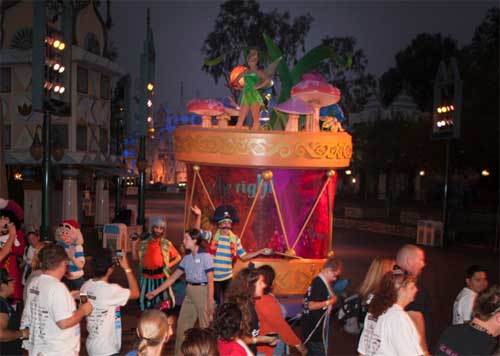 From there, the walkers moved over to Disney California Adventure Park. "CHOC Walkers" encountered a streetcar full of Newsies on Buena Vista Street. In Hollywood Land, the cast of DCA's super-popular "Mad T-Party" nighttime dance party was represented by Alice, Tweedle Dum & Tweedle Dee. Meanwhile outside of the Hyperion Theatre (Home to Disney's "Aladdin - A Musical Spectacular"), Princess Jasmine & Aladdin posed for photos with their royal subjects.
And on and on it went. Princess Atta & Flik were out and about in A Bug's Land. Lightning McQueen & Mater were spinning their wheels down in Cars Land. Even relatively obscure Disney characters like The Three Caballeros (i.e., Donald, Jose and Panchito from that 1944 Walt Disney Production package feature which combined live-action & animation) were on hand to greet event participants before they exited the park and made their way to this 5K's finish line, located out in the Downtown Disney District. At the finish line the newly appointed Disneyland ambassadors, Jessica Bernard and Allie Kawamoto, were on hand to cheer on the walkers as their hour-and-15-minute long stroll came to an end.
"It's great that our event participants have such a fun time as they walk through the parks and meet with all the Disney characters. But for me personally, the part that moves me the most are all those families with their balloons and their banners. And they're all walking along all wearing the same t-shirts. And when you see the slogans on their signs and the names of the families and the kids that CHOC has helped, I get goose bumps," Zach continued. "It is the most amazing special moment for me and what keeps me motivated and excited every year."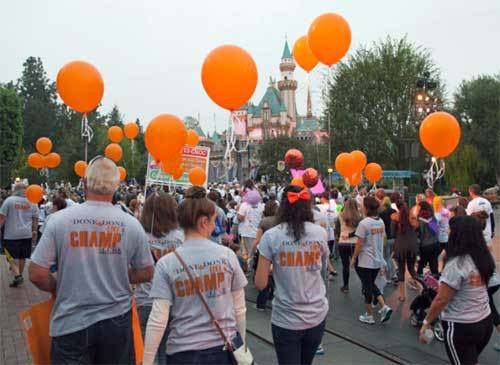 Which brings us to next year. Given that 2015 will not only be the 25th anniversary of CHOC "Walk in the Park" but it will also be the Disneyland 60th anniversary diamond celebration, Abrams is anticipating that a record number of people will be signing up for next year's fundraiser. Zach is advising people to sign up as early as possible for next year's CHOC Walk.
"We actually started working on the 2015 CHOC Walk a year ago. We've already started designing our 25th anniversary logos and have begun looking for a new CHOC Walk ambassador," Abrams said. "We're also looking at ways we can recognize our patients and their families as well as our teams and their walkers, some of which have participated for all 25 years of this event."
So if you'd like to be on hand for the 25th anniversary of CHOC's "Walk in the Park" (where you'll then get to meet more Disney characters in two hours than you'd ever imagine) not to mention raising some money for a very good cause, bookmark chocwalk.org now and then sign up as soon as you can when they begin registering participants for the 2015 event.
REAL LIFE. REAL NEWS. REAL VOICES.
Help us tell more of the stories that matter from voices that too often remain unheard.