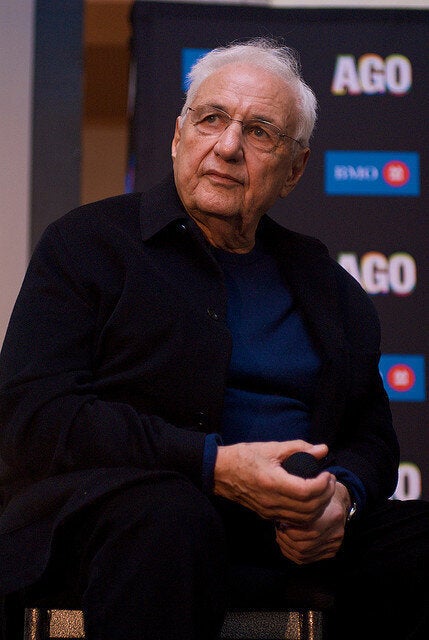 Mozart once described the pipe organ, "the king of instruments." Well, there are pipe organs, and then there is the masterpiece of sound and design that is the Walt Disney Concert Hall pipe organ. Unorthodox as it is unforgettable, Los Angeles' premiere performance organ is the subject of a compelling new documentary film by producer/director/writer Raoul Peter Mongilardi.
Sitting down with Mongilardi, we discussed L.A.'s "organ of the future" and the fabled history of the king of instruments.
XG: What makes the Walt Disney Concert Hall organ different?
RPM: All organs are different in that they're handmade -- differing sizes, pipes, acoustic environments -- so they're never really alike. What makes this organ unique is its radical design. There are other modern designs, but nothing on this scale. Frank Gehry (architect) worked with organ builders Manuel Rosales and Caspar Von Glatter-Gotz, but they didn't want a conventional looking instrument. An organ's wooden pipes are often unseen, but these are front and center to connect it with the wood interior of the hall. The pipes are also curved and bent, which had not been done before.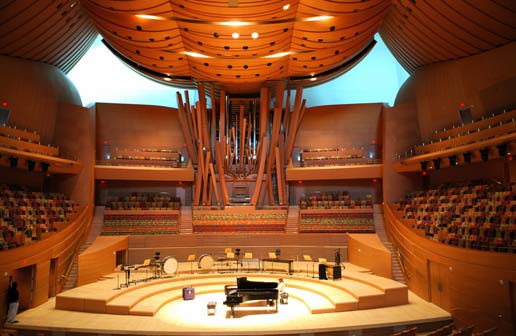 The Walt Disney Concert Hall Organ
XG: How often are performance organs built in the U.S.?
RPM: They are being made, but the venues -- the large, artistic, concert spaces that support those instruments, and especially in this economy, are fewer and fewer.
XG: So are organs making a comeback or are they a dying breed?
RPM: I feel they are making a comeback, and having a concert presence in halls and theatres. Here in Hollywood we have the El Capitan, which has a wonderful organ from San Francisco.
XG: Would you say the Disney organ is among the top 10 in the country?
RPM: It is L.A.'s greatest concert organ, yes, and one of the great instruments in the world too.
XG: As an instrument, what is the greatest misconception about the pipe organ?
RPM: The greatest false myth is that it's for horror movies or that it's dowdy, sad and not colorful or has a depressing sound -- not true. The pipe organ is the only instrument in the world that encompasses the entire range of human hearing. Mozart was right. It is the king of instruments.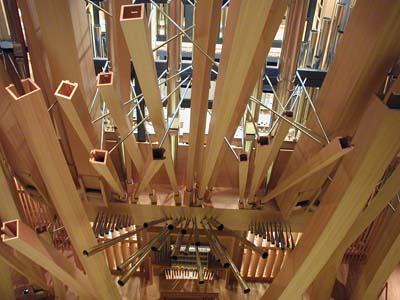 An aerial view of some of the organ's 6,000-plus pipes
XG: You don't play the organ, yet you have had a lifelong passion for them. Where did your fascination with the instrument begin?
RPM: I was in my early teens and went into St Patrick's Cathedral in New York on a rainy Sunday. Mass had just ended and you could still smell that wonderful frankincense and candle wax hanging in the air. Walking in the center aisle, this wave of sound from the great organ came roaring down behind me. I could feel it coming up through the floor in my feet. I had to sit down because my entire body was covered in goosebumps. I was dazed. The 64 foot base pipes that cycle at this incredible resonance shake things. Then a few hours later, my godmother and I went to Radio City Music Hall. And I heard the world's greatest theatre organ for the first time, but the two organs were so completely different in their character, tone and purpose. I went down to the console of the Radio City Wurlitzer and stared at it and thought 'this is alchemy. How is this person playing all this? What are all these things?" I was hooked. And now, I'm married to a fine organist, Robert Edborg.
XG: I loved the diversity of pieces heard in the documentary (The Nutcracker, The Emperor's Fanfare, Clair De Lune among them), and there's a bonus CD with the selections in their entirety.
RPM: Beethoven once said, "The organist is the greatest virtuoso," and we're thrilled to have virtuosos playing in the film including Olivier Latry (titular organist with Notre Dame De Paris) who is quite literally one of the world's greatest. As well as Shin Young Lee from Paris, Phil Smith (curator of the Disney organ), Dr. Namhee Han, John West, Wayne Foster, Dr. Christoph Bull at UCLA, Frederick Swann, Cherry Rhodes, and then we look to the next generation of organists with 16-year-old Thomas Mellon playing Prokofiev.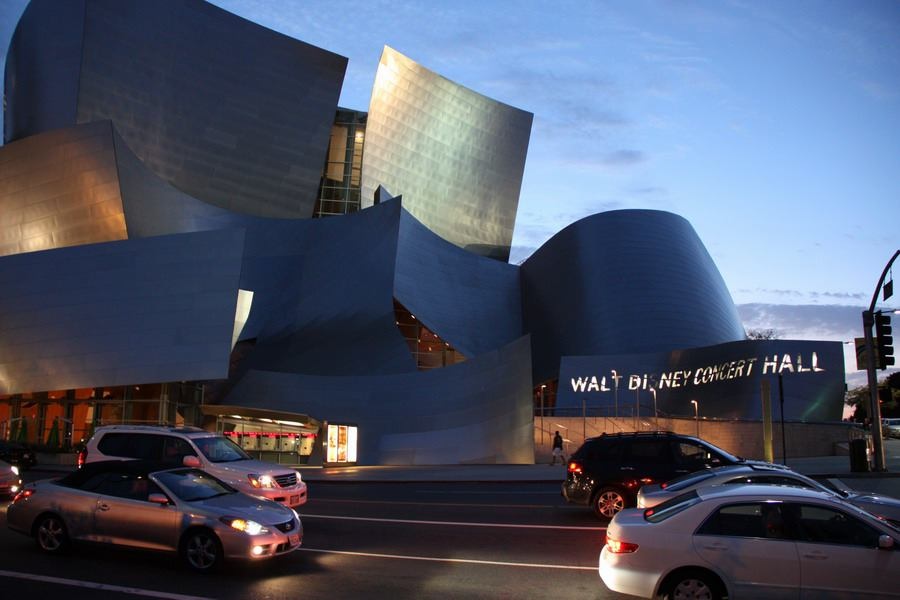 The Disney Concert Hall in the evening
RPM: I'm working on The Burning Blue, a feature film love story about my father, Commander Peter Mongilardi, a highly decorated Naval Airwing Pilot who was killed in 1965. He and my mother, a singer, had a very glamorous, passionate, and tragic, relationship. It's told through the point of view of my mother, and it's a story we haven't seen of widows and mothers in war. I'm thrilled to have Sharon Stone starring in it. We hope to be in production this coming year. www.projectburningblue.com For more information on The Walt Disney Concert Hall Organ documentary click here.
Proceeds go to the Walt Disney Concert Hall Organ Fund, which maintains the instrument.
The Walt Disney Concert Hall Organ trailer
Related
Popular in the Community