Outmaneuvered by Disney in his attempt to punish the company for criticizing him, Florida Gov. Ron DeSantis on Monday announced a new push to attack the entertainment company by putting its rides under state oversight — even though the company's ride inspection regime is already far more rigorous than state law requires.
"This monorail is exempt! They exempted the monorail from any safety standards or inspections," DeSantis said at a news conference, without pointing out that all theme parks with 1,000 employees or more are exempt from state inspections, not just Disney.
DeSantis, who is expected to announce his bid for the 2024 Republican presidential nomination after the end of the legislative session on May 5, said that lawmakers will in their remaining weeks pass bills that impose state inspections on Disney while also undoing Disney's last-minute deed restrictions and long-term development plan that effectively neutered DeSantis' attempt to take control of its taxing district.
"That's not going to work. That's not going to fly," he said. "There is a bill that will be put out in the Florida legislature that will make sure that the agreements purported to be entered into by Disney will be revoked."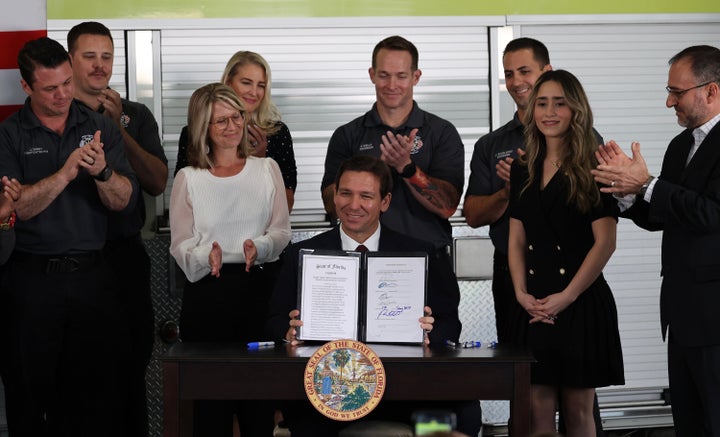 What's more, he said his hand-picked board could use land it now controls — land Disney purchased originally and turned over to its Reedy Creek taxing district over the years — however it sees fit, including siting a new state prison there.
"Come to think of it, what should we do with this land?" he said. "Maybe create a state park. Maybe try to do more amusement parks. Someone even said, like, maybe you need another state prison. Who knows? I just think that the possibilities are endless."
The Walt Disney Co. did not respond to a HuffPost query.
The company is well known for its safety and security standards at its parks, with inspection protocols far beyond those that are imposed by local and state governments, under the theory that injuries and deaths on its properties and rides inflict grave reputational damage that undermine its brand.
"Ron DeSantis was outwitted and humiliated on a national stage, and now Floridians must pay the price as he drags us all into his childish, self-serving vendetta against Disney," said Nikki Fried, who during DeSantis' first term served as the state's elected commissioner of agriculture and consumer services, a position whose responsibilities include safety at tourist attractions. "As part of his revenge, Ron DeSantis wants to build a prison right in the heart of Florida's tourist mecca and drive out our largest employer."
DeSantis had not voiced any concern about Disney's ability to tax itself and manage its own property through his campaign for governor or through his first three years in office. Over that time period, his political committee accepted $106,809 in cash and in-kind contributions from the entertainment giant while the state Republican Party under his control received $1,826,801.
But the company angered DeSantis last year after it criticized legislation DeSantis supported — called the "Don't Say Gay" bill by critics — and said it would pause political donations in the state. Just weeks later, DeSantis had secretly crafted and rammed through a bill that dissolved the special taxing district that lawmakers passed in the 1960s to encourage the company to build its massive Walt Disney World theme park outside Orlando.
That would have increased taxes on every property owner in Orange and Osceola counties had it taken effect — an unintended consequence lawmakers and DeSantis had not initially considered — so DeSantis pushed through a second bill in February that repealed last year's law and instead renamed the governing board and gave DeSantis, rather than Disney, the power to appoint its members.
That original Disney-chosen board, though, in a meeting just before Florida lawmakers passed the new law, delegated all of its powers over development to the Disney company itself until 21 years have passed after the last currently living descendant of England's King Charles III has died — a period that could span a century.
DeSantis Monday claimed that his interest is only to make sure Disney is operating under the same laws that govern other tourist attractions. "We're a government of laws, not a government of individual men, or even a government of woke corporations based in California," he said.
But he has undermined that claim in the past with statements making it clear that he is going after Disney because it has opposed him and his policies. He repeated that sentiment again Monday: "We're just going to have to keep fighting back."
Popular in the Community