"Wherever you find children, you'll find sexual predators that want to be there," said Polk County Sheriff Grady Judd. The report reveals an urgent problem plaguing our theme parks.
One of the men whose case is still pending is 49-year-old Robert Kingsolver of Orlando. Kingsolver worked as a ride repair manager at Magic Kingdom until he was accused of attempting to meet a 14-year-old girl for sex in Lake County. His arrest was one of 22 in a February sting operation conducted by the Lake County Sheriff's Cyber Crime Unit, according to WESH.
"My life is ruined," Kingsolver told CNN at his home, where he's on house arrest. "My family's life is ruined. My kids' life is ruined. I've devastated my parents because of bad judgment."
Kingsolver, who pleaded not guilty, is just one of dozens of Disney and Universal Studios employees charged in stings recorded in the investigation. Other employees arrested over possession of child pornography or arranging to meet minors for sex include security guards, a costumer, a tour guide, a gift shop employee and maintenance workers.
During that same sting in February, 32-year-old Patrick Holgerson -- then a character actor with Disney -- was accused of sending nude photos to someone he thought was a 13-year-old boy. When he arrived to meet the boy, he was greeted by police, CNN reports. Holgerson also faces charges for failing to disclose his HIV status to a sexual partner.
Tyler Edge, another Disney employee, allegedly brought a knife and condoms to the sting operation. Joel Torres, 32, who listed his employer as Walt Disney World, allegedly brought condoms to a home where he thought he was meeting a 14-year-old.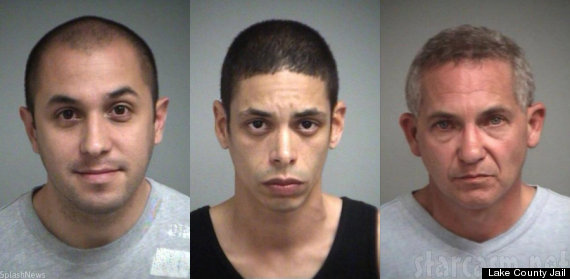 Patrick Holgerson, Joel Torres and Robert Kingsolver
Earlier this month, a sting in Central Florida led to 16 arrests, including a Universal Studios employee and two Disney workers, 26-year-old Zachary Spencer and Allen Treaster, 40.
Disney maintains that it has "extensive measures in place" to thwart child predators before they're employed, including background checks and computer monitoring. The Disney theme park in Florida has about 70,000 employees.
"The numbers reported by CNN represent one one-hundredth of 1 percent of the 300,000 people we have employed during this time period," spokeswoman Jacquee Wahler said. "We continue to work closely with law enforcement and organizations, like the National Center for Missing and Exploited Children, as we constantly strengthen our efforts."
Still, the charges are widespread and egregious.
Previous arrests include:

Cedric Cuthbert, the night shift custodial manager at Disney's Port Orleans resort, who was downloading child porn last year on his work computer while writing a sermon for his church, where he was the pastor, according to police. Cuthbert pleaded no contest to the charges and was sentenced to six years in prison.
Paul Fazio, who worked in an Animal Kingdom Lodge gift shop. Fazio was convicted of downloading videos showing "multiple scenes of nude prepubescent children engaging in sexual activity with adults and other children," the police report said.
William Marrero-Maldonado, who worked for Disney security. He was arrested in April after an Osceola County Sheriff's Office investigation claimed that he was downloading child porn videos. He has pleaded not guilty.
Like Us On Facebook |

Follow Us On Twitter |

Contact The Author
Related
Popular in the Community