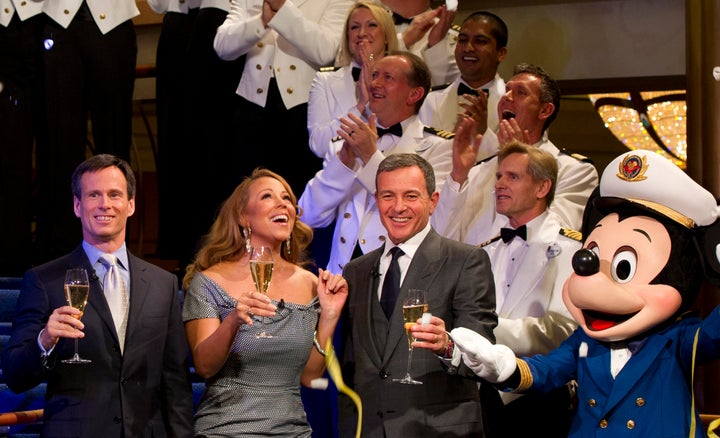 Disney Cruise Line's newest ship, the Fantasy, was christened on the Hudson River in New York City Thursday night.
Ample amounts of champagne flowed as guests toured the ship's atrium, which still had that "new ship smell," and guests were treated to a mini-Disney concert inside the ship's theater MCed by "How I Met Your Mother" star Neil Patrick Harris. The ode to all things Disney included songs by the ship's cast, a standup routine by Jerry Seinfeld (who shrewdly said in his routine: "Oh my god, I'm on a boat. Finally, I get to see what the end of my career will be like."), and songs by Tony Award-winning actress Heather Headley.
Check out NPH's intro, filmed by Conde Nast Traveler, here.
Mayor Michael Bloomberg waltzed into the ship's theater during the show to discuss with NPH how thrilled he was that a cruise ship docked in NYC for a few days -- and to talk about how much New York loves Disney. (Gotta love our business man mayor.)
Celebs, mostly with Disney ties, pranced around the ship, including a super skinny Erin Andrews, Ty Pennington, Tim Gunn, Alan Cummings and, um, Nancy Grace. (Check out photos of them posing with Mickey and Minnie below.)
But the prize of the night went to Mariah Carey, who, along with hubby Nick Cannon, served as Fairy Godmother of the ship. Carey was sure to mention that she was proud to serve as the godmother of a ship that's launching from her hometown, New York, and just in time to bring her kids.
"I christen thee Disney Fantasy. May God bless this ship and all who sail on it," Carey said next to Disney CEO Bob Iger, Walt Disney Parks and Resorts Chairman Tom Staggs, and a sailor-suit bedecked Mickey Mouse as images of Nick Cannon and Minnie Mouse breaking a bottle of champagne outside streamed into the atrium.
The $1 billion, 4,000 passenger sister ship of the Disney Dream, which launched last year, will start sailing March 31st and be based in Port Canaveral, Florida. The gilded ship -- complete with touches of Mickey and friends pretty much everywhere -- has 14 decks, a water coaster dubbed "AquaDuck" (get it?!) and pictures in the hallways that become animated as guests pass, the AP reports.
In an interview before the festivities, Disney CEO Bob Iger told The Huffington Post that his company's cruise line was created in the late 1990s to "extend the ethic of the company on land into the sea." Disney now has four ships, including the Fantasy.
"We have recruited and trained a great cast, many of whom have sailed with us on our other ships," Iger said.
And yet the Disney CEO acknowledged that the economy could be an issue for getting passengers on-board the billion-dollar boat, particularly in light of recent cruise industry woes.
"You just hope that the economy provides the opportunity [for people to cruise]," Iger said. Of recent industry turmoils with the Costa Concordia and, most recently, the Costa Allegra, Iger commented, "The whole industry suffered from a reduction in call volume when the accident occured in Italy. I haven't seen numbers in recent days since [the Allegra], but we've recovered nicely. But call volume did decrease when the accident occurred."
Check out photos from the evening below.
Correction: An earlier version of this story reported that there are 5 cruise ships in the Disney fleet. There are 4.
Related
Before You Go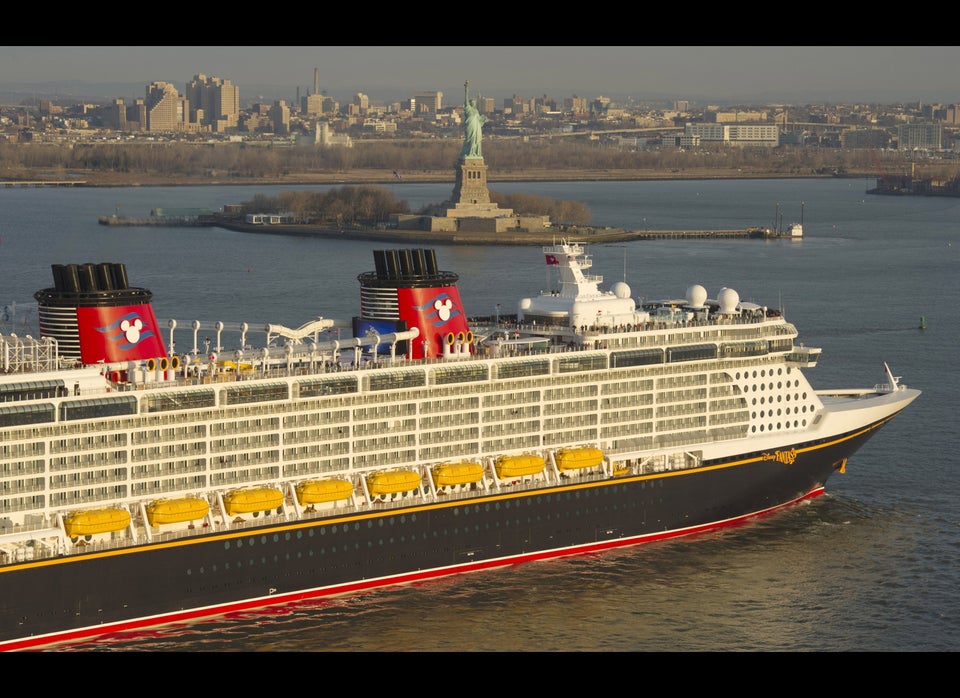 Disney Fantasy