Every photographer has a different goal in mind when they look through the viewfinder. Photojournalists seek to document and tell powerful stories of humanity through candid and emotional images. Landscape photographers attempt to offer arresting examples of the natural beauty all around us. I like to photograph explosions.
Perhaps that explanation has been reduced to its simplest terms a bit too much. I try to capture exquisitely choreographed and vivid aerial pyrotechnics displays. In other words, I like to photograph fireworks.
Creating good photos of fireworks is no easy task. Not only does the photographer have to be technically prepared with the right equipment and know which settings work for the intensity of fireworks they are photographing, but the photographer also frequently must battle large crowds that gather to view the fireworks displays in popular tourist locales.
My two favorite places to photograph fireworks are at Walt Disney World in Florida and Disneyland in California. These are my favorite locations not just because the shows are painstakingly produced and set to enjoyable scores, but because I am in the midst of a veritable sea of humanity when photographing these fireworks shows.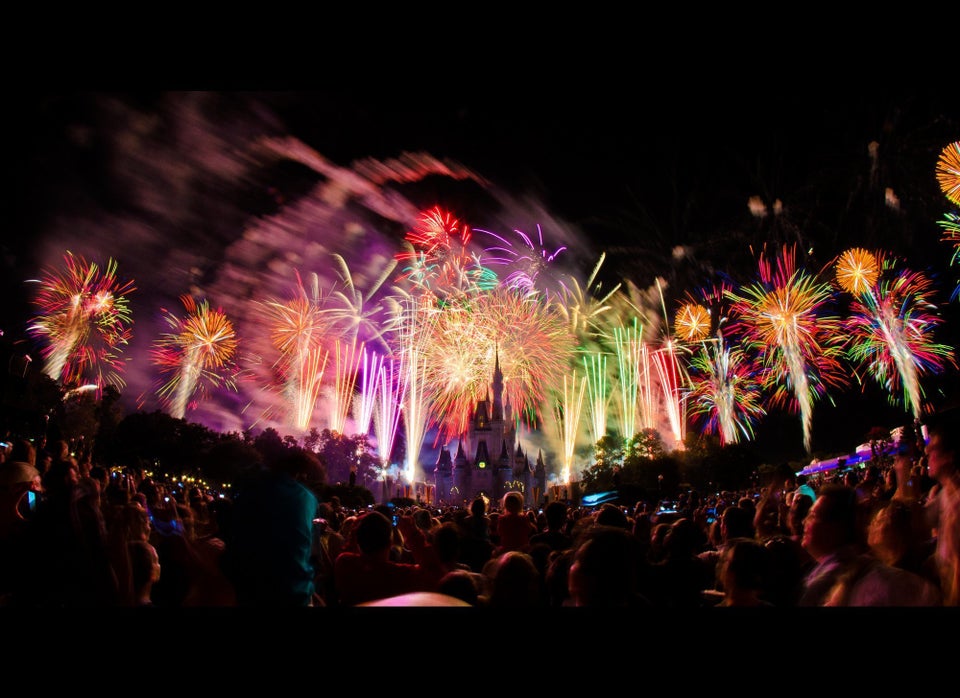 Making the Shot: Disney Fireworks Photography (PHOTOS)
Because of the large crowds that gather in these popular locales, when done well, photos of firework can actually be a great combination of other types of photography. Many people attempt to isolate the bursts of pyro while excluding scenic surroundings or crowds gathered to watch the fireworks shows. I believe that this is a mistake.
Scenery gives the fireworks scale and a spatial relationship to the landscape over which they're exploding. More importantly, the crowd watching the fireworks gives the photos a sense of humanity. People audibly "ooh" and "aah" when they view fireworks, and photos of crowds viewing fireworks is a close representation to these collective gasps of excitement. I am always amazed when reviewing my fireworks photos, even long exposures, at how still the crowd can be. They are collectively frozen in place as they gaze at the sky or at the LCD screens on their own cameras.
Together, the scenic and the human elements add another dimension to a fireworks photo that simply cannot be achieved by an isolated pyro-burst set against a vapid dark sky. All good photos, including fireworks photos, tell a story. By including key, but often overlooked, points of interest in a fireworks photo, the photographer better succeeds in telling this story. These photos are more dramatic and ultimately more rewarding for both the viewer and the photographer.
I hope my gallery of fireworks images inspires the photographer in you to seek the most emotive and interesting photos the next time you pick up a camera.