 It was incredibly serendipitous that my family was vacationing at Disney World in Orlando, Fla. when the scuttlebutt over the Habit Heroes exhibit erupted. As a mom, pediatrician and health expert, I've learned over the years to not buy into the emotional uproar of these situations but to take a more journalistic approach -- fact check as much as possible and experience first-hand whatever it is, when reasonable, which in this case happened to be days after the uproar began.
So, last Friday, my husband and I hit Futureword at Epcot on the hunt for the exhibit. Our first observation was that it was not at all easy to find. We finally found it tucked on the side of Innovations West.
Once we found it, we initially saw this sign: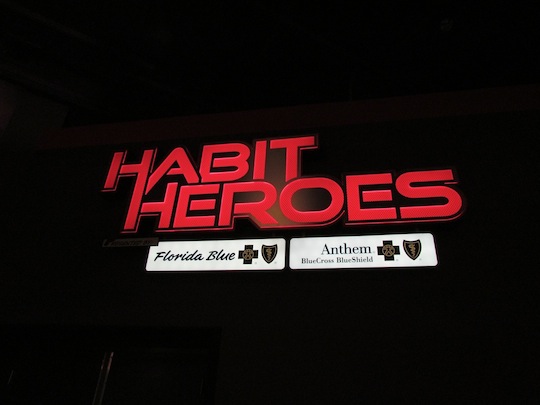 So, this wasn't just a Disney exhibit but one sponsored by a health group. Despite claims that Disney didn't use "experts" this sign implied otherwise.
From there, a very distorted and large comic strip appeared on a convex wall introducing the concept of unhealthy habit "villains" and the habit heroes.
Here's the reality. The characters and text were placed on a huge, convex wall, and were very difficult to read and truly take in given the direction of the walkway leading to the exhibit entrance and the overall dimensions of the room. You basically notice a big cartoon in passing but that's about it. And, the images are not anything but a cartoon. There is nothing scary about them or anything about them that would cause a child of any age to feel bullied or ashamed. Given our comic book culture infatuated with superheroes and villains, kids would see the comic in that light, nothing more. In fact, watching the families walk with us along the path to the exhibit, no one seemed to stop to notice the wall -- adults or kids.
Once we all reached the exhibit entrance, we were greeted with a sign and an exhibit worker. Both reinforced the interactive nature of the exhibit: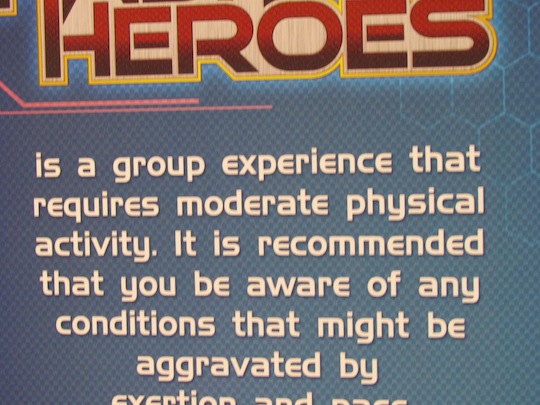 From there, we entered a basic Disney entrance room. The room was decorated like an old time gym with images of old teams, trophies and a scale.
Once the room was filled with a few more families, school age and preteens mostly, a video came on with our heroes -- Will Power and Callie Stenics. Our heroes talked about how we were there for an important mission -- to help today's kids learn healthier habits.
The video was incredibly well done. The content was appropriate for kids and adults and did a nice job explaining how kids could get more healthy and why that was important. It didn't place blame or shame. In fact it was spot-on in discussing that kids today are suffering from too much:
Inactivity
Too much TV/screen time
Poor or unhealthy eating
And, kids are becoming unhealthy and sometimes, overweight as a result. Due to the weight issues, kids are subsequently at risk for serious health problems such as diabetes and high blood pressure.
The way the material was presented, no one's vacation would be ruined. The material was no different than anything the kids or parents have heard in other settings and had the twist of having fun activities to show just how easy combating these issues truly is.
From there, we go into three rooms to try and help a typical teen become more healthy. The teen boy had a typical body habitus of many kids today -- not too thin or overweight but not in shape, either. He looked like many of the kids today's kids go to school with or see on TV.
In the first room, screen time was taken on in a game that had people zap screens that came down from the sky. The amount of screens on our display equaled the amount of screen time in a child's day so there were times we were zapping a lot. In the second room, we zapped unhealthy foods to make room for healthy foods. As the unhealthy foods fell, we could see healthy foods on the display. In the final room, we combated "lead bottom" who was the only "villain" shown for any considerable amount of time. He looked like your typical super villain in any movie or comic strip kids see these days. He wasn't scary or threatening -- he was just there. The way we fought him was to move our bodies and the more we did, the more he started to move. Within a few minutes, our villain became our ally and happily left the screen. The exhibit ended with our teen emerging moving more, eating a healthy snack and not on a screen.
Everyone in the exhibit was smiling and laughing by the end and left with smiles on their faces. We were all given wristbands with www.habitheroes.com on the side and I overheard parents and kids talking about going to the site.
Experiencing the exhibit after reading the critics was truly as if the critics of the exhibit were in a different, alternate reality. It disturbs me that Disney and Florida Blue felt the need to cave under the loud and misguided views of people who clearly didn't understand the exhibit or realize it was right on the mark. As a health expert, and mom, I felt it was fantastic and would have had no hesitation recommending it to any family, with normal weight kids or overweight kids. The exhibit was not truly about obesity but learning to be healthy. I hope Disney and Florida Blue don't retool the exhibit too much based on the loud few... they were more on track than they realized.