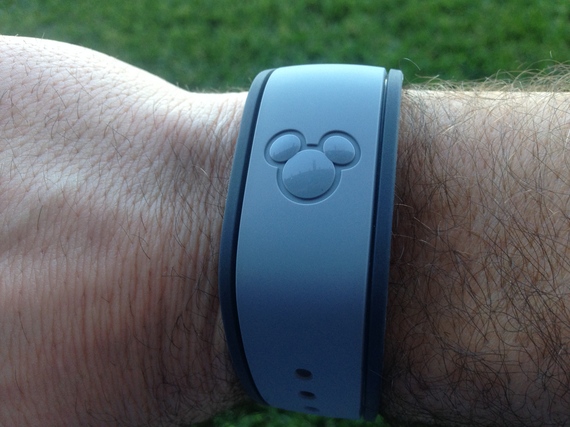 Quick disclaimer: This little experiment was conducted by my family, which included two adults, three kids, and one grandma. We took them for a test spin that included three Disney parks and a Disney Hotel.This was not something we requested, nor did Disney pay for.
Also, before I dish out the downsides, it's worth noting that Disney got a lot of things right. The pre-trip online customization was great. Everyone got to pick a color and we were all surprised to see our names were printed on the back of the bands. They arrived in a beautiful box and they worked almost flawlessly. The bands served as our room keys, admission tickets to the park, the three fast passes we were allotted each day to get us quick entry to popular rides (which we pre-booked online), payment for meals inside the park and at our hotel and as a tagging system to let the various photographers link our photos to our account. On Epcot's TestTrack ride, we could even use the bands to connect our car designs to our driving performance.
Now here are the bits that could use some work.
1. Putting on the band. The Magic Bands are beautifully designed but a bit clunky to put on. If you wear a watch, then you want to put the band on the opposite arm, and that makes it trick to put on. If I removed my watch and put in on my left arm, it took about 15-20 seconds, but when I put in on my right arm, as I did each day, I struggled with it for about 20-45 seconds and even asked for a help once or twice from my wife to get the fitting right. My 7 and 9 year olds weren't able to put them on without help. We played with them in the water and of the six of us, only one of my kids had hers fall off in the pool, but it seemed like that could be a real risk with kids playing. (Yes, we managed to find the band. Someone found it and gave it to the lifeguard.)
2. Door lock placement. When you use the Magic Bands with the contactless key doors, you have to contort your arm to make them work. The placement (just above the door handle) works fine when you use contactless key cards, but when you're trying to align the top of your wrist with it, it's not that comfortable. You have to twist your arm around. It's not the end of the world, but the placement was be far better if it was in the middle of the door, or stuck out far enough that you could hold your wrist under the reader.
3. Payment machine design. This is similar to my issue with the door. The various Magic Band payment systems look similar to credit card readers only they have a subtle mouse icon on the front. In order to make the Mickey icon on your Magic Band line up just right with that machine, you have to maneuver your arm into an unnatural position. Often the sales person has to hold your arm and help you line everything up. And then the keypad where you punch in your code is angled the wrong way, so you have to lean far forward. This is clearly the 1.0 version, but hopefully 2.0 will include a reader that's mounted above, so you just hold your wrist under it and then have a keypad that faces you.
Generally, Disney did an amazing job, and they got far more right than wrong. The entry terminals are beautifully designed and are the gem of the system, but there's room for improvement in other areas. I'd prefer to see a band more like the Nike Livestrong wrist variety and a bit more Disney magic on the payment terminals and contactless doors. I'd also like to see a system that didn't require millimeter precision when aligning the band with the machines... an inch or two miss should also register as acceptable contact.
Related