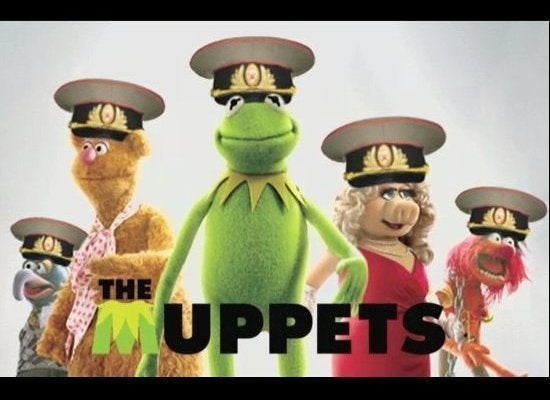 With Kermit the Frog front-and-center with the Obama family at the lighting of the National Christmas Tree earlier this month (not to mention The Muppets being one of the best reviewed films of 2011), it would appear that the Walt Disney Company's year-long effort to revive this felt-based franchise has worked... for the most part.
Okay. Let's be honest here. The Muppets hasn't exactly been burning up the holiday box office. After four weeks in theaters, the combined domestic & foreign take for this James Bobin film only amounts to $76 million. And now that Alvin and the Chipmunks: Chipwrecked is giving The Muppets some serious competition when it comes to the family film-going audience... Well, Disney Studio execs probably shouldn't expect to see all that much more box office gold drop into the pot at the end of this particular Rainbow Connection.
But this is the Walt Disney Company that we're talking about here. A multi-national media empire with cable channels, theme parks, retail outlets and consumer products divisions. And if anyone can take advantage of all of the positive press to find new ways to market & monetize the Muppets, it's Disney.
But that said, one has to wonder: Would The Muppets be doing any better at the box office right now if the Mouse had taken a different promotional tack? Rather than having Miss Piggy & pals make appearances on every Disney-owned TV show under the sun (i.e. Good Morning, America, Dancing with the Stars, Jimmy Kimmel Live!, LIVE! with Kelly" and Desperate Housewives. Not to mention Take Two with Phineas & Ferb on the Disney Channel and ESPN's SportsNation), would a different sort of publicity stunt have helped raise awareness of the return of Jim Henson's much-beloved characters?
Because that's what Disney actually had in the works back in 1990 when the company first attempted to acquire the Muppets. A publicity stunt that would have been so huge that people could have seen it while they were out on the 5 driving by Disneyland.
It was Jack Lindquist -- the then-president of the Disneyland Resort -- who reportedly dreamed up this promotional scheme. Which was to have involved Mickey Mouse, Minnie Mouse, Donald Duck, Daisy Duck, Goofy and Pluto announcing that -- after having spent a full year of hosting Disneyland's 35th anniversary celebration -- they were now exhausted. Which is why these Disney characters needed a break.
Enter Kermit the Frog. Who -- in a series of full-page ads which were to have run in newspapers & magazines around the country -- was to have offered to cover for the Mouse. He'd volunteer to have the Muppets run Disneyland while Mickey & his pals went off on a much-needed, year-long cross-country vacation.
And once Mickey had turned over the keys to this theme park over to Kermit in January of 1991 (in what was sure to have been a well-attended photo-op), the Muppets were to have... Well, Muppetized the place. This was to have involved ripping up the much-photographed Mickey-shaped planter in front of the Main Street U.S.A. train station and then temporarily replacing it with a Kermit-shaped one. Not to mention throwing a crudely-painted canvas sign over the Disneyland entrance marquee so that this theme park would then be identified as Muppetland.
But the pièce de résistance of Lindquist's Muppets-take-over-Disneyland publicity stunt -- the part of Jack's promotional sketch that was almost certain to garner worldwide press coverage -- involved several hundred gallons of Kermit-the-Frog green paint. You see, what Jack wanted to do (just for the year of 1991, mind you) was paint all 147-feet of the Matterhorn green.
There would have -- of course -- been some other temporary Muppety touches added to classic Disneyland attractions. Like replacing the winking Cleopatra in "It's a Small World" Egyptian sequence with a winking Miss Piggy. Not to mention putting a audio-animatronic version of Animal in place of one of those ne'er do-well cads who chases the wenches in Pirates of the Caribbean but never quite catches them.
These strictly temporary additions to the Happiest Place on Earth were to have been supplemented by a handful of permanent Muppet-themed attractions. Chief among these was a West Coast edition of Jim Henson's MuppetVision 3D (which -- in a somewhat controversial move -- was to have replaced Great Moments with Mr. Lincoln as the attraction being presented at Disneyland's Main Street Opera House). Not to mention the Magnificent Muppet All-Star Motorcade, which was to have rolled through this theme park on a daily basis.
Again, it's important to stress here that this Muppet-makeover/takeover-of-Disneyland was just supposed to be a temporary publicity stunt. And as 1991 gave way to 1992, this theme park would have then reverted to its original form. With the obvious exception of "Great Moments with Mr. Lincoln."
What's more, Mickey and the gang were to have been the special guests at Disneyland's New Years Eve party on December 31, 1991. Which was then to have been the kick-off event for a year-long celebration leading up to the January 1993 opening of Disneyland's newest "land," Mickey's Toontown.
Everyone from Michael Eisner on down just loved Jack Lindquist's idea. Especially Jim Henson, who -- as it turns out -- was a huge Disneyland fan. So as 1990 got underway, plans for this year-long PR stunt in 1991 began to filter out through the various divisions at Disney. Scripts were written. Sample ads were created. Models of parade floats were built. And then -- on May 16, 1990 -- Jim Henson died suddenly from an untreated bacterial infection.
It was at this point that the Walt Disney Company's first attempt to acquire the Muppets began to go off-track. Disney attorneys tried to press ahead with the deal, but -- with Jim gone -- the Henson family now had some very serious second thoughts. And as summer turned to fall and still no deal was signed, Lindquist reluctantly tabled his Muppets-take-over-Disneyland plans and then went off in search of some other promotional gimmick to drive up attendance at that theme park in 1991.

But the Imagineers hoped that the company & the Henson family might eventually come to some sort of agreement and the Muppet acquisition deal would then still go through. Which is why they pushed ahead with development of the Disneyland version of Jim Henson's MuppetVision 3D.
In fact, the Imagineers were inside of the Main Street Opera House on a Friday afternoon in late December 1990, taking measurements for the "Great Moments with Mr. Lincoln" change-out (which was to have gotten underway during the first week of January 1991, right after Disneyland had wrapped up its annual Christmas celebration) when the call came from 1401 Flower Street to pack everything up and come on back to WDI Headquarters. The Muppet acquisition deal was now officially off.
In fact, there would be another six months of incredibly bad press and lawsuits flying back & forth before the Henson family would then finally reach an out-of-court settlement with The Walt Disney Company which would then allow the Mouse to use the Muppets in its theme parks in an extremely limited way.
How limited? Under the original terms of this deal, Disney only had an 18-month-long license to present Jim Henson's MuppetVision 3D as well as the Here Come the Muppets stage show at the Disney-MGM Studio Theme Park. And if Disney was looking to extend this arrangement past December of 1993, they'd then have to re-open negotiations with the Henson family.
Given that -- almost 13 years later -- The Walt Disney Company did eventually manage to acquire the Muppets... Well, there were obviously other negotiations with Jim's kids.
So what was it that ultimately persuaded the Henson family to sell the Muppets to the Mouse? Perhaps it was that weird three-year-period where the Jim Henson Company was owned outright by German television giant EM.TV.
It was during this period that the executives in charge of these characters began cooking up some truly bizarre cross-promotional ideas. Like -- for example -- having Kermit break up with Miss Piggy so that he could then start dating a brand-new Muppet-character, a girl mechanic named Mercedes. With the idea that this new Muppet character would host a new weekly TV show that would then establish Mercedes-Benz as the favorite car brand among children.
I'll save the EM.TV Muppets story for another HuffPost column. But what do you folks think? Would a Muppet-themed makeover-of-Disneyland sized stunt have helped with the current relaunch of this franchise?
Jim Hill is an award-winning entertainment writer who lives in New Boston, N.H. Over the past 30 years, he has interviewed hundreds of veterans of the animation and themed entertainment industry and written extensively about the Walt Disney Company.
Jim is currently working on a behind-the-scenes history of the development and construction of Disneyland. For his more immediate musings on movies, TV shows, books and theme parks, please check out his blog, jimhillmedia.com.

Popular in the Community