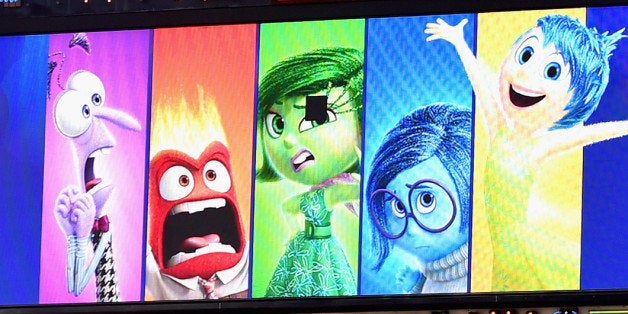 A hallmark of a timeless Disney classic is that it has no sequel, yet Inside Out may be so groundbreaking that it demands one. This film, which arrives today on Blu-ray, has a more inventive narrative than ever before seen in a Disney animated feature, especially if we exempt the experimental Fantasia films.
It has been heaped with praise for a story about that elusive concept--our evolving clash of feelings--and the confusion we feel during adolescence. Inside Out was crowned the most ambitious popcorn film of the summer for taking us on a visionary tour of human psychology. So who would want to mess with something that is already so perfect?
There are lots of Disney or PIXAR classics that were one-and-done at theaters and it has served them well: Snow White, Pinocchio, Bambi, Wall-E and UP, to name just a few. The very thought of Wall-3 or 'UPteenth seems just crass. Besides, many of us feel that bad sequels can hurt the reputation of the original.
The difference here is that the audience has now been primed and has taken the journey through an intricate mindscape to understand how Riley's despair brought her growth and finally contentment. Perhaps this is one of the profound realizations of life, that we must savor our bliss for it gives us the composure to face greater struggles.
By this thinking, Inside Out is merely Step 1 in a longer arc toward some emotional Zen. Yes, this movie is a staggering work of allegory, but that does not mean a larger purpose was necessarily fulfilled. We would never say, "Riley totally figured out being twelve, so she's done growing up." This is a story that appears to be projecting its logical course.
Admittedly, some sequels seem contrived and that can leave us scratching our heads. Why was Cars 2 a spy caper and why was Monsters U. a prequel from Mike and Sulley's college days? That would arguably not be the case with Inside Out. The narrative trajectory for its sequel seems not only clear but also poignant--Riley needs to grow up and sustain her teen years.
There is already a successful model for this: the Toy Story trilogy, which is generally regarded as one of the best movie trilogies ever made. We not only saw a compelling storyline play forward, but we also watched Andy and his toys grow up. One of the testaments to the overall strength of this trilogy is that it grew more evocative as the depths of the characters became clearer.
The rich premise of Inside Out provides the framework to go deeper into the human condition. The story of Riley as a teen can be powerful and challenging, not to mention cathartic to millions of young people. As engaging and satisfying as this singular movie narrative might be, the potential for a trilogy is even bigger. To put it in context, ask yourself: would Toy Story have been better served if 2 and 3 had never been made?
I realize it is not exactly brave or bold to say that a Disney movie should have a sequel. After all, Disney is a conglomerate that exists to build franchises and spin-offs. That is precisely why it spent billions buying Marvel and Lucasfilm. So, at the risk of admitting there is nothing really courageous in saying so, let me say this one deserves a sequel, with every hope that its integrity would be safeguarded with a strong development team.
Inside Out has generated a national conversation on childhood depression that offers hopefulness and accessibility. It provides a metaphor that makes it easier for some to even just discuss this difficult topic. Let us admit that a little sadness can bring us more joy and that the earliest Disney classics were transcendent because they hovered on the edge of tragedy--like Bambi or Pinocchio.
The risk of making Inside Out 2 is obvious. There is the 'opportunity cost' that a sequel could push aside a new PIXAR original feature from being made. To be clear, there is no indication that a follow-up is even on the horizon, especially because Inside Out was a passion project led by creator-director Pete Docter, and the studio rumor is that Docter is already developing an original concept for his next film.
So these are big considerations that loom in front of any chance of this happening or even knowing who might helm it. PIXAR has a history of deliberating carefully on decisions like this, as it rightfully should, so it may be years before we return to Headquarters. Whatever risk a sequel actually does present, the rewards might be even greater.
REAL LIFE. REAL NEWS. REAL VOICES.
Help us tell more of the stories that matter from voices that too often remain unheard.