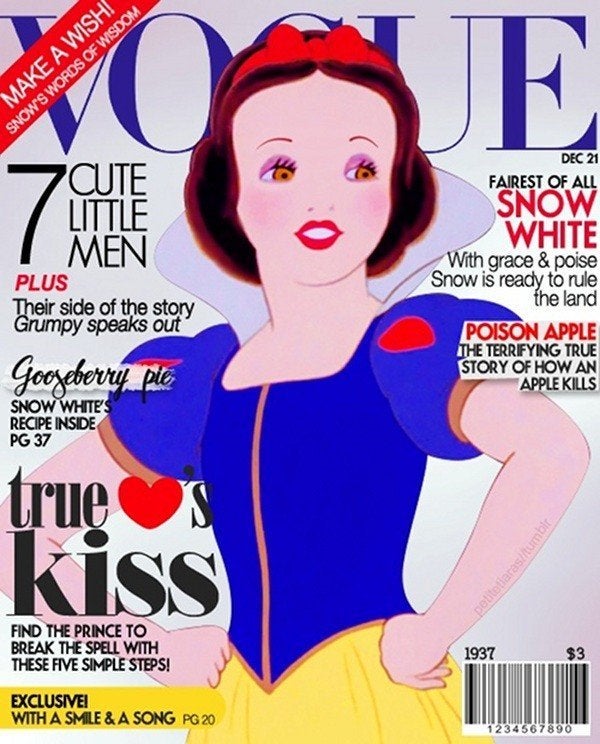 A statuesque woman stands with her back to the camera. Her blonde hair is perfectly coiffed and you can see a hint of pink lipstick peeking out as she stands in profile. Seems like a typical Elle magazine cover. Except that she's 2-D ... and her name is Cinderella.
The Disney princesses: Love them or hate them, there's no denying that these are some iconic fictional women. In October they inspired an artist to use his Photoshop magic to create pictures of what the princesses would look like as real women. And in August College Candy assigned each animated royal a college campus archetype. It was only a matter of time before these beauties were gracing the covers of major fashion magazines.
The Tumblr Petite Tiaras has posted a series of fantastic faux magazine covers, each featuring one of Disney's leading ladies, complete with cover lines about the princess-related stories an issue devoted to that princess might contain. Snow White gets the prime spot on the cover of Vogue under the headline "Fairest Of All Snow White: With grace and poise, Snow is ready to rule the land." Fantasy readers are also treated to exclusives on "7 Cute Little Men" and "The Terrifying Story Of How An Apple Kills."
It's clear that the Disney princesses and the magazines were carefully matched. Pocahontas' colors of the wind were made her an obvious choice for hipster bible NYLON. She's even nicknamed Pocahotness on the cover. And recent addition to the Disney family, Princess Tiana, is pictured regally on the more sophisticated publication, Vanity Fair. Unfortunately, Princess Jasmine got the straight-up sexpot treament, care of Cosmopolitan. Perhaps the artist could have skipped that lady mag altogether -- we'll pass on reading about "Jasmine's Favorite Bikini Bazaars" and head straight over to the exclusive on Mulan in Harper's Bazaar.
Click through below to see a few of these fantastic mock covers. And head over to Petite Tiaras to view the full collection.
Popular in the Community