So before you focus all of your attention on one of life's truly big decisions (i.e., Do you go with innerspring or memory foam?), let's remember that there were other Commanders-in-Chief besides General George and Honest Abe. Unsung, truly courageous men like Martin Van Buren, William Henry Harrison and Lord Quentin Trembley III.
What's that? You've never heard of Quentin Trembley? Well, as the 8 and 1/2 President of the United States, he technically came between Van Buren and Harrison. More to the point, Quentin was a very silly man. Trembley's State of the Union address actually included a line which stated that " ... the only thing we have to fear is gigantic, man-eating spiders."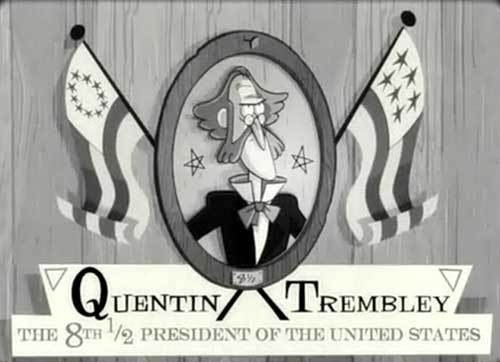 Okay. So Lord Quentin Trembley III isn't real. But Gravity Falls -- that Emmy Award-winning animated series which introduced this previously-unknown president to the world -- is a very real thing. And as Disney XD gets ready to air "Weirdmageddon 3: Take Back The Falls," the one hour-long finale of this much beloved series tonight at 7 p.m. ET / PT, I thought it might be fun to share some of show creator Alex Hirsch's thoughts about this program's run coming to a close.
Because right from the very beginning (to be specific: April of 2010), back when Alex first pitched Disney Channel executives on his idea for an animated series that would somehow blend the comic stylings of The Simpsons with the on-going / over-arching mythology of The X-Files, Hirsch envisioned this show as having a very definite beginning, middle and end.
"From the very first, I pitched Gravity Falls as this show that was only going to last a few seasons. This series was only supposed to cover one very special summer in Dipper & Mabel's lives. There were just a few big questions that were going to be answered over the course of this show. And once those questions were answered, Gravity Falls was over," Hirsch explained late last week during a question and answer session where Alex (voice of Grunkle Stan and Sooce the Mystery Shack's handyman), Jason Ritter (voice of Dipper), Kristen Schaal (voice of Mabel) and Brad Breeck (composer of this Disney XD show's theme song) met with the press and then performed a portion of Gravity Falls pilot script.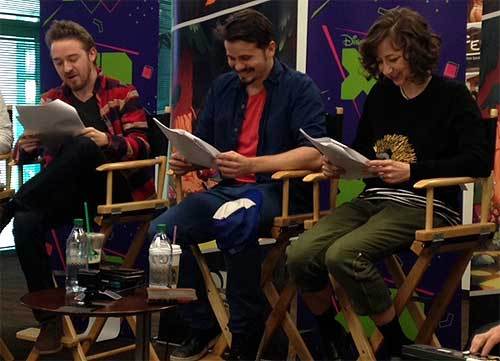 "I don't think that anyone at Disney actually believed me when I said that's how I wanted to do Gravity Falls. But to their credit, they then said 'Sure let's give this a try,' " Alex continued "And I'm so grateful to the Disney Channel and Disney XD for letting me tell this story in the way that I planned to tell it."
And after 40 episodes, Gravity Falls highly-serialized story comes to a close in a way that this show's conspiracy-obsessed fans are sure to love. With (SLIGHT SPOILERS AHEAD) the Pines family, the surviving townsfolk of Gravity Falls and many of the weird creatures from the woods surrounding the Mystery Shack uniting to do battle with Bill Cipher.
So will "Weirdmageddon 3: Take Back The Falls" deliberately and definitively tie up all of Gravity Falls narrative threads? Will each and every one of the viewers' questions about this conspiracy-laden corner of Oregon be answered? To be blunt, no.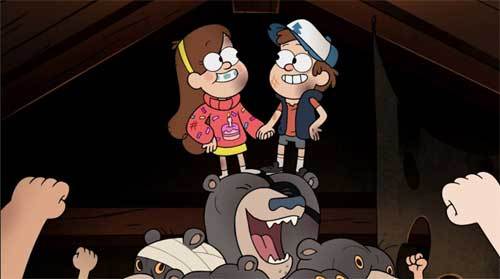 You see, even though Hirsch is decamping from Disney (Just last month, the traders revealed that Alex is developing a new animated series for Fox / 20th Century Fox TV. One that, just like Gravity Falls, will supposedly skillfully mix the silly with the sinister), he admitted that he may not entirely be ready to say "Goodbye" to the Pines family.
"Right now, I'm sort of content with where Gravity Falls is. But I can't say what Future Alex might do. I think when people see the final episode, they will see threads that one could imagine could be addressed in some future form. Whether that's a comic or a TV special or something that's written a hundred years after I die by robots," Hirsch laughed. "I mean, I do love these characters. That's again why I didn't want Gravity Falls to go on forever. But that being said, it's not inconceivable that -- one day -- we may return to this world."
Of course, the irony of this statement was that -- as soon as Alex wrapped up this particular press conference -- he did in fact have to return to the world of Gravity Falls. To be specific, "Gravity Falls: Journal 3," the 288-page, full-color, hardcover book that Disney Press will be releasing on July 26th of this year which will then replicate the journal that Dipper continually consulted over the course of this show.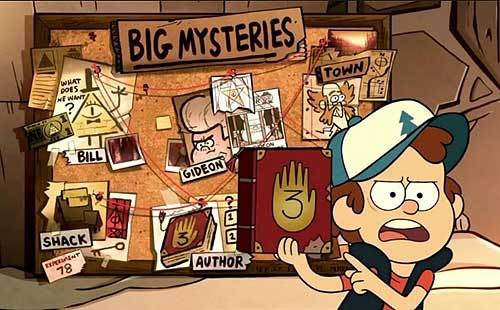 "After this event, I'm actually going home to work on that. It isn't done yet," Hirsch admitted. "Journal 3 will be filled with monsters and mysteries and secrets and inter-connected things that the fans never knew about. That's something that -- I'm hoping -- will keep fans hungry after the Gravity Falls finale airs."
And speaking of the fan community, as this press event for Gravity Falls finale was drawing to a close, Alex took a moment to directly address the adults and kids who were so quick to embrace this animated series after it initially debuted on the Disney Channel back in June of 2012.
"I'm extremely grateful to the Gravity Falls fan community. I especially enjoyed looking at all of the artwork that they would post online. Every time I see it, it makes me smile. So as long as they're out there making it, I'll keep on seeing it. I'll keep on appreciating it. Only from here on, I'll be their fan," Hirsch concluded.
REAL LIFE. REAL NEWS. REAL VOICES.
Help us tell more of the stories that matter from voices that too often remain unheard.