It's a difficult task to find someone who doesn't appreciate Disney in any capacity. For 60 years, Disneyland has provided us with countless forms of entertainment inside the park such as, rides, shows and our favorite characters coming to life. It quickly became a world-renowned attraction and there's nowhere else in the world that can compare.
The Wonderful World of Disney: Disneyland 60 was a spectacular celebration of all the things we love about Disney. From musical performances to learning about the park's secrets, I certainly felt like I was a kid again.
Derek Hough, who stopped by AOL Build just last week, was the perfect host for this exciting event. As a well-loved entertainer on a Disney-owned network, Hough graced us with a marvelous show opener, which featured DWTS co-star Witney Carson and a plethora of amazing dancers. I personally loved the black and white screen fading into color as it appeared to symbolize the opening of the park in 1955 going into today. The production value in the opening number alone was truly impressive. When Derek hung from the light pole, I was given some serious Gene Kelly vibes.
After Pentatonix performed in the opening number with "Be Our Guest," Disneyland 60 offered some really fantastic musical numbers from some of today's biggest stars. Jessie J, who just recently performed the opening for Grease Live!, sang a beautiful rendition of the classic song "When You Wish Upon a Star", which in turn gave me goose bumps. Fall Out Boy performed a rock version of "Wanna Be Like You" from The Jungle Book, featuring lots of fun dancers. Idina Menzel reminded us of why "Let it Go" is one of the most famous Disney anthems of all time. On a side note, I am convinced that this live performance was her best she's ever done it. Tori Kelly and Kermit the Frog were an unlikely, but wonderful duo, singing "Rainbow Connection". I'd be lying if I said that there weren't any tears forming while watching that performance. This is my official petition to have Disney hire Miss Kelly to be a future princess.
Personally, I was underwhelmed by the performances by Elton John and Little Big Town, who sang "Circle of Life" and "Steve McQueen" respectively. I have to admit that while I loved how Elton John sang one of his most iconic Disney songs, it didn't live up to the hype. I wasn't hearing the lyrics that we all know and love, either. I will, however, say that I thoroughly enjoyed the castle setting in which the performance was held. Before any fans of Little Big Town decide to get angry with me, I first have to preface this by saying that I enjoy their music very much. Unfortunately, this Disneyland 60 performance was just disappointing. Not only did they sing a Disney song that barely anyone knows exists, there was nothing memorable happening. While they are a talented group, they should have been given an opportunity to sing something that families at home could sing along to, just like all of the other performances.
Disneyland 60 wasn't just about the singing and dancing. What I really loved about this celebration was the behind-the-scenes look at the park. Josh Gad, who we all love as Olaf from Frozen, gave a wonderful look into the people and secrets of Disneyland. For instance, who knew that the two park announcers are a married couple and that Disneyland has the eighth largest submarine fleet in the world?! This part of the special, while informative, kept the fun aspect. Josh's ad lib about the scuba divers being "the guys that separated Nemo from his father" gave me a good laugh, which is something that Disney always strives to do -- make people happy.
For years, we've learned that Disneyland (and Disney World, for that matter,) is where dreams come true. Most of us have been able to witness that first-hand. Disneyland 60 didn't waste the opportunity to pair up with an organization dedicated to helping kids. #ShareYourEars became such a phenomenon last night, with Disney pledging to donate $5 for every photo of people wearing their Mickey ears using the hashtag to the Make-A-Wish Foundation. Audience involvement is key in television specials like this, so it was heart-warming to see it being used to make a difference.
Changing lives is something near and dear to Disney. The Princesses are one of the most iconic symbols of the Disney empire. Having a section for female empowerment was such a classy move by Disney, because the princesses are true role models for girls everywhere. Zendaya pointed out that "they're a symbol of strength and power," while Kristen Bell says that they always "dream big." Teaching little girls everywhere about their worth is so important in such a misogynistic male dominated society.
Later in the show, I was convinced we were seeing scenes from a Broadway production of Disney films. Kelsea Ballerini sang a beautiful rendition of "Part of Your World" accompanied by Maddie Ziegler, who is known for her work in Sia's music videos. While this part of the revue was stunning and graceful, the best part was Derek Hough dancing to "Step In Time" from Mary Poppins. Watching him dance made many fans, including myself, put him on the wish list to play Bert in any Broadway revival of the show. It was like we were seeing a young, blonde Dick Van Dyke come out and dance for us, but then what we all hoped would happen, happened. At 90 years old, Dick Van Dyke comes out and does a little job with the chimney sweeps. There is no doubt in my mind that it was the highlight of the entire show. It certainly delighted people old and young and reminded us how much of a treasure that man is.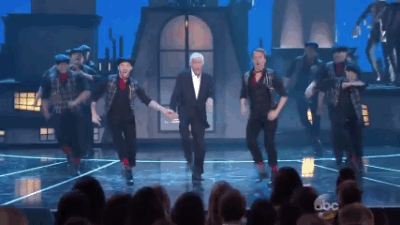 There's no way Disneyland 60 could be a real celebration without the newest addition of Star Wars. What better way to give the fans a first look into the new area than music conducted by the man himself- Mr. John Williams. Fans everywhere were given such a close look to the new attractions. Hearing the theme music to the images of what we can all soon enjoy made my inner nerdy child jump for joy.
The live music added to the magic of Disney, so having the Los Angeles Philharmonic accompany classic scenes from Fantasia was the perfect way to end such a spectacular celebration. Fantasia came before Disneyland, but like the park, it brings the family together. The live view of the musicians playing gave them credit for their talent, which made the show that much more special.
I'd be a complete liar if I told you that Disneyland 60 was a good show. It was so much more than a "good show." Disneyland 60 was more than a celebration, at that. With a fabulous host in Derek Hough and spectacular performances by today's favorite entertainers, Disneyland 60 was an astounding love letter to Disneyland that we can all go back and enjoy over again, like we continue to do with our favorite Disney films.
Well done, Disney. I can't wait until the 75th celebration!
REAL LIFE. REAL NEWS. REAL VOICES.
Help us tell more of the stories that matter from voices that too often remain unheard.