The Disneyland measles outbreak earlier this year may have had a silver lining. According to a new poll, it improved parents' attitudes toward childhood vaccines.
"Thirty-four percent of parents told us that they perceived more benefits of vaccines today than they did a year ago, compared to only 5 percent of parents who perceived fewer benefits of vaccines," said Dr. Matthew M. Davis, director of a C.S. Mott Children's Hospital National Poll of 1,416 parents from around the country taken in May.
A quarter of parents said they thought vaccines were safer than they had thought they were a year prior, while only 7 percent of parents reported that they perceived vaccines as less safe.
While 2014 was technically a worse year for measles, including a record 668 cases and 23 separate outbreaks, according to the Centers for Disease Control and Prevention, the 2015 Disneyland outbreaks received considerable media attention. Of the 178 reported cases of measles in the United States in 2015, 125 of those cases were linked to the two Disney theme park outbreaks in California.
It's unusual for public opinion on vaccines to change so dramatically in a year, according to Davis."These numbers are incredibly high, and suggest that parents are hearing about the outbreaks and responding," he told NPR.
Still, it's important to note that improved perception of vaccines is only significant if it translates into action -- that is, if more parents vaccinate their children. And it's worth noting that the majority of parents didn't change their minds.
"After all, the children and their communities only benefit from vaccines when we use those vaccines," Davis said. "We know from recent outbreaks of vaccine-preventable diseases that fewer kids being vaccinated means that more children are at risk."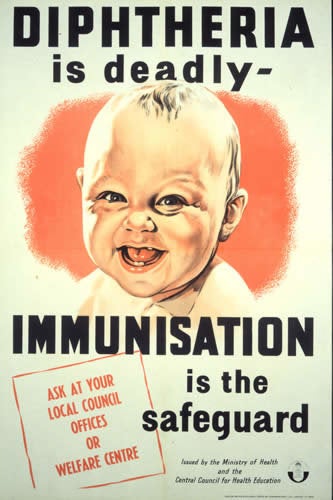 Retro Illustrations On Vaccines