The Descendants are back, singing and dancing and looking for ways to live happily ever after.
Even in Disney land, that's not always easy.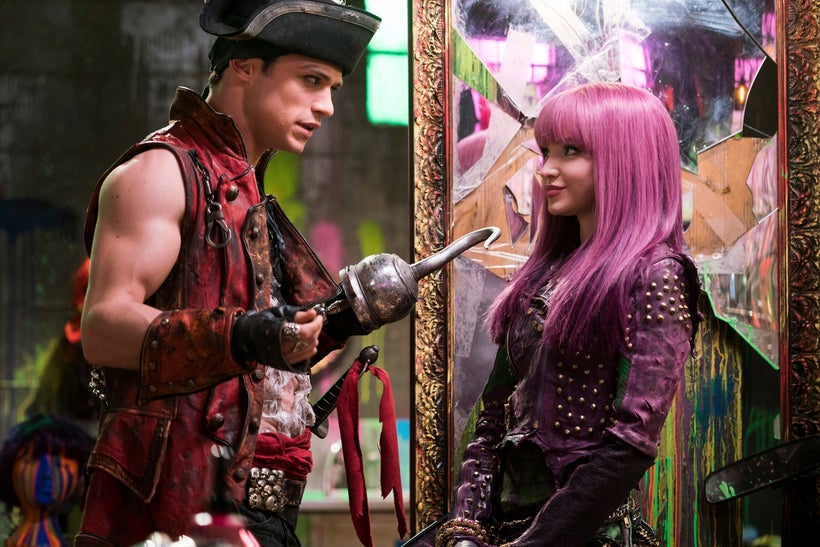 Descendants 2, the second installment in Disney's latest major TV movie franchise, hits the airwaves with a splash that's closer to a tidal wave this Friday.
It will air simultaneously at 8 p.m. ET on six channels: ABC, Freeform, Lifetime, Disney Channel, Lifetime Movies and Disney XD.
As the "2" suggests, this Descendants picks up where the original left off. It also picks up the spirit and energy, although, through no fault of its own, it doesn't have the fresh pop of the first one. That's just the nature of sequels.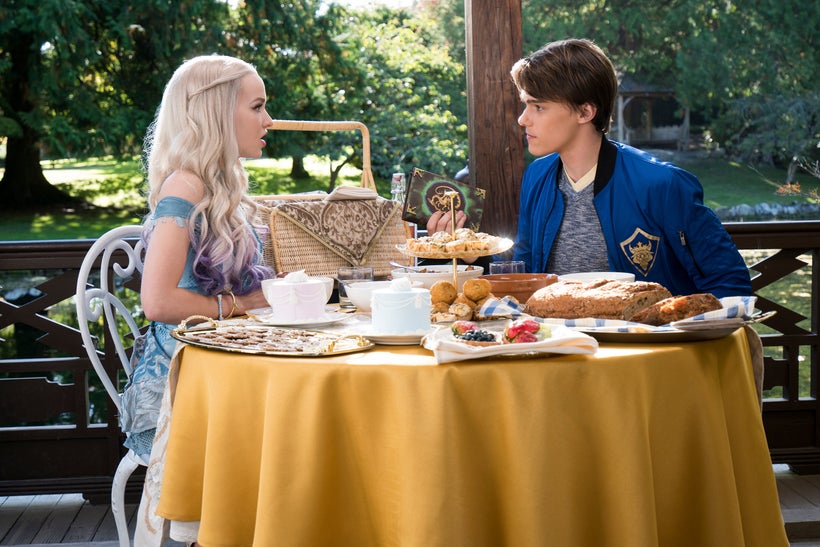 As we pick up the story, Mal (Dove Cameron) is struggling with the pressures of trying to be the perfect girlfriend and future queen for Ben (Mitchell Hope), the king of Auradon.
Auradon, for those who joined the story late, is the fairyland where good people live and do only good things.
Those who are not good people, or who do bad things, live on the Isle of the Lost, which seems to be populated by bullies and mean girls.
Many of the residents of Isle of the Lost are the children of villains from past Disney productions. Ben, being a generous soul, suspects some of them are good people who shouldn't be stereotyped just because their parents were wicked and evil.
In the first film, then, Ben invited four descendants from the Isle of the Lost to come over and attend Auradon Prep, a school that turns out well-educated good citizens.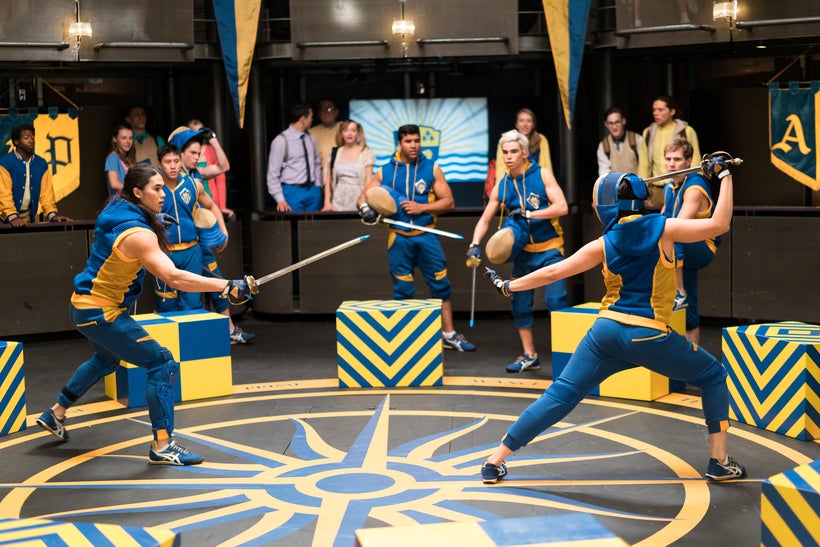 That included Mal, daughter of Malificent; Jay (Booboo Stewart), son of Jafar; Carlos (Cameron Boyce), son of Cruella De Vil; and Evie (Sophia Carson), daughter of The Evil Queen.
Some might suggest Mal was the only one Ben really wanted, since he was in love with her. But cynicism has no place in Auradon, and there has been no indication the others are not model-citizen material.
The crisis in Auradon this time starts with that aforementioned pressure on Mal. This in turn leads to a crisis in the relationship — OMG! — that sends Mal impulsively fleeing back to the Isle of the Lost, where she figures she can hang with her old homies and no one will care if she violates royal protocol.
Things are not quite what she expected there, though it's hard to know what else she might have expected from mean girls and bullies.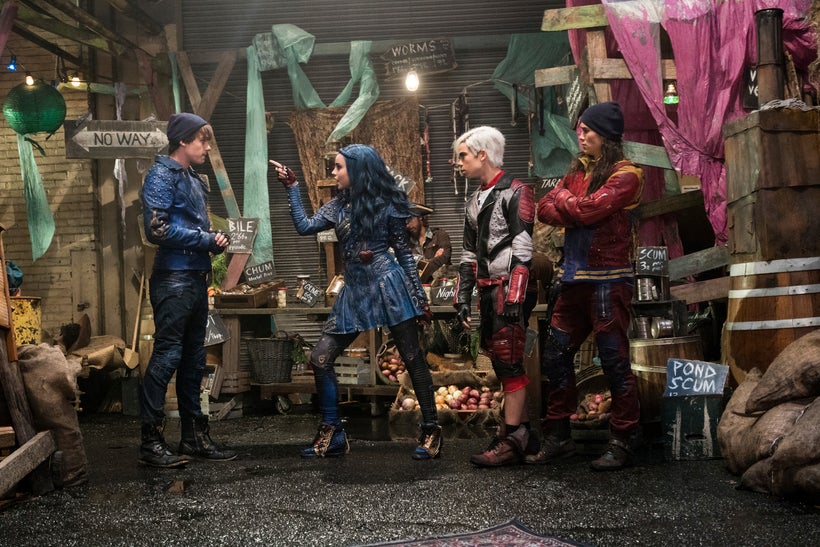 Meanwhile, Ben enlists Jay, Evie and Carlos to help him sneak onto the Isle of the Lost and bring Mal back.
This mission proves to be not quite what Ben expected, and things aren't resolved until someone remembers that this is a world where the phrases "it's magic" and "under your spell" can be literal, not metaphoric.
It's all punctuated with a lot of singing. The songs are solidly in the Disney wheelhouse and fit the tone of the film, though the technology of lip-synching hasn't advanced as far as some other areas of movie and video technology.
In the end, Descendants 2 does what Disney does best: provide a lively story that's fit for the family, packaged with bright colors and a bounce in its stride.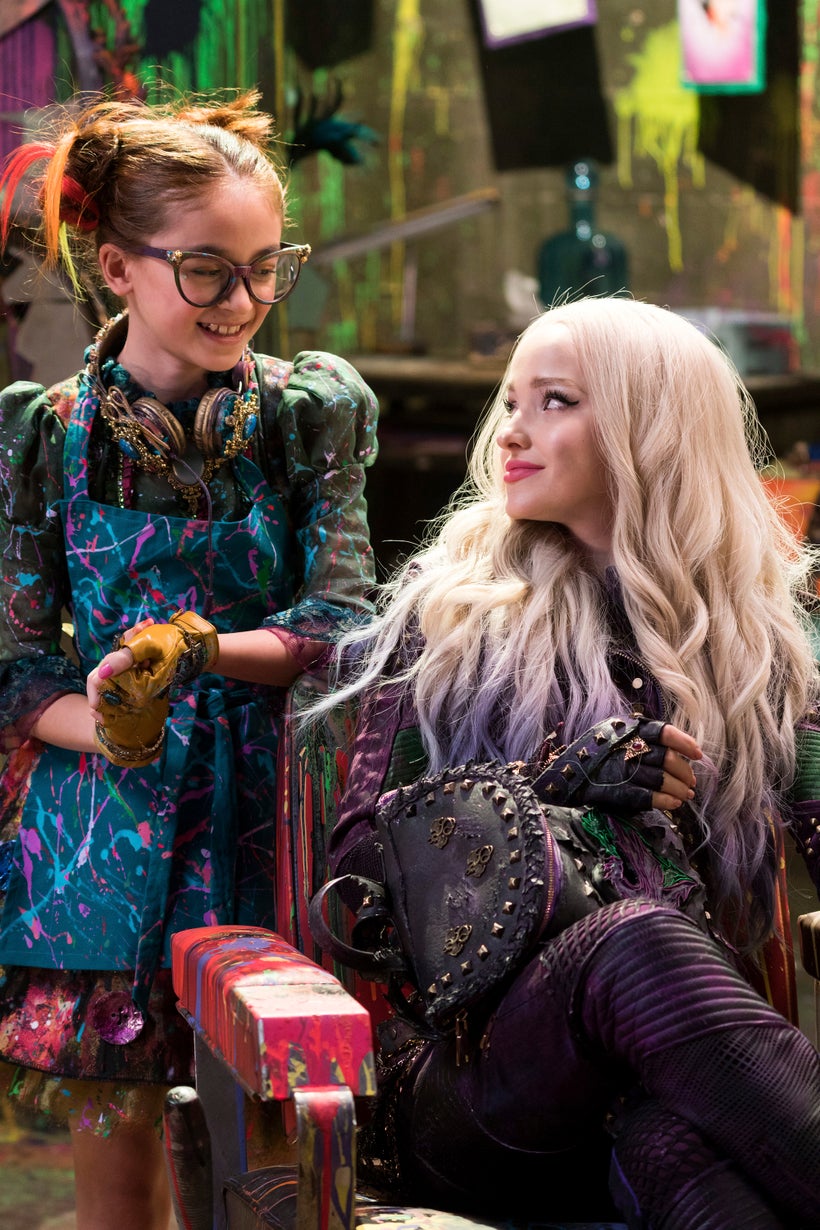 And did we mention that Anna Cathcart almost steals the show as Dizzy Tremaine?
The Descendants' parents should be proud.
[Footnote: For those who can't get enough, or who just want to stay up a little later, ABC will air Descendants 2: ABC After Party at 11 p.m. ET. Chatting about the movie will be Cameron, Boyce, Carson, Stewart and China Anne McClain, who plays Uma. Also Kenny Ortega, the director and choreographer.]
Calling all HuffPost superfans!
Sign up for membership to become a founding member and help shape HuffPost's next chapter
This post was published on the now-closed HuffPost Contributor platform. Contributors control their own work and posted freely to our site. If you need to flag this entry as abusive,
send us an email
.