It was June of 1913 that Florenz Ziegfeld, Jr. moved his legendary Follies over from the Moulin Rouge to the New Amsterdam Theatre. And for the next 14 years, this NYC landmark was not only home to the most beautiful costumes, sets and showgirls in the city, it also played host to an amazing array of clowns. We're talking legendary comics like W.C. Fields, Ed Wynn, Eddie Cantor and Will Rogers.
Which is why it's kind of fitting that Disney's Aladdin has now set up shop at the New Amsterdam. A century after Ziegfeld filled this 1,800-seat showplace with music and merriment, thanks to the artistic efforts of Bob Crowley, the lavish sets are back. And thanks to Gregg Barnes' stylish designs, the dazzling costumes are back. Best of all, thanks to the inspired comedic capering of Brian Gonzales, Brandon O'Neill, Jonathan Schwartz and Don Darryl Rivera, the clowns are back.
Mind you, it did take Disney Theatrical a little while to sort out which performers were going to play what role in this season's surprise smash.
"When I first went in to audition for Aladdin, I was originally up for the role of Babkak," Rivera recalled during a recent phone interview. "But as soon as Casey Nicholaw [the director/choreographer of this new Disney Theatrical production] saw me, he asked if I could take a look at the Iago sides. And I -- of course -- said, 'Absolutely.' Casey then told me a specific side to look at. But I was so nervous that I wasn't actually listening. So I wound up having to learn all three of those sides that I'd been given. I then went back into that room and just had a blast reading for this part. And that's how I wound up playing Iago."
Which isn't to say that Casey & Co. didn't continue to tinker with the part of Iago once Don had been cast in this role.
"It honestly took us all quite a while to settle on the proper way this character should be played. During the pilot production of Disney Aladdin at the Fifth Avenue Theatre in Seattle back in 2011, Iago was much more soft back then," Rivera continued. "It wasn't until last year's try-out in Toronto that I finally found this character's voice, figured out a way to make Iago seem both mean and funny. And once that version of this character was in place... Well, we really poured gasoline on that fire. By the time the show back to New York City, Chad [Beguelin, who wrote the book and additional lyrics for this musical comedy] had written all of these great new one-liners for the character. And from that point forward, Iago became who he is right now: Jafar's laughably lethal henchman."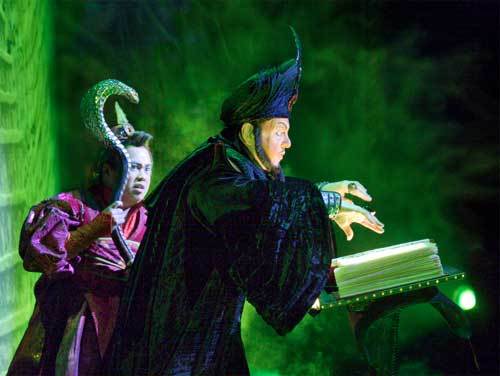 Nicholaw and Beguelin has similar problems with Babkak, Omar and Kassim, Aladdin's three buddies that Howard Ashman and Alan Menken had originally dreamed up for Disney's 1992 animated version of this tale from 1001 Arabian Nights.
"Alan and Howard had written all of these additional verses for their 'Arabian Nights' song, with the idea that they'd then be used to move the movie's story along, maybe comment on the action," explained Brandon O'Neill, who plays Kassim in this new musical comedy. "So -- as they were adapting Aladdin to the stage -- what Chad and Alan decided to do was give all of these extra verses to Babkak, Omar and Kassim. So that our characters could then serve as the narrators of this stage show. Be a part of the action but -- at the same time -- be able to step out of the show and then comically comment on the action."
Which sounds like a fun idea on paper. But as Aladdin's out-of-town try-out was getting underway at the Ed Mirvish Theatre, it quickly became obvious that audiences just weren't warming to the idea that Babkak, Omar and Kassim were pulling double duty. That these characters were Aladdin's pals as well as being this show's narrators.
"Which is why -- over time -- our characters' function in Aladdin changed and the humor in this show changed as well," Brian Gonzales, who plays Babkak, stated. "We went from making a lot of pop culture references and doing a lot of commenting on the show itself with meta humor to being dry & sarcastic. And then for a while there, we were really slapstick and silly."
But in the end, what Casey, Chad and Alan eventually realized was that -- as brilliant and as funny as Howard Ashman's unused "Arabian Nights" lyrics were -- they were also allowing the audience to get ahead of the story. Worse than that, because Babkak, Omar and Kassim had been saddled with delivering all of this unnecessary narration, the audience weren't embracing Aladdin's friends with all that much enthusiasm.
"But this is why shows go out-of-town. So that you can fix things," O'Neill continued. "I won't lie to you. It was a hard thing for us to wrap our heads around initially. That the three of us were no longer going to be Aladdin's narrators. But once Brian, Jonathan and I saw how well the show functioned now that Babkak, Omar and Kassim were always part of the story, rather than when we were constantly stepping away and commenting on the action ... Well, speaking for myself, I was happy to take a step back and play the role that we're playing now."
"What really softened the blow here was that Casey and Chad treated us like real collaborators when it came to this show," Brandon stated. "Take, for example, 'High Adventure.' Casey was just so wonderful when it came to this second act number. He told us, 'I trust you guys. Come up with something and then let's see what you've got.' And so -- from show to show -- we'd come in with a new idea, a new joke. Our handprints are all over 'High Adventure.' Of all the numbers in this show, that's the one which is most reflective of how the three of us eventually came together as a comedy team. How we melded all three of our very different comedy styles into something that audiences really seem to enjoy watching as it unfolds onstage."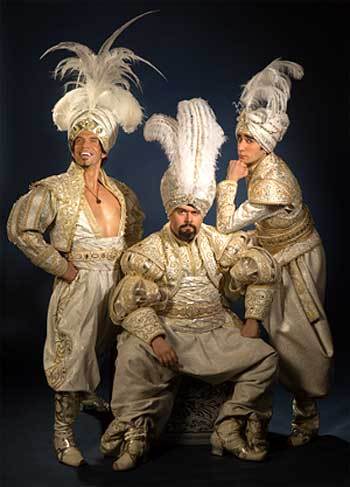 And given the huge waves of laughter that crash down on the stage as Babkak, Omar and Kassim race off to rescue their friend Aladdin... Well, it kind of makes you wonder how Fields, Cantor, Wynn and Rogers must have felt when they stood in the exact same spot at the New Amsterdam as Gonzales, O'Neill and Schwartz do now.
"I can't look up sometimes," Jonathan admitted. "Because of the way the New Amsterdam is set up, the audience is very close to the stage. And I worry that -- if I look up sometime and see how people are actually up there in the balcony & the mezzanine staring at me -- I might have a panic attack. I mean, I love hearing those big, big laughs. But because the audience at the New Amsterdam is so close to the action, I honestly have to tell myself sometimes not to look at them."
Which perhaps explains why -- given that Jonathan Freeman and Don Darryl Rivera do so many of their scenes in Disney Aladdin in one (which is Broadway parlance for staging a scene out in front of a closed curtain at the very lip of the stage) -- Rivera's favorite place at the New Amsterdam is now one of the quieter corners found in this historic old theater. Which is the public lounge on the basement lobby level.
"My favorite place in this theater is the New Amsterdam room. I just love that statue on the ceiling. I love the fact that there's still one original painting in there. It feels special just to be able to walk into that place. There's just something about that room which makes me feel kind of like royalty," Don enthused.
Mind you, there's a line from Shakespeare's As You Like It carved into the ceiling of the New Amsterdam Room that seems entirely appropriate, given the topic of today's article. It reads, "I had rather have a fool to make me merry than experience to make me sad.''
But given the great reviews that Disney Aladdin got when it opened last month, I would imagine that a good many people are going to be made merry once they get the chance to experience Gonzales, O'Neill, Riveria and Schwartz's antics in this new musical comedy. Which -- just like Ziegfeld did back with his Follies -- proves how entertaining things can be when you mix high art with low clowns.
REAL LIFE. REAL NEWS. REAL VOICES.
Help us tell more of the stories that matter from voices that too often remain unheard.