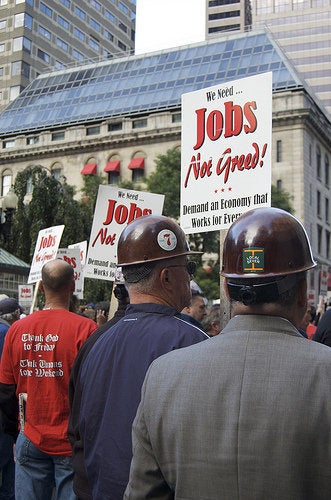 Until two years ago, Dawn Lewandowski was working full-time as a graphic designer at a Minnesota firm. She had health care, paid vacation and earned almost $30 an hour. When she lost her job at age 48, she began living her life as a freelancer.
By most measures, Lewandowski is now successful, making significantly more than her old hourly rate and working 40+ hours per week. But like many other freelancers, she lacks health and unemployment insurance, paid sick days and vacation time. Without a retirement plan, she sees herself working into her 70s and 80s or, as she grimly quipped, "until I die." Traditionally, workers have gained workplace rights and benefits through their status as full-time employees. But freelancers, who now make up 31 percent of the workforce according to the U.S. Government Accountability Office, must furnish their own social safety nets. Rapidly rising membership rates reported by the Freelancers Union suggest that these workers are eager for help. Part of that growth is coming from the rising number of workers who have turned to freelance work as the employment market shrinks for traditional benefit-laden positions. According to the Bureau of Labor Statistics, the economy lost some 2.5 million full time jobs in the past year. Independent contractors and temps have helped fill in the holes. Freelancers Union founder Sara Horowitz believes this labor shift is permanent.
"We really believe this is the new work force -- mobile, flexible, entrepreneurial," Horowitz says. "In part, that's what businesses are demanding of us, but workers are also choosing it as a way to have more control over their career path and life." Michael Haaren, co-founder of the freelance job website Ratracerebellion.com, agreed, "We're seeing a major shift in independent contracting away from full-time employment. I grew up in the 1950s, when one income sufficed and people would stay with one employer for 20 or 30 years. It seems like another planet now." Haaren also pointed out that the declining benefits offered by full time employment drive workers to freelance work.
"If a company is offering very little health insurance, they're scaling 401ks back and there's no job security, what's the difference between that and freelancing?" he said. Availability of these benefits is drawing some workers to the Freelancers Union, where people join for free and pay separately for services like insurance, seminars and workshops. The union negotiates group rates on health -- currently only available in New York -- and life insurance. Last year, it launched its first retirement plan. But the inability to bargain collectively, said Lee Adler, a senior extension associate at Cornell University's School of Industrial and Labor Relations , is a major impediment.
"Offering portable benefits is nothing to be sneezed at, but I don't see this as having a significant impact on the labor market," Adler says. "It's not a substitute for unionism -- it's the second best thing." Horowitz agreed that it was not a replacement.
"We are thinking about 'new unionism' for people for whom collective bargaining is not a possibility," she said. "Remaining relevant to the way people work... should help strengthen unionism overall." George Gonos, an associate professor of sociology at the State University of New York, Potsdam, said that most independent contractors have no representation at all. "Not only are freelances excluded from the National Labor Relations Act, meaning that they don't have the support and encouragement of the government to organize but when they do organize, they are vulnerable to anti-trust lawsuits because they're legally small business operators," said Gonos. Gonos explained that the divide between low-wage workers and urban professionals also hinders organizing, along with the isolated and temporary nature of freelance work. "I'm not sure that the average visitor to Ratracebellion.com feels a cohesive identity with other folks working gig to gig," said co-founder Haaren. "They visit websites like Workathomemoms.com, but that comradeship hasn't yet translated into enough group cohesion to get things done collectively." George Mann, 48, a freelance folk musician and long-time organizer for New York Musicians Union Local 802, said that organizing freelancers is more challenging than organizing full-timers. But in many ways, it is also more necessary. "As an artist, you have to make sure you have something for your old age," said Mann. "Too many musicians have had to raise money to pay for their coffins. When I turn 62, I can start drawing a pension. It would be great if I'm still singing when I'm 70 or 80 or 90, like Pete Seeger. But I don't have to."
Related
Popular in the Community