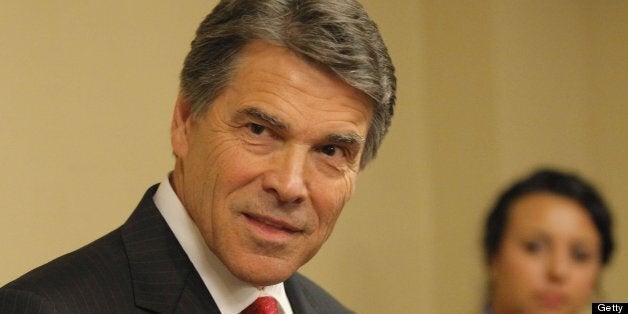 The Texas Legislature is back at the Capitol today, trying to pass a bill that would wipe out access to safe and legal abortion for millions of women in the state.
These are some of the most extreme abortion restrictions in the country. They could shut down 36 of the state's 42 health centers that provide abortion and, in some cases, also provide lifesaving cancer screenings and birth control.
If this all sounds familiar, it's because we've seen this bill before. Governor Perry and his allies couldn't pass these dangerous restrictions during the regular session. And even after they bent every rule, silenced the very constituents whose lives would be affected by the bill, and voted in the middle of the night when they hoped no one was watching -- they couldn't do it on take two. The entire country saw how that ended: with Texas Senator Wendy Davis on her feet, hundreds of thousands of people on the edge of their seats, and the rest of us cheering like crazy in the Capitol rotunda.
So Governor Perry decided that if at first you don't succeed -- and if on the second try, you still don't succeed -- just cross your fingers and hope no one will notice that you're going for a hat trick.
Unfortunately for Governor Perry -- we noticed.
Once again, he'll have to answer to the vast majority of Texans who oppose this bill, and the thousands of folks who show up at the Capitol to deliver that message in person. And once again, he'll have to answer to hundreds of thousands of people watching the situation unfold from all over the country -- all over the world, in fact -- through YouTube, Facebook, and Twitter. As Mom once said: The lord's eye may be on the sparrow -- but everyone else is looking at Texas. The truth is, what's happening here has already lit a fuse. In the first minutes of the citizens' filibuster, something started that can't be stopped. The second we tasted victory in Austin, anything became possible. And now, spurred on by the good people of Texas and beyond, folks all over the country are standing up to attacks on women's health, saying once and for all: Enough is enough. They're calling it "pulling a Wendy Davis." We've reached a turning point for supporters of women's health. And the best news? It's delivered a new generation of organizers -- the young people who tagged along with a friend, surprised everyone by volunteering to testify, then came back the next day with their own crowd in tow, promising: "You've got to see this. Trust me." They're here -- and they're not going anywhere. So as the clock ticks down on the second special session, we'll tell Governor Perry -- as many times as it takes -- that nobody should be taking medical advice from Texas politicians. But all of us on the ground here in Austin have another message -- one for everybody in this country who believes that we're all better off when we value women and trust them to make their own health decisions: You're not alone. And our fight is just getting started.
Calling all HuffPost superfans!
Sign up for membership to become a founding member and help shape HuffPost's next chapter