Any excuse to travel to Africa is a good enough one for us, so with little hesitation, my husband and I accepted the invitation to participate in the first ever Acumen Global Fellows Gathering in Navaisha, Kenya, last week.
This gathering has long been a dream of Acumen founder and CEO, Jacqueline Novogratz — to bring together the 400-plus community of women and men who had committed their ideas, time and resources to supporting the Acumen mission of turning good ideas into sustainable solutions by investing in and providing support for social enterprises designed to serve the poor and build a more just and equitable world.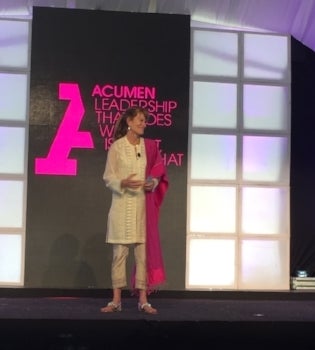 At the opening plenary, Jacqueline urged the community, so colorfully representing the diversity of cultures and countries, to listen and to learn from each other, to speak their truths and be open to change, to collaborate, cooperate, encourage and strengthen each other's work by the experience of being together.
On that very first day, I was stopped by a young man, a former Acumen Global fellow who lives in Thailand and asked, "why are you here?"
It was the right question and I offered an easy answer: "I am a great admirer of Acumen and its founder. But he asked again: "Why was I here?"
Again, I had an easy answer: "I'm a board member of Acumen, and wanted to support Jacqueline in her dream to bring everyone together."
Still my answer wasn't quite what he was looking for. "But even as a board member, you didn't have to come. Why are you here?"
I realized the he was trying to understand who I was in the context of this community — and so was I.
In my mind, I ran through a few scenarios of my work that might help explain who I was and why I was here, but in the spirit of being interested rather than trying to be interesting…a favorite phrase of Jacqueline's mentor John Gardner and something one of the Acumen fellows from India had repeated earlier as important to do, I let go of the impulse to offer my background and said instead: "Tell me about what you do and why you are here."
That led to the first of so many memorable encounters with the fellows and entrepreneurs…at every meal, every walk between venues at the Rift Valley Conference Center, at every breakout and plenary — stories of passion and purpose from individuals who reminded me over and over of how much good work is going on in the world and how difficult the struggles are to achieve the goals. Whether the work is focused on more and better economic opportunities for all people to rise out of poverty; for more productive and sustainable food sources; for improved education and training; or for access to basic needs, every person I met during our four days together was a new light of inspiration, deepening my faith in our abilities as a community of purpose to create and sustain solutions to poverty, economic, racial and gender inequities.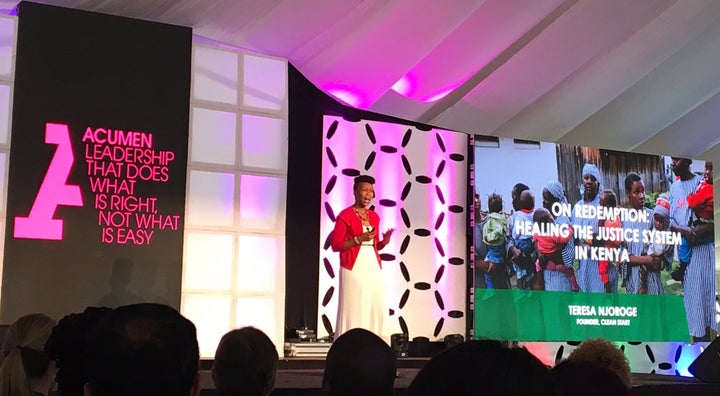 That is why I was here, I told my questioning friend at the end of this magical time of sharing personal journeys and making new friends and important connections: to find hope and faith again in a world that seems to be going backward (especially in my country); to feel the strength of so many individuals committed to moving forward, willing to sacrifice and struggle for the larger good.
There was little mention of the US leadership or lack of it in terms of that forward movement towards solving global crises, and it was a much needed reprieve for me from the news, 'fake' and otherwise, from the reports of rollbacks on rights and funding for the arts, public service media, healthcare and the environment. For these four days in Kenya, we focused instead on learning more about the enterprises that Acumen had identified and invested in as solutions for serving poor communities with sustainable businesses.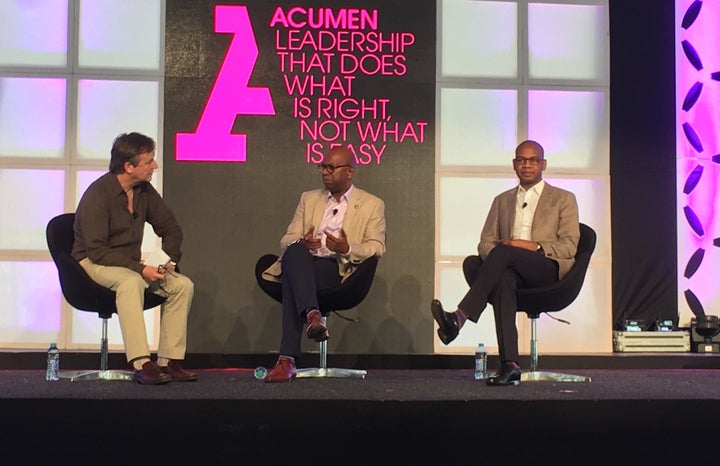 I learned and understood far better what 'patient capital,' Acumen's approach to investing, really means, and how necessary it is to redefine what we mean by return on investments. Not all returns are financial; what Acumen also promotes and values are the social returns that result from identifying and supporting sustainable solutions. The services, innovations and products created by the social entrepreneurs are further supported in their work by the Acumen Fellows, a group of remarkable individuals, many of whom left fast-track careers to devote a year or more of their skills and experience to strengthening the social businesses and programs to which they are assigned.
I had always thought of the Acumen fellows as the 'secret sauce' in Acumen investments, and at this gathering, I heard example after example of fruitful partnerships between fellows and entrepreneurs that convinced me all the more that the Fellows program is one of the key reasons for the successes of many of the entrepreneurial efforts in the Acumen portfolio.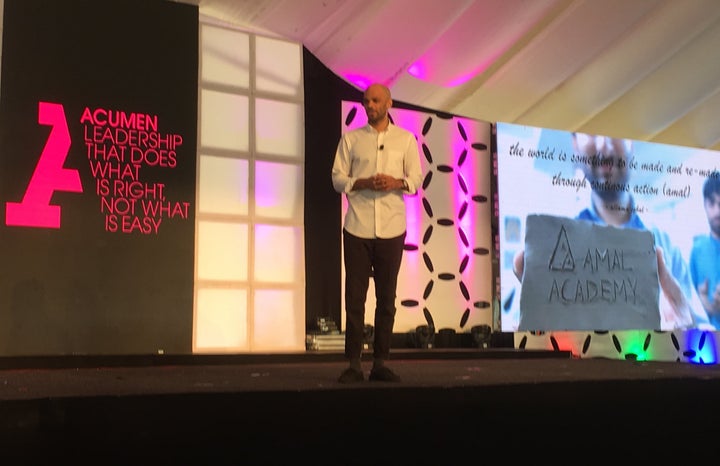 We know that creating a business focused on serving the world's poorest communities isn't an easy path. While it can take a long time for companies to reach sustainability (though the vast majority do), the return on lives transformed and communities changed for the better is unquestionably valuable.
Here in Navaisha, I was finally 'getting' the ecosystem in a way that is hard to fully comprehend from reading or even a visit or two to the social enterprises. I began to take in more deeply that the mission, described as 'standing with the poor,' to do not what's easy or best by the usual measurements of investments, but to do what's right for the community, is more critical than ever. The disparity between those who have the resources they need to survive and thrive, and those who don't, grows larger every day, as do the gaps between gender, race, faiths, and opinions about what is right.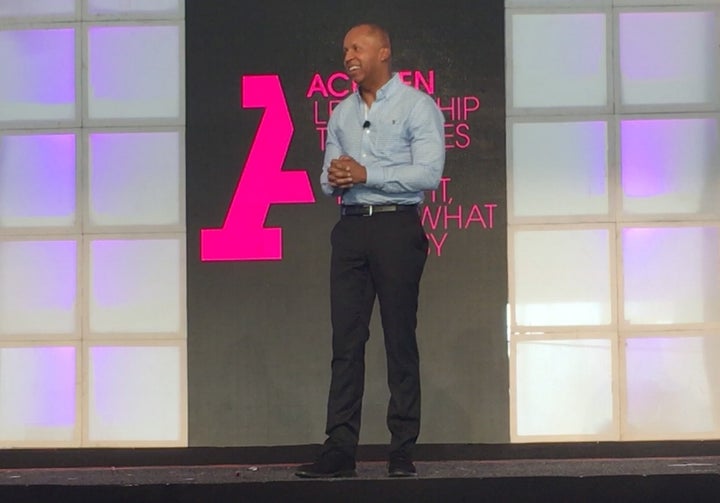 Their journeys as individuals building a better world, story by story, program by program, was echoed over and over during this community gathering.
As for why I was there, I believe now that it was to share my journey to gain a better understanding of what is needed and how we get there, to be a more informed advocate, to be a bridge between Acumen and the other organizations whose mission it is to support the work of social entrepreneurs: this is the work that the Skoll Foundation has funded for more than a decade, and they bring together their large community every year at the Skoll World Forum in Oxford (I'll report from there in two weeks.); work that the Ashoka Foundation is largely credited with first defining and celebrating with its Ashoka Fellows. Some of the individuals, foundations and community-minded corporations came to Acumen's first community gathering in Navaisha, too, and all of us are leaving here, determined, I believe, to build better bridges to a much larger community with the resources to support more social entrepreneurs and their innovations and ideas. I now believe more than ever that this is the community that offers our best hope to solving the challenges we face as global community.