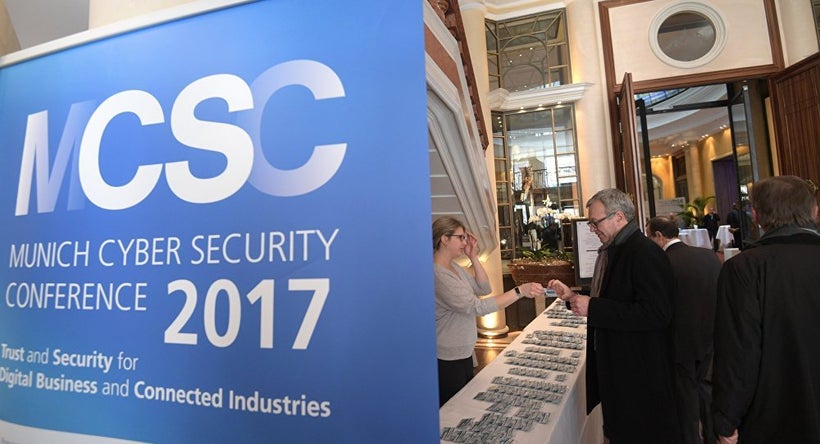 Last week I attended the annual Munich Security Conference. For more than half a century, and especially under the leadership of Ambassador Wolfgang Ischinger of Germany, the conference has been the world's foremost gathering for international security and defense. Traditionally, it has attracted dignitaries and military leaders from around the world, and this year was no exception. The Trump administration sent Vice President Mike Pence, Defense Secretary Jim Mattis, Secretary of Homeland Security John Kelly, and the event was packed with similarly high-ranking leaders from other countries, including German Chancellor Angela Merkel, as well as influential U.S. policy thinkers, such as former Secretary of State Madeleine Albright, former CIA Director David Petraeus, Admiral Jim Stavridis, and Atlantic Council President Fred Kempe.
While the Munich Security Conference is always a must-attend event, there was a special sense of urgency this year, captured by the number of discussions focused not on international order, but rather on cybersecurity. There was a broad understanding among the world's preeminent defense and security experts that the theaters of battle have expanded and evolved, and that 2017 may indeed be known as the year of the cyberattack.
As March & McLennan and FireEye's 2017 cyber threat landscape reports, we are rapidly moving from a climate in which cyberattacks focused predominantly on virtual targets to one in which physical assets are increasingly at risk as well. For example, a hacker who previously targeted a bank's website or attempted to steal user passwords might now aim for the networks of a power plant or other critical infrastructure. Thus, we may be nearing the first mass casualty cyberattack.
Against this backdrop of urgency, it was surprising that this year's conference did not feature a greater number of CEOs. While security and national defense have previously been clearly the domain of government actors, the world has never seen a landscape in which public and private interests and risk have been as tightly interwoven. Unfortunately, it is becoming increasingly clear that governments and companies have not yet developed a successful model for broad collaboration to jointly face this new age. Cybersecurity is a perfect example of an area in which the traditional lines between public and private are blurring, and in which there must be increased coordination and collaboration.
To be sure, a few private sector leaders did play a prominent role in the conference. Bill Gates and Stefan Oschmann, CEO of Merck, led a discussion on health security and Holtzbrinck Publishing Group CEO Stefan von Holtzbrinck and Marsh & McLennan General Counsel Peter Beshar participated in critical sessions and discussions.
Yet taken as a whole, the roster of attendees was heavy on bold-faced names from government, international aid groups, and think tanks. As a result, while the conversations were enlightening about current trends, issues, and favoring solutions, there was a certain intimacy and predictability of the groupings that in this new international order felt limiting. Given the magnitude and volatility of the global security landscape, particularly around cyber, we need to move beyond traditional frameworks that feature like-minded leaders talking only to each other. We must create uncommon tables that bring together a diverse group of allies who may not be used to working with one another. The notion of the public-private partnership is not new, but we need new ways of injecting the term with real meaning and action.
I have written before that we are entering the Age of the CEO Statesman, a major shift in global political culture in which corporate executives have the opportunity and responsibility to leverage their impact to push for social, economic and policy changes. Given the gridlock in Washington, DC and in capitals around the world, people are increasingly looking to executives, rather than politicians or government officials alone, to lead and be change agents.
This won't always be easy. In the U.S., many CEOs are navigating uncharted waters when it comes to how and when to engage. There is undeniable risk to CEO Statesmanship, but also great reward for the visionary leaders who are able to forge alliances for the common good.
The current climate makes this challenging. With politics in the U.S. and around the world highly divided and passions running high, taking a nuanced position means walking a tightrope. This challenge can be seen in the undeserved criticism IBM CEO Ginni Rometty received for expressing a willingness to even engage with the new president as her company has done with every U.S. president for 100 years.
For the corporate leaders who succeed in this challenging climate, enormous rewards await – not only to position their companies for success, but also to contribute meaningfully to solving the world's emerging challenges and creating a safer, healthier, and fairer planet. But this can't happen unless business and government leaders find common spaces to come together with civil society, not just for press releases and photo opportunities, but for real discussion. This is a time to break down barriers and redefine what public-private partnerships can and should mean in the years ahead. It is not just about creating value anymore, but rather the defining and sharing of values.
Next year, I hope to see a far greater number of CEOs participate in Munich. I'll do everything I can to make that happen.
Alan H. Fleischmann is Founder, President & CEO of Laurel Strategies, a global business advisory and strategic communications firm for leaders, CEOs and their C-suite
Calling all HuffPost superfans!
Sign up for membership to become a founding member and help shape HuffPost's next chapter
This post was published on the now-closed HuffPost Contributor platform. Contributors control their own work and posted freely to our site. If you need to flag this entry as abusive,
send us an email
.