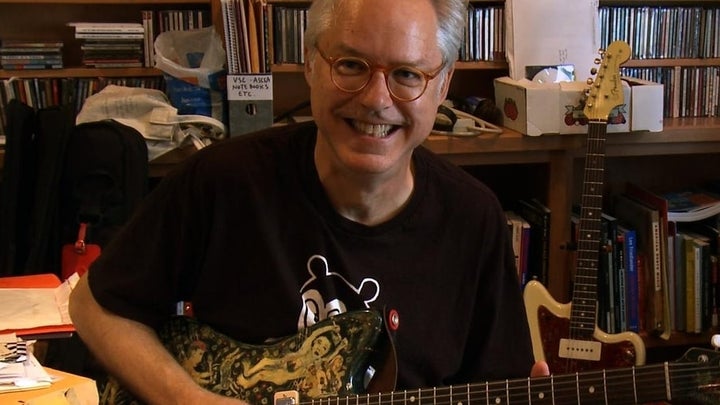 DATELINE : Austin, Texas - THREE INTO ONE WILL GO. It's proven every year at South By South West as we convene in the Texan capital during March, braiding together the festivals' three strands: of music ... of film ... and of digital arts and sciences; that third category being stamped since 1999 with the vague rubric "Interactive" ... which is still accurate more often than it isn't.
Musical and filmic creativity merge unquestionably in a simply-named documentary feature that had its premiere here this week: Bill Frisell, A Portrait.
The multi-directional crossover guitarist/composer Frisell (above) enjoys a status that's more than merely cultish, less than fully famous ... and the movie profiles him across 114 full minutes with the slavish adoration that seems almost inevitable in this medium. But it's hard to complain, since the subject himself is so quietly affable when he talks for himself. And when he just plays, he is entirely mesmerizing. (The film gets just a bit squirmy when other people lavish gushing praise on him.)
This decidedly unheroic guitar-hero has evoked from a long and high-grade roll-call of witnesses some eager testimony to the transformative quality of his collaborations with them. They include artists like Bonnie Raitt and Paul Simon, as well as other musicians with lower profiles but with the power to command great professional respect - rather like Frisell himself.
Prominent among them is Joey Baron, the (mainly jazz) drummer who has taken his working-class Jewish sensibility deep into the realms of the avant-garde, along the way stalwartly providing rhythm for Chet Baker, Dizzy Gillespie and Stan Getz. He earned an incisive accolade in 1997 from as exacting a colleague as the late David Bowie: "Metronomes shake in fear, he's so steady".
The film relates how Frisell, in his downtime away from recording with Paul Simon and Elvis Costello, would join Baron (below left) in epic jam sessions (though "jam" seems such an inadequate term when you see and hear the magic they produce together).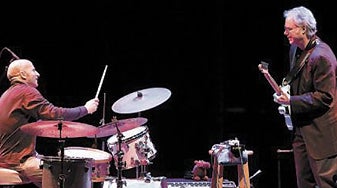 To develop this evidently unique partnership further, the pair felt they wanted a live-audience venue. One sprang to Baron's mind as they constantly failed to find a conventional commercial music space that was open to their iconoclastic formula.
It was a venue rather unlikely to occur to anyone else, he says - a Jewish institute for the blind in Boston. One of the high points of the film is Baron's tear-prompting account of their first performance there, and the Q&A afterwards with blind schoolchidren. More probing and sophisticated questions arose than Frisell and Baron had ever heard from adults ... plus one unforgettable query from a female 'tween: "Is the guitarist cute?"
The power of the partnership is conveyed in a well-shot sequence capturing the two working with The BBC Symphony Orchestra, no less, at London's modernist temple to the arts, The Barbican Centre. In 2009 they debuted a new Frisell composition, Collage for a Day, which took its place in the program alongside Aaron Copland and Charles Ives classics. Of course Frisell guitar-soloed, while Baron drove the whole thing onward, through complex orchestration from another long-time Frisell collaborator, Mike Gibbs.
Emma Franz, a veteran of music films, produced, directed, shot and edited the movie - and to further boost the one-woman-band credentials, she even recorded all the dialogue herself as well.
Read more of David Tereshchuk's media industry insights at his online column, "The Media Beat", with accompanying video and audio. Listen also to "The Media Beat" Podcasts on demand from Connecticut's NPR station WHDD - and at iTunes.
Popular in the Community