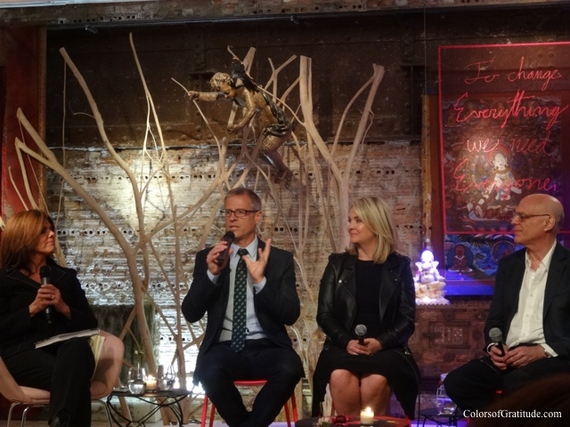 Hi! I'm Miriam Ava, ambassador of good taste. I share messages that matter, one Dispatch at a time. To explore all Dispatches, go here.
Living the Farm Sanctuary Life: The Ultimate Guide to Eating Mindfully, Living Longer, and Feeling Better Every Day by Gene Baur and Gene Stone just dropped. Cultivating compassion in their genes, it seems, the crowd at the book's recent launch party at ABC Home passionately discussed health, animal rights, delicious recipes, and how you can have it all.
The panel, moderated by Jane Velez-Mitchell of Jane Unchained, included vegan fashion designer & societal powerhouse Cornelia Guest; ever-abundant author of 30+ books Gene Stone whom you may know best from Forks Over Knives and now Living the Farm Sanctuary Life; and author Gene Baur, of course, co-founder and president of Farm Sanctuary, the nation's largest farm animal rescue and protection organization.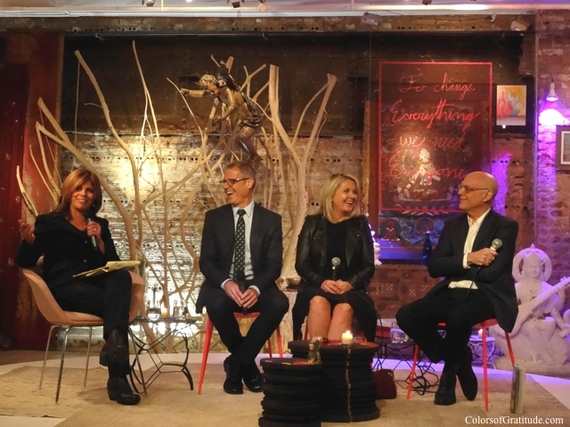 Filled with mouth-watering photos of decadently delicious recipes selected by some of the organization's highest-profile fans such as Moby, Emily Deschanel, Chef Chloe Coscarelli, and Joshua Katcher, the book also offers heart-warming stories of the animals Farm Sanctuary has saved over the years, as well as Baur's 5 tenets to finding lasting health and happiness. Here they are:
Baur's 5:
1) Live in alignment w/ your values
2) Have a mindful relationship w/ animals
3) Have a mindful relationship w/ food
4) Eat plants for your own health
5) Eat plants for the well-being of the planet
Creating Opportunity for Connection
Put a visit to one of the Farm Sanctuary locations on your bucket list; it just may change your life for good. I visited their site in Watkins Glen, NY a couple years back and had an amazing experience full of gratitude, joy, and unconditional love. Animals do that to you. Heart wide open, I decided to create an Impact page on my blog where I feature Farm Sanctuary among other animal rescue organizations to inspire and encourage people to be and/or support the change they want to see in the world. Part of Farm Sanctuary's mission is to "create opportunity for connection," Baur shares. Well done, indeed.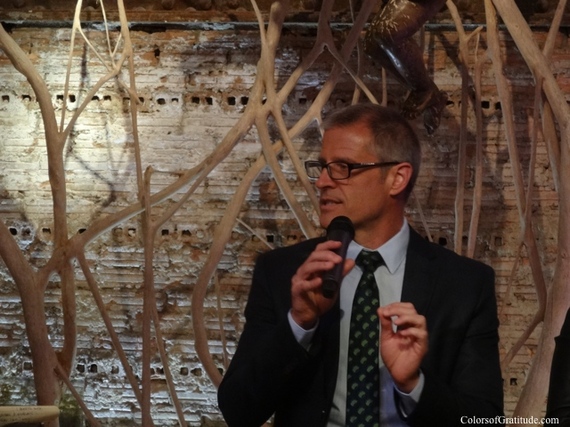 Factory Farming & Inching Your Way to Compassion
Per definition, Baur states, "factory farming is the attitude that commodifies sentient life." "There is no such thing as humane killing," he continues. If you remember one idea from this article, let it be that you become mindful of who and what you're supporting with your dollars. Whether you do Meatless Monday, substitute dairy for almond milk, or eat one big salad a day to up your veggie intake, experiment how changing up your diet toward a more plant-savvy way can enhance your beauty, vitality, and performance. As Baur says, "If we can live well without causing harm, why wouldn't we?"
"People don't want to see themselves as mean," Baur comments on the emotional dissonance people often experience, which is why they rationalize, ignore, or deny the cruelty happening in slaughterhouses. The question Baur poses is this: How do we touch people? It's a multi-layered process, for sure: it's about trying to do better in our relationship with self, and with others whether human animal or animal animal. It's also about making a choice between compassion and exploitation. "If you can live in a way you can feel good about, that's a beautiful thing," Baur says. Guest seconds his point and shares that "the ultimate class is compassion; how we treat each other is how we treat our animals."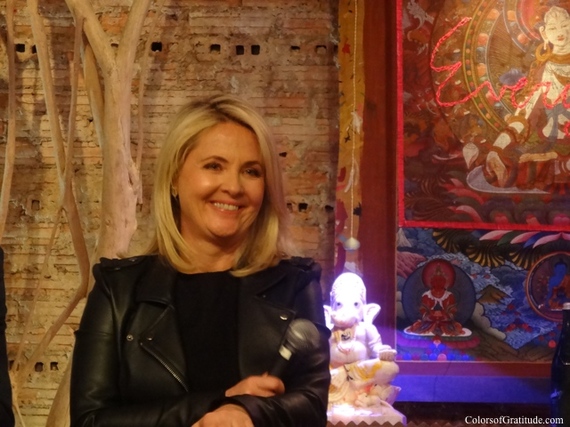 Are we reaching a tipping point in the way we eat? There's definitely a shift taking place, the panelists agree. From a mere capitalist point of view, venture capitalists wouldn't put big money behind vegan companies if they didn't believe in a return on their investment (i.e. Modern Meadow, Hampton Creek, Beyond Meat, Lyrical Foods, Sand Hill Foods). Vegan options are also popping up in mainstream supermarkets and restaurants: Burger King's offering a veggie burger; Bareburger's serving up both quinoa and bean burgers; non-dairy milks such as almond, soy, hemp, and coconut are widely available.
For an environmental perspective on animal farming, consider California's first-ever water-restrictions just recently put into place. The majority of the state's water is used for livestock intended for meat production. Growing plants, on the other hand, is dramatically easier on the environment.
On the consumer side, more and more people are becoming mindful of what they're purchasing. When one looks at food as fuel, one starts making better choices naturally. Junk doesn't create high performance. Clean food does. To shape commerce according to your desires, vote with your $$. Nothing changes a system faster than the way you spend your money, and the food system is no different. "The marketplace is where we can be more empowered at this point," Baur says. Guest also advises to ask for what you'd like to see on both the menu and the rack. "Ask, always ask. Ask, do you have anything vegan?" "Vegans shop," Jane Velez-Mitchell adds, "and most of it is made in America."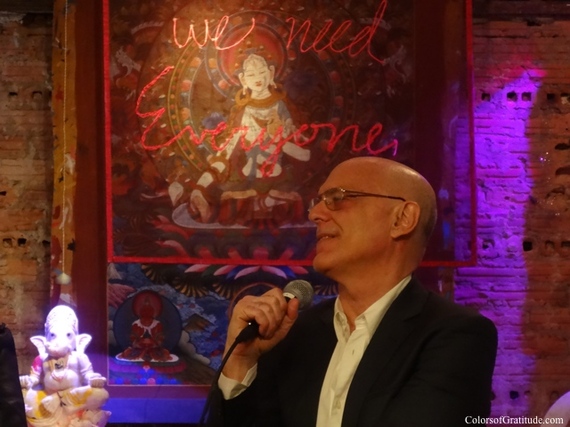 As it is right now, the cheapest and most accessible food is the most life-sucking. Fast food places are in pretty much every town, and entire food deserts have sprung up in under-served stretches of the country. An audience member asked, "How will your movement impact the poor?" If a dollar menu is all you can afford at the moment, that's likely what you eat. The underlying problem of the current obesity-health-compassion crisis, however, is that junk is uber-easily accessible. Fresh, healthy foods need to address a similar level of convenience in terms of accessibility and affordability. While it's a work in process, consuming plant foods doesn't need to be expensive. Think CSAs, farmers' markets, city gardens....
"Each of us are influencers," Baur emphasizes. "Each of us rub off on others." The key is to be a kind, living example of what you hold dear, to align your actions with your values. "As humans, we don't want to bring anyone down, " Baur says, "we want to bring people up." It's in this sense of our shared humanity that Living the Farm Sanctuary Life offers a path toward a greater understanding of health, vitality, compassion, and insanely delicious food. Dig in.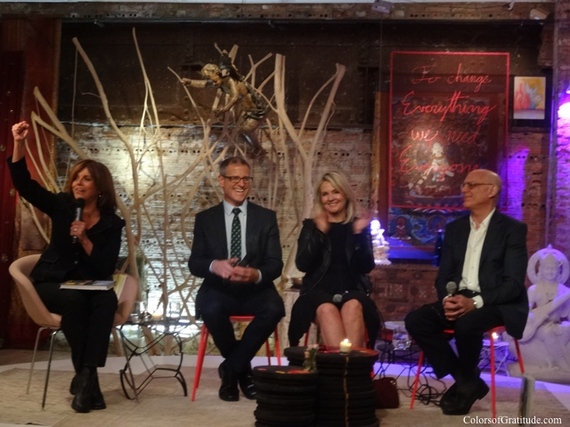 Each of us are influencers. @GeneBaur via @ColorsGratitude
The ultimate class is compassion. @CorneliaGuest via @ColorsGratitude
If you can live in a way you can feel good about, that's a beautiful thing. @GeneBaur via @ColorsGratitude
Calling all HuffPost superfans!
Sign up for membership to become a founding member and help shape HuffPost's next chapter