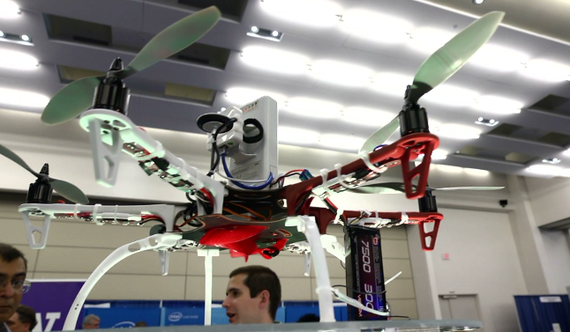 Anyone looking for a glimpse into the technologies that will change our lives, businesses and organizations in the coming decades received an eyeful at the Smart America Expo in Washington, D.C. in June. There, scientists showed off cyber-dogs and disaster drones, smart grids and smart healthcare systems, all intended to address some of the most pressing challenges of our time.
The event brought together leaders from academia, industry and government to showcase the results of six months of rapid team-building and technology development. The Expo demonstrated the ways that smarter cyber-physical systems (CPS) -- sometimes called the Internet of Things -- can lead to improvements in healthcare, transportation, energy and emergency response, and other critical areas.
Among the demonstrations at the Expo were the first commercially available autonomous vehicle (Aribo), which the U.S. military is testing on its bases; a number of interconnected home -- and hospital-based sensors and software systems designed to create a "closed loop" of healthcare coverage; drones capable of delivering Wi-Fi to disaster areas; and dogs instrumented with sensors, cameras and haptic devices to allow them to glean information from dangerous environments and respond to handlers.

The White House Office of Science and Technology Policy launched the Smart America Challenge in December 2013 as a way of galvanizing the development of the Internet of Things. The Challenge brought together more than 100 researchers, who organized themselves in 24 teams. The June Expo was the culmination of the first phase of the project and gave a sense of the potential of collaborations around cyber-physical systems.
"So many of the breakthroughs of today and tomorrow are at the intersections of systems coming together to deliver compound awesomeness," said Todd Park, United States Chief Technology Officer and a keynote speaker at the event. "1+1+1 equals a super cool robots or an exoskeleton."
Industry, academia and government are all investing heavily to develop the core technologies that will allow devices to communicate and cooperate with each other far better than they do today. But the scientists doing this research -- like the machines they are working on -- often are not aware of, or in communication with, each other.
"Our nation had made significant investments in CPS in various sectors but they weren't talking to each other," said Geoff Mulligan, a Presidential Innovation Fellow who, along with Sokwoo Rhee, organized the event. "What if each researcher was to put their piece on the table to see how they fit together?"
The Smart America challenge sought to de-fragment the research environment and build collaborations that tie disparate pieces of R&D together.
"Innovation and progress are best done in partnerships where government, academia, and industry work together to promote growth and a safe and secure society," said Chris Greer, director of the Smart Grid and Cyber-Physical Systems Program Office at the National Institute of Standards and Technology.
The National Science Foundation has been a strong supporter of cyber-physical systems research, investing more than $200 million in the area over the last five years. These investments were noticeable in the researchers represented at the Smart America Expo. Eight of the 24 teams included members of the academic community supported by NSF. Many other projects were built of fundamental, NSF-supported research.
"Advances in cyber physical systems hold the potential to reshape our world with more responsive, precise, reliable and efficient systems," said Farnam Jahanian, head of computing at NSF. "NSF investments have supported researchers across the U.S. who have laid the foundation to enable the deep integration of computation, communication, and control into physical systems -- to make cyber physical systems a reality today."
Below are 6 examples of NSF-supported research from the Smart America Expo:

1) Cyber-equipped dogs lead the way in search-and-rescue

Researchers from North Carolina State University (NCSU) showed off pioneering work demonstrating the potential of technologies that allow dogs to gather information, and stay safe, during search and rescue operations.
"What we're hoping to do here is to begin the field of canine-computer interaction," said David Roberts, professor of computer science at NCSU. "When we start to think about canines interacting with computers, the range of possibilities is essentially endless."
Among the applications they're testing are computer-assisted training, remote communication with dogs in the field and tools to help people with guide dogs better understand what their dogs are doing.
They accomplish these tasks by equipping dogs with video, audio and gas sensors (in the case of emergency response), as well as inertial measurement units that provide information in real time about the dogs posture and physiological monitors. Together, this information provides a detailed picture of what the dog is doing and enables handlers to characterize their emotional state.
The last type of capabilities that they are working on enables handlers to communicate with dogs from afar. Using audio cues and haptic inputs (like the vibration on a phone), they are training dogs to respond to different commands in the field or around the house.
2) Tele-robotics puts robot power at your fingertips

In the aftermath of an earthquake, every second counts. The teams behind the Smart Emergency Response System (SERS) are developing technology to locate people quickly and help first responders save more lives. The SERS demonstrations at the Smart America Expo incorporated several NSF-supported research projects.
Howard Chizeck, professor of electrical engineering at the University of Washington, showed a system he's helped to develop where one can log in to a Wi-Fi network in order to tele-operate a robot working in a dangerous environment.
"We're looking to give a sense of touch to tele-robotic operators, so you can actually feel what the robot end-effector is doing," Chizeck said. "Maybe you're in an environment that's too dangerous for people. It's too hot, too radioactive, too toxic, too far away, too small, too big, then a robot can let you extend the reach of a human."
The device is being used to allow surgeons to perform remote surgeries from thousands of miles away. And through a start-up called BluHaptics - started by Chizeck and Fredrik Ryden and supported by a Small Business Investment Research grant from NSF -- researchers are adapting the technology to allow a robot to work underwater and turn off a valve at the base of an off-shore oil rig to prevent a major spill.
"We're trying to develop tele-robotics for a wide range of opportunities," Chizeck said. "This is potentially a new industry, people operating in dangerous environments from a long distance."
3) Local 3D printing hubs bring manufacturing back to U.S

Imaginestics is a start-up out of West Lafayette, Indiana, founded by Nainesh Rathod. At the Smart America Expo, Rathod was part of a team that demonstrated the potential impact of what they are calling "Smart Shape Technology."
The system Rathod and his collaborators developed lets you can take a picture of a part of a larger device with a mobile phone, and then identify a local retailer where this part can be found or instantly print it at a local neighborhood 3D printing service provider.
The demonstration showed how Smart Shape Technology -- using novel shape search, active label, smart hubs and 3D printing technologies -- can create local jobs and increase local skills.
"This technology doesn't have to be locked up in big business," Rathod said. "To make it available at our fingertips is within reach."
"NSF to us has been a big risk-taker," Rathod said. "When we went to them and said we're thinking about this, they didn't throw us out the door. They basically said: great idea, here's some money, see what you can do. They played, I think, a foundational role for us. Without that kind of a beginning, we wouldn't be where we are."
4) Drones for disaster relief

At the Smart America Expo, Yan Wan from the University of North Texas exhibited unmanned aerial vehicles (UAVs) she developed that are capable of providing wireless communications to storm-ravaged areas where telephone access is out.
Typical wireless communications have a range limit of only a hundred meters. However, using technology developed by Wan and her colleagues, they were able to extend the Wi-Fi reach of drones to five kilometers. The secret is designing directional antennas that can rotate and adjust automatically to assure a strong connection.
"This technology would be very useful in disaster scenarios when the cell towers are down and there's no communication infrastructure," Wan said. "However in order to enable the information dissemination between the rescue teams and control centers, we need to have a structure available to make this happen. And this is what we're trying to provide."
In a grant from NSF, Wan is applying similar technology to next-generation aviation systems. One day, Wan's research will enable drone-to-drone and flight-to-flight communications, improving air traffic safety, coordination and efficiency.
5) Healthcare that follows you from home to hospital and back

Through a decade of research and development, Marjorie Skubic, from the University of Missouri, has created a suite of health care technologies that identify when individuals fall in their homes or when their physical behavior changes over time. These technologies incorporate data from passive sensors, infrared cameras and smart detection algorithms to find signs of degenerative conditions and provide a quick assessment to help avoid further health declines.
"These technologies help people get the help they need early, so we can treat and address health problems when they're still small before they become catastrophic," Skubic said.
However, how does a physician at a hospital know about and use information gathered by devices like those designed by Skubic for the home? And likewise, how does information about a patient's condition in the hospital get incorporated into technologies like Skubic's when they return to their home?
As part of the Closed Loop Healthcare team, Skubic worked to connect the technologies she's created with those developed by other teams with similar health care goals. The team's ultimate aim is to "close the loop" of healthcare coverage so devices, data and doctors' diagnoses can be integrated for the good of the patient.
6) Helping healthcare technologies communicate

Julian Goldman, a physician at Mass General Hospital, knows better than most the frustrations that doctors face when they're confronted with computer systems and devices that just won't communicate with each other.
His lab has been a pioneer in developing open source software and standards designed to integrate the various technologies used in homes and hospitals. Goldman's lab created a computing platform called Open ICE (Integrated Clinical Environment) to begin to address these problems. The effort, in turn, led to the development of a community of like-minded researchers and manufacturers that would like to break barriers in health care through better information exchange, better communication among medical devices and between medical devices and electronic health records, and ultimately through smart apps designed to improve patient safety and decrease the cost of health care.
"Our involvement with Smart America has been an exciting, six-month, wild ride," said Goldman, who co-chaired the Closed Loop Healthcare team with Marge Skubic. "We've all learned a lot from each other. Our contact, and our work together, has influenced our perception of our work, including how to make our own work more accessible to collaborators. That is extremely valuable and typically very hard to do."
Related