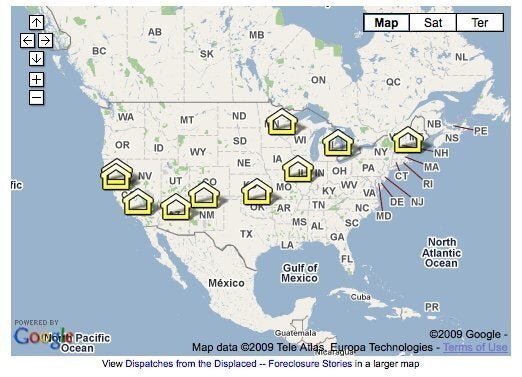 Dispatches from the Displaced is a HuffPost Eyes&Ears series on the real-life effects of the housing crisis. We're collecting stories from HuffPost readers across America who are facing foreclosure or have already lost their homes. To paint a comprehensive picture of the foreclosure crisis, we've profiled homeowners who have faced the pitfalls and frustrations of dealing with unresponsive banks, navigating short sales and negotiating loan modifications.
According to the Center for Responsible Lending, there are 6,600 new foreclosures in the US each day -- one every 13 seconds. So far in 2009 alone there have been over one million foreclosures and counting.
Right now, we're focusing on the pros and cons of Obama's Making Home Affordable program -- read about it here. Have you applied for or received a Making Home Affordable loan modification? We're eager to hear whether this "homeowners' bailout" has affected you for better or for worse.
To share your foreclosure story, email a brief account of your experience (preferably under 500 words!) to submissions+foreclosure@huffingtonpost.com.
And sign up here to receive updates about our continuing coverage of the housing crisis.

Find all of our Dispatches from the Displaced stories here. Or use our interactive map below to navigate: click on an icon for a link to the story.
BEST OF DISPATCHES FROM THE DISPLACED:
"I can't say if the Making Home Affordable plan is 'working' per se, but it isn't a total failure so far," says a homeowner from Salt Lake City. We featured his story of (relative) success with getting a loan modification through the government program.
Multiple informed readers wrote in about a fraudulent loan negotiating service that did business as 2nd Chance Legal Services. These homeowners and real estate agents helped tell this story of the housing crisis' mortgage vultures.
After their bank denied short sale offers, there was no way out of foreclosure for one Indiana couple -- so they agreed to a last-ditch effort, a deed In lieu of foreclosure.
After a loss of income pointed towards foreclosure, Stephanie and Bob Walker decided to short sale their Los Angeles home and start fresh -- and blogged their experience.

A short sale realtor describes her experiences with the housing crisis.
Related
Popular in the Community