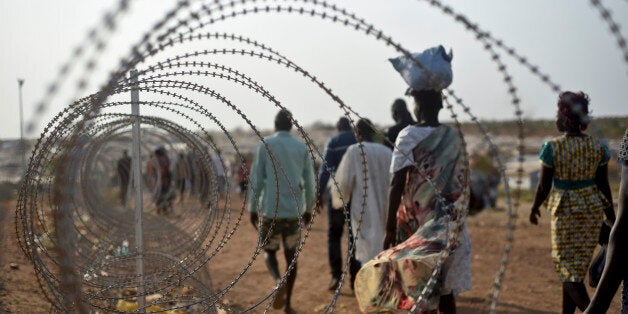 Tomorrow in Istanbul, the first ever World Humanitarian Summit will begin. I have the privilege to be participating in this unique event, convened by UN Secretary-General Ban Ki-moon, which will bring together world leaders and humanitarian-aid organizations to discuss how we can do more to alleviate human suffering across the globe.
By most metrics, conflicts have become significantly more frequent and violent in recent years. According to the UN, there were 409 political conflicts around the world in 2015, up from 278 a decade prior. This has contributed to the largest human displacement since World War II, with over 60 million people -- about half of them children -- forced from their homes because of violence. But despite the staggering need for humanitarian aid -- the UN will request $20 billion in 2016, up from only $5 billion in 2006 -- only 55 percent of the financing target for life-saving humanitarian assistance was met last year.
These numbers all tell the same story: our approach to humanitarian aid needs to be revisited.
This is why the World Humanitarian Summit promises to be such an important event. Not only will nations and organizations renew their commitment to investing in humanity and meeting worldwide aid requirements, but more importantly, the Summit will help guide the international community toward a more sustainable, a more human-centered approach to aid. In convening the World Humanitarian Summit, the Secretary-General is calling on leaders, NGOs and vulnerable communities to work together in order to eliminate the need for humanitarian aid before crises even arise.
The challenge of our time is to shift from spending money on mitigating conflicts to spending money on preventing conflicts. This will demand new, innovative thinking, and it will require a significant investment in building the capacities and infrastructures of vulnerable regions -- making sure that individuals in fragile communities have the education and tools they need to create safe, vibrant societies. The costs and effort will be significant, but we will be laying the groundwork for real, sustainable peace. And it is far cheaper in the long run to invest in conflict prevention today than in conflict mitigation tomorrow: the UNDP estimates that every $1 in prevention can save $10 in future costs.
This idea that we have to invest in and empower communities to build peace from the ground up is at the core of the work being done by my foundation, the Whitaker Peace & Development Initiative. We operate in communities impacted by conflict -- from South Sudan to Tijuana, Mexico -- and work with youth leaders to develop their abilities to mediate conflicts and build projects that provide important social services and economic opportunities for at-risk youth in their communities. In working with these extraordinary young women and men from all over the world, I have seen their passion for peace building and how capably they work together to make life better for their friends, families, and neighbors. If we could empower more individuals on a larger scale, the benefits to humanity would be staggering.
My goal for the World Humanitarian Summit is to share some of the work our youth peacemakers have been doing and to join the discussion on how we can engage more young people as peace and community builders. Time and time again, I have seen WPDI youth peacemakers come together in the face of tremendous obstacles to create powerful transformations. I believe that when the international community comes together in a similar way to support vulnerable communities throughout the world -- a process that begins tomorrow in Istanbul -- we will be able to accomplish extraordinary things.
Please join me over the next two days as I chronicle my experiences at the World Humanitarian Summit. Check back on Huffington Post for daily updates.
Calling all HuffPost superfans!
Sign up for membership to become a founding member and help shape HuffPost's next chapter