"These are the worst figures for forced displacement in a generation, signaling our complete failure to protect innocent civilians," Jan Egeland, secretary general at the Norwegian Refugee Council, which publishes the yearly report, said in a statement.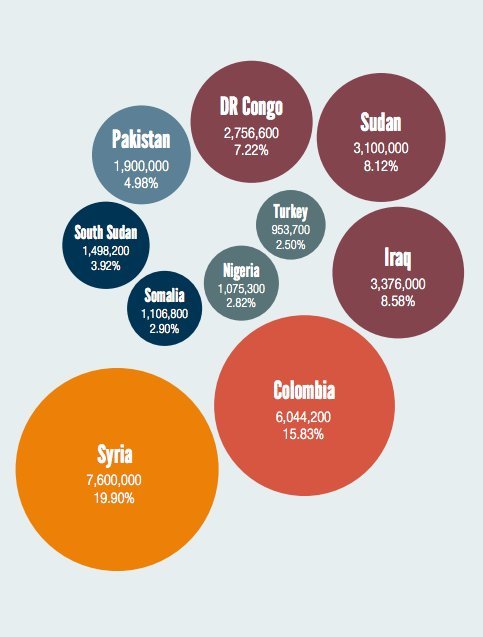 77 percent of the world's IDPs live in just 10 countries.
Internally displaced persons, or IDPs, are migrants who do not meet the legal definition of refugees because they don't cross an international border when fleeing violence or persecution. The report, which the NRC's Internal Displacement Monitoring Center has issued since 1998, focused on 60 countries and regions that have seen conflict and displacement in recent years.
Last year's shocking figure averages out to nearly 30,000 people forced from their homes every day by armed conflict or generalized violence.
The steady increase in IDPs over the past decade reflects "the changing nature of conflict worldwide," the report noted. Regions with the largest number of displaced persons have faced threats including the Islamic State group -- also known as ISIS -- in the Middle East, Boko Haram in Nigeria, criminal groups in Latin America and separatists in Ukraine.
Iraqi civilians suffered the largest displacement in terms of sheer numbers, with 2.2 million leaving their homes last year. The ongoing war in Syria, now in its fifth year, forced an additional 1.1 million from their homes. Around 7.6 million Syrians -- 35 percent of the country's population -- are now internally displaced.
"Today's armed conflicts put civilians in harm's way as never before," the report said. "The current humanitarian system, however, is not well set up to offer them the support they need."
Internal conflict can have a "domino effect" on its neighbors, the report found. It highlighted the spread of unrest in the Middle East and central Africa that has forced many people to leave their homes. Thousands of people in northern Africa, fleeing poverty and war, have tried to cross the Mediterranean in rickety boats, hoping to find a better life in Europe. But the dangerous crossing has heavy human costs. More than 11,000 people had to be rescued during the first 17 days of April and at least 1,800 have died this year.
As the IDP population grows and disperses in a region, aid efforts grow less effective, the report noted. The current humanitarian system is ill-suited to deal with long-term displacement and efforts to repatriate and resettle displaced people are often overlooked, the authors concluded.
"38 million human beings are suffering -- often in horrendous conditions where they have no hope and no future," Egeland said. "Unless we challenge ourselves to change our approach, the shockwaves of these conflicts will continue to haunt us for decades to come."
Calling all HuffPost superfans!
Sign up for membership to become a founding member and help shape HuffPost's next chapter
BEFORE YOU GO
PHOTO GALLERY
Fighting In Iraq