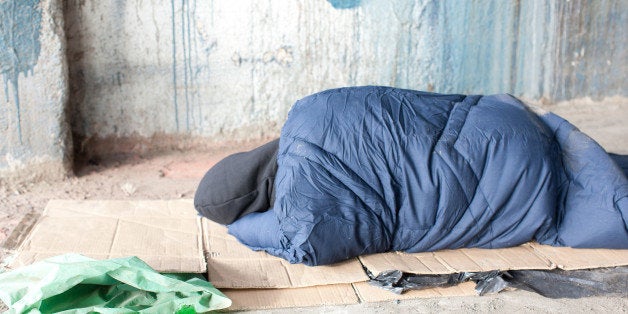 It is a rainy morning in November, a cold front is moving in, and we will probably have our first below freezing night in the next few days. In Foggy Bottom, Mayor Bowser has instructed the police, public works and her human services agencies to displace dozens of homeless people who have clustered together tents to form a small community. This is just the first encampment--she has resolved to shut down every encampment in DC. She has not committed to making sure each of its residents has somewhere safe to go before their homes and communities are lost.
Many people who stay outside, in encampments or other locations, do so because they are either unable or afraid to sleep in emergency shelters. They may be unable to get into shelter because DC shelters don't allow people with pets, couples, or people actively using drugs through their doors. They may be too afraid to go into shelter because they have been hurt, because they've seen people die outside the shelter, because the conditions are so abhorrent, or because people steal their belongings.
Some of the people in the encampment will be placed in housing, but not all. Some aren't ready to go into housing yet because they need time to trust the person offering the housing. Some haven't been offered anything but a shelter bed. If they don't go into shelter (and for the women, there may not be any vacancies), they will remain on the street, but this time without their lifesaving tent, blankets, or other personal possessions to protect them from the freezing temperatures - and without the community they've built.
To make matters worse, some of the former encampment residents might be staying on the street with a new barrier to housing in their pocket--a criminal record. DC regulations forbid people from setting up a "camp or temporary place of abode" without the permission of the Mayor, which she clearly is withholding. The offense is punishable by a fine, but if that fine is not paid--for instance, if someone is too poor to afford the fine--a bench warrant can be issued and the homeless person will be arrested.
The Department of Justice (DOJ) has recently come out strongly against cities reacting to encampments in this punitive and inhumane way. DOJ recently submitted a statement of interest on the side of people experiencing homelessness in Boise, Idaho who were convicted of violating an anti-camping ordinance:
"Criminally prosecuting those individuals for something as innocent as sleeping, when they have no safe, legal place to go, violates their constitutional rights. Moreover, enforcing these ordinances is poor public policy. Needlessly pushing homeless individuals into the criminal justice system does nothing to break the cycle of poverty or prevent homelessness in the future. Instead, it imposes further burdens on scarce judicial and correctional resources, and it can have long-lasting and devastating effects on individuals' lives."
DC may also face legal liability due to the proximity of the action to hypothermic weather, and the lack of assurances that each person will have a safe place to go.
We agree with DOJ that this is the wrong approach. Our understanding is that the physical belongings of the Foggy Bottom encampment residents will be removed Friday, November 20th at 2 p.m. We do not know when the Mayor expects to begin displacing the next encampment. We ask the Mayor for a moratorium on the razing of homeless encampments until each homeless resident is assessed for and offered appropriate housing or shelter in which they are willing to reside. To that end, the Mayor must ensure that the conditions and safety of emergency shelters are improved significantly so the street is never a safer option than a DC-funded and operated homeless shelter.
REAL LIFE. REAL NEWS. REAL VOICES.
Help us tell more of the stories that matter from voices that too often remain unheard.