Over the last several years, a number of small, entrepreneurial businesses have done something incredible. They've leveraged their businesses as a means to do good for others. Tom's Shoes did it with shoes. Soapbox Soaps did it with personal care. Businesses like these are providing great products not only to consumers, but to those in need.
As an entrepreneur, I was inspired by companies that looked to make a positive mark on the world -- but in a slightly different way. Entering the textiles business, we sought to solve many very serious social issues; often, issues that were in many cases caused by this very industry. We aim to lay out the path to change by doing business differently.
A core-principal of business has always been to drive up profits by driving down the cost of goods. On the surface this makes sense - reducing fixed costs and expenses will create a wider gap between base costs and retail prices. The wider the gap, the higher the profits. When profits grow, `everyone' is supposed to be happy and the good times are supposed to roll.
I believed this theory - and never questioned it. That is, until I started Boll & Branch and came face-to-face with the reality that every reduction in manufacturing and materials cost could have an equal and opposite effect on the human cost of the very same goods. We started a company to produce high end, beautiful sheets, bedding and home furnishings -- but where production as well as the products themselves would benefit everyone involved.
The beauty of entrepreneurship is that in starting a business, you have the opportunity and power to disrupt the `way things have always been done.' Of course, the goal of any for-profit business is to generate just that: profit.
But, what if the definition of `profit' were broadened? What if the supply chain of a business can be architected in such a way that success for the business could cause `all boats to rise' - not just the profits of the business alone but every contributing source. In the case of textiles, could the growth of a business have a positive impact on farmers and their communities, mill workers and their families and the customers themselves without having a negative impact on the profitability of the business?
We built Boll & Branch as proof that it could.
David Batstone, author and business professor at the University of San Francisco has written about the concept of `impact sourcing' whereby companies source their products and services in a socially responsible way. Batstone, who also founded Not For Sale, a non-profit that is leading the fight against modern-slavery and forced labor, importantly notes that, "the most effective path for impact occurs when a company alters its sourcing or manufacturing to create opportunities for excluded or exploited communities."
To positively impact the people that make your products, here are a few best practices I've discovered along the way:
Every piece of raw material a company buys can also be seen as a vote. In the case of cotton, there is a major difference between organic and conventional farming. A simple Google search can reveal just how dangerous a business conventional farming can be in the developing world. Not only are things like child and forced labor rampant, but the amount of chemicals used are awful for the environment and even worse for the farmers that come into direct contact with them.
In our case, supporting farmers who have converted their farms to organic was simple. Not only is the quality of the cotton outstanding, but the labor conditions cannot be more different. Additionally, farmers can make more money through organic farming because one of the high costs of chemicals.
From a business standpoint, it makes sense. Our farmers make more money, and we receive an exceptional product. As our business grows, the demand for organic cotton will rise and more and more farmers will convert to organic and, ultimately, begin to improve their own economic situations.
When looking for factories to contract manufacturing to, sometimes you find a big discrepancy in pricing. When things seem too good to be true, the probably are. In manufacturing, particularly in the developing world, that is almost always the case.
Navigating things on the other side of the world can be difficult, so looking for third-party certifications like Fair Trade and SA8000 are a great place to start. Third-party validation of these certifications are also helpful. They let you know that workers are treated fairly--and paid fairly--while making your products.
When you stop and think about the people that make our products, they aren't really all that different from us. They have families and are working hard to provide for them. There is never a downside to creating good jobs. We hold tight to the belief that "happy people make amazing things" and treating your workers well is a critical element in making them feel happy and motivated to create great products for your customers.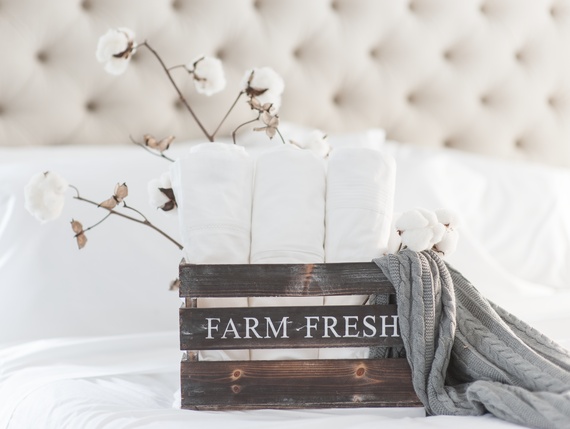 3. Sell More, Do More Good
In today's analytics-driven businesses, we've all been trained to look at profit margin on a unit-basis. Small, start-up businesses have the opportunity to consider their margins quite a bit differently - in ways that established businesses probably never would.
At the end of the day, consumers want two things: 1) Good quality, and 2) Good prices. As a startup, our objective is to sell as much product as possible. By doing so, we will create more jobs, increase demand for organic cotton and, at the same time, grow the Boll & Branch brand. Therefore, we are choosing to sell our products directly to customers so that we can maintain retail prices that are actually lower than comparable conventional luxury linens which are usually marked up as much as 4-800% at department stores and boutiques.
By considering how materials are sourced, valuing the human components of the supply chain and effectively managing retail prices, entrepreneurs are uniquely positioned to disrupt a variety of industries. We've proven that textiles can be produced sustainably and priced fairly when many `experts' told us it was impossible. Their `bosses' won't allow them to compress their profit margins in order to behave more ethically. Entrepreneurs are by definition, the boss, and they have the power to change the world by doing things differently.
Scott Tannen is the CEO & Founder of Boll & Branch, a company he started with his wife Missy in 2013. He was previously President & Founder of Funtank, one of the world's leading developers and publishers of branded online, mobile and social games, which was acquired by Publishers Clearing House in 2010. Prior to starting Funtank, Scott held a range of executive roles, heading up the Digital Marketing groups at Wrigley and, before that, Kraft Foods. Scott, like his wife Missy, is a 1999 graduate of Vanderbilt University in Nashville, TN. He currently lives in Chatham, New Jersey with his three daughters and adorable Golden Doodle.
Popular in the Community