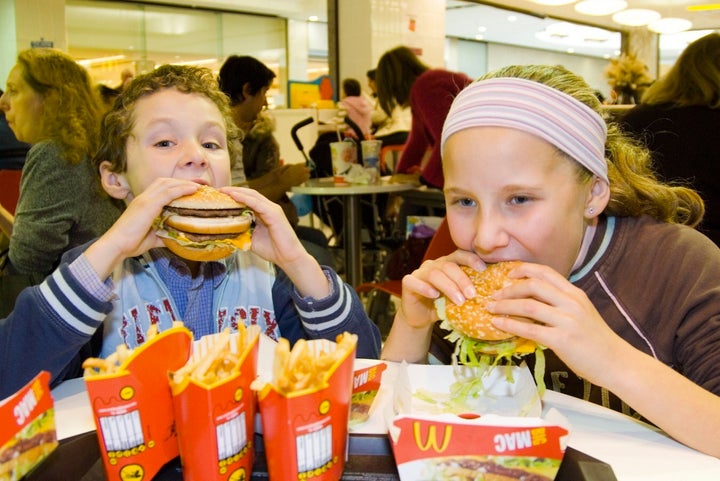 According to a new survey, loyal customers of McDonald's may often be dissatisfied with the fast food behemoth, but that doesn't stop them from going back for more.
The survey, conducted by market research company Consumer Edge Insight, revealed that though only 22 percent of McDonald's customers said that they were "extremely satisfied" by their last visit to the fast food eatery (by far the "lowest score in the survey," according to the Consumerist), McDonald's still enjoyed one of the highest "Intent to Visit Again" scores, with 64 percent of visitors saying that they are "extremely likely" to visit again.
Of the 20 fast food chains on the survey, Chick-fil-A had the highest satisfaction score (66 percent), while Long John Silver's (56 percent) and Whataburger (54 percent) took second and third place, respectively. Subway (68 percent) and Chick-fil-A (67 percent) topped the "Intent to Visit Again" list. McDonald's ranked third.
Visit the Consumer Edge Insight website for more results.
This isn't the first time the waning level of customer satisfaction with the Golden Arches has been cast into the spotlight.
Last year, when Zagat released its Fast Food Survey results, it was immediately clear that McDonald's had fallen in the ranks. Though the chain clinched the title of "Best French Fries," it failed to make the top five "Best Burger" list.
Baffled as to why customers who aren't typically satisfied with McDonald's keep going back for more? "The answer may lie in the other categories of [the Consumer Edge Insight] survey," Consumerist explains.
David Decker, president of Consumer Edge Insight, concurred.
"For quick-service restaurant patrons the most important factors that drive loyalty to a brand are good value and convenience, with low prices and quick-service being very important as well," he said. "McDonald's has a clear image lead on all of these factors… [Its] high repeat-purchase intention scores despite their lower satisfaction scores illustrates the strength of their brand on the attributes that matter most to quick-service customers."
According to the survey, "great-tasting food is only the 8th most important factor in driving [customer] loyalty" to fast food chains.