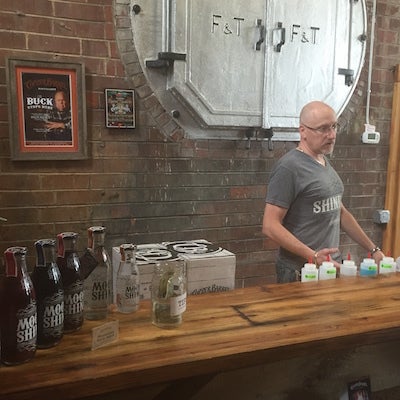 George Smith stood behind the tasting bar, bottle in hand.
The bar is underneath a pair of heavy metal doors, the entrance to the boiler of the old Key City Furniture Co. factory in North Wilkesboro, North Carolina.
"That's where the maintenance crew would climb inside the boiler, scrub it out and inspect it," said Smith, referring to the doors.
Smith is founder and CEO of Copper Barrel Distillery, which for a year has occupied the old factory; some of the original bricks, thanks to Smith, are still part of the building, as is the rooftop silo, which, in the factory days, collected sawdust.
On this cool, cloudy Saturday in March, a curious customer wanted to try all of Smith's moonshine products, including those now available and those that just aren't quite ready, such as the espresso, green apple and creme brule.
Smith poured, and he poured again.
You get a feeling Smith could do this all day, and he probably would. One could only hope to be the thirsty customer on the other side of the bar.
Every tilt of the bottle brought another smooth surprise, another story from Smith. He talked about the recipes and the business. About his still house dog, Domino. Much of the time, Smith talked about Buck Nance, his master distiller. About how Nance's father invented the steam-distillation process Copper Barrel now employs, about how Nance worked on racecars with the great Junior Johnson. About how Nance, who is 70, has distilled liquor for some 60 years, all the while perfecting his unique recipes — which are now collecting all kinds of awards — including a perfectly smooth 96-proof white lightning, the base for the distillery's fruit liquors — strawberry, blueberry, black cherry and red cherry.
Infusing white whiskey with blueberries, for instance, seems a bit unconventional. Strange, even.
"That was purposeful. We wanted to have flavors that are unique. You really get to enjoy the flavor of the fruit."
Buck's best-sellers. Historically, speaking, of course.
"It's the same way Buck has done it," which entails going easy on the sugar, says Smith. "We throw the rye, the corn, the cane sugar into the mash, add the water and yeast so it's five ingredients. That's it."
There's much more to the story.
Nance is a local legend. Smith, however, came to North Carolina from Vermont, where, growing up, he spent a lot of time on a farm. Work brought Smith to Charlotte, where he eventually became president of a local Bourbon club, where he met Bill Samuels Jr. of Maker's Mark. Smith later met Samuels in Kentucky, and Samuels sort of showed him around the place.
"What other industry do you know that people are willing to help each other to get started?" Smith asks. "That's so rare."
Smith returned to North Carolina and told his friends, with whom Smith was bouncing around business ideas. His mind was set.
"When I got back, I told my friends, 'Guys, I'm going to do this … with or without you.'"
Smith made a list of criteria — access to fresh water, local grains, demographics related to tourism, those sorts of things— and visited and ranked some 20 cities in North Carolina before choosing North Wilkesboro, where he met Nance, who planned to help Smith install the equipment and teach him to use it.
"He came to me one day and said, 'George, I don't know if you're interested, but I think I'd like to work with you full-time.' I was shocked," Smith says.
"It's been amazing working with this guy, getting to know him and hear his stories. He's got it down to a science. I couldn't have paid for that type of knowledge and experience. So, for him to offer to basically join as a partner and actually take responsibility for making all our products … ."
The distillery, says Smith, uses the only licensed and operating well within city limits, a crystalline rock aquifer, the resultant whiskey the product of equipment that Nance designed and built.
Copper Barrel is part of the N.C. Distillers Association and a stop on the state's Craft Distillers Trail, a partnership with the N.C. Department of Agriculture and Consumer Services.
"Our product is truly authentic — from the grain to the water, to everything. This is why, I believe, Buck decided he wanted to partner with me. He realized very quickly that we both have a strong regard for integrity."
Copper Barrel is one of three distilleries in Wilkes County; Call Family Distillers and Gambill Creek Distillers are the others.
Copper Barrel, which offers a 10 percent discount for military veterans, celebrates its first anniversary with a special event Saturday, April 16. The distillery is also a must-stop during MerleFest, set for April 28-May 1 on the campus of Wilkes Community College.
The festival, according to MerleFest.org, was founded in 1988 in memory of the late Eddy Merle Watson, son of American music legend and stalwart Doc Watson. "MerleFest is a celebration of 'traditional plus' music, a unique mix of music based on the traditional, roots-oriented sounds of the Appalachian region, including bluegrass and old-time music, and expanded to include Americana, country, blues, rock and many other styles," the website says.
Note: Updated April 25 to add Gambill Creek Distillers.