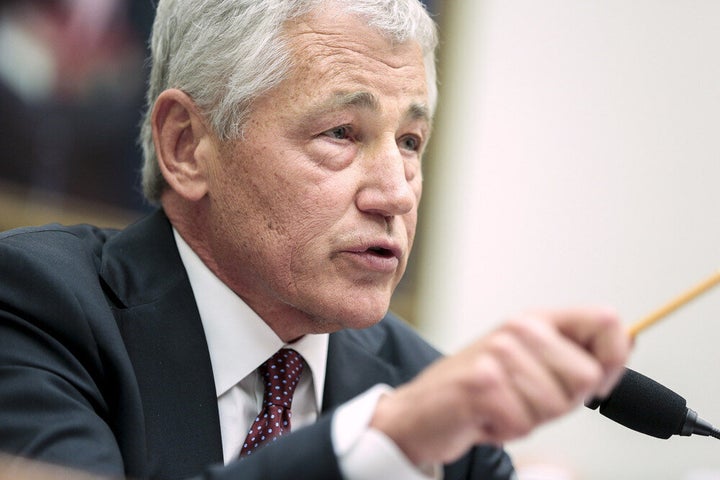 WASHINGTON -- Defense Secretary Chuck Hagel has canceled the creation of a controversial new medal that would have honored drone pilots and cyber warriors, after veterans organizations and members of Congress expressed outrage that it would outrank some battlefield medals like the Purple Heart.
The Distinguished Warfare Medal was approved in February by then-Defense Secretary Leon Panetta, intended to honor members of the military for achievements beyond the battlefield since Sept. 11, 2001. The backlash to the medal centered around the fact that it would have taken precedence over several traditional combat awards, which require that the recipient risk his or her life in order to receive them.
On March 12, Hagel said the Defense Department would be conducting a 30-day review of the medal.
In announcing the decision on Monday, Hagel said in a statement that the review confirmed the need to recognize these post-9/11 achievements and acknowledge the changing nature of warfare, but added that "misconceptions regarding the precedence of the award were distracting from its original purpose." In response, there will be a "distinguishing device" for extraordinary achievements rather than a new medal.
"The Joint Chiefs of Staff, with the concurrence of the service secretaries, have recommended the creation of a new distinguishing device that can be affixed to existing medals to recognize the extraordinary actions of this small number of men and women," he said. "I agree with the Joint Chiefs' findings, and have directed the creation of a distinguishing device instead of a separate medal."
The new designation is similar to the special "V" device that can be worn on certain medals and awards.
"The service men and women, who operate and support our remotely piloted aircraft, operate in cyber, and others are critical to our military's mission of safeguarding the nation," Hagel added. "I again want to thank my predecessor, Leon Panetta, for raising the need to ensure that these men and women are recognized for their contributions."
John E. Hamilton, national commander of the Veterans of Foreign Wars, praised Hagel's decision.
"This decision will clearly keep medals that can only be earned in combat in their high order of precedence, while providing proper recognition to all who support our warfighters regardless of their distance from the fight," he said.
Sen. Joe Manchin (D-W.Va.), who was an outspoken critic of the medal and its rank, similarly praised Hagel on Monday: "This is why I voted to confirm Chuck Hagel as Secretary of Defense -- simply put, he does the right thing."