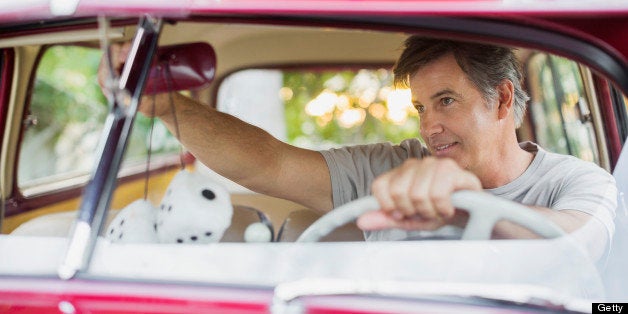 Have you ever told your husband to keep his eyes on the road? Well, there may be a reason he's often distracted while driving.
At the same time, women are twice as good at concentrating on the road, with only 1 percent of women saying they've done a double-take from behind the wheel after spotting an attractive man.
But there are other distractions besides hot passers-by. The other common things distracting drivers are looking at views or landmarks (30 percent), changing radio stations or CDs (21 percent) and using navigational systems (20 percent), with men significantly more likely to be distracted than women. As well as being twice as likely to be distracted by programming navigational systems (men 23 percent, women 13 percent), and rubbernecking (men 15 percent, women 9 percent), men are also more likely to channel hop for a good tune (men 24 percent, women 18 percent).
While being distracted can be an annoyance -- drivers can miss a turn -- losing focus also can be quite dangerous.
"Driving is like second nature to most of us and we forget about the risks of getting behind the wheel. So many modern cars are filled with gadgets to make drivers and passengers more comfortable," said Paul Green, a Saga spokesman, in a press release. "Even the best drivers could inadvertently cause an accident whilst distracted at the wheel, so making sure you have a good comprehensive insurance policy in place to cover any eventuality is essential."
In the United States, Erie Insurance discovered that, of the more than 65,000 people killed in car crashes over the past two years, one in 10 were in crashes where the driver was distracted.
For more information about distracted driving, go here.
What do you think? Let us know in comments.
Calling all HuffPost superfans!
Sign up for membership to become a founding member and help shape HuffPost's next chapter
BEFORE YOU GO
PHOTO GALLERY
Top 10 Car Technologies For Aging Drivers