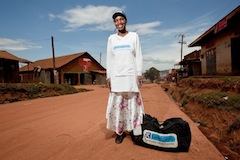 The annual Clinton Global Initiative is right around the corner and it's already got me thinking.
Every year CGI brings leaders from all sectors together to tackle the most important issues of our time. Established in 2005 by President Bill Clinton, the mission is simple: to turn ideas into action. It's always a highlight of my year -- a chance to think big, be inspired, and connect with fellow changemakers. This year's conference theme -- Designing for Impact -- has already got me thinking. I'm reminded that the critical link between design and impact, the key to turning ideas into action, is often overlooked: distribution. More specifically, designing sustainable and scalable distribution systems that can bring high-impact products and services to those who need them most. At Living Goods we apply all of our creativity and energy to designing solutions that can take on this big hairy challenge. It's where we've turned our ideas into action over the last few years and, for me, it's the missing link between good design and real impact.
Retailing in poor countries is almost perfectly fragmented; sellers have no buying power and distribution entails excessive layers of distributors and re-sellers who each pile on profit margins and transaction costs. The result? Consumers in emerging markets suffer from high prices and poor access to life-enhancing innovations. Consumer goods in these markets don't benefit from the economies of scale that we take for granted here in the U.S. -- the efficiencies that drive prices down for consumers while still supporting robust margins for retailers. Consequently, many innovative new products like clean cook stoves, solar lamps, and fortified foods are not realizing their full impact potential. Smart product design isn't enough to achieve massive impact. To ignore the challenge of distribution and marketing is to ignore the very objective of impact.
As stated in the 2010 Booz and Co. report on Global Innovation, "there is a substantial gap between most companies' ability to create innovative new products and their ability to successfully take them to market." Product commercialization and distribution is not a problem unique to the Base of the Pyramid. But it is exponentially more challenging. That's where Living Goods comes in.
Inspired by successful direct-selling models like Avon, Amway and Tupperware, we are designing a sustainable platform to dramatically scale access to a broad range of life-changing products for people living in poverty. Living Goods' networks of "Avon-like" micro-entrepreneurs go door-to-door teaching families how to improve their health and wealth while selling life-changing products like treatments for malaria and diarrhea, fortified foods, clean cook stoves, and solar lights. We leverage the buying power of thousands of franchisees to cut out multiple layers of resellers, delivering better margins for our agents and lower prices for customers. Items are always in stock. Customers buy from neighbors they know and trust. Innovative new products can easily take advantage of our already established distribution networks instead of starting from scratch.
In recent years clever designers have innovated a wave of high-impact pro-poor products. But very few of these have successfully cracked the code leading to broad distribution. The New York Times just highlighted this very challenge in an article on Sprinkles, small sachets containing a blend of micronutrients in powder form that give iron-deficient children the nutrients they need to avoid anemia. Invented in the 1990s, today just 13.6 million of the world's 300 million iron-deficient children have access to the product. Sprinkles have recently joined our product line, and our agents sell them alongside other products whose designers faced the same distribution challenge. We also distribute products from d.light, Barefoot Power, and Greenlight Planet who create solar energy solutions for the one in four people on the planet living without reliable electricity, helping them stay active after the sun goes down, and putting an end to the use of expensive, dirty, and dangerous kerosene. We also sell clean-burning cook stoves from Envirofit and Ugastove, designed for the more than 3 billion people in the world who cook with open fires. These cook stoves save customers money through reduced fuel costs, reduce emission of pollutants that can cause respiratory illnesses, and bring relief to local forests, which are being exploited for fuel. Our micro-franchise model brings every one of these products to the doorsteps of poor consumers across Uganda, marketing their benefits and selling them at affordable prices.
Of course, distribution does nothing without demand. But there is no clear path to penetrate the Base of the Pyramid. That's why rapid innovation is a core philosophy of Living Goods. We believe that continuously testing new products, pricing, incentives, marketing, and consumer financing is the only way to crack the code to massive, sustainable impact. One of our recent tests was a free trial to convert cautious customers into buyers of new high impact home technologies like solar lights -- initial tests converted over 60 percent of "triers" into buyers. We also use mobile technology to broadcast time-limited product promotions. A Living Goods SMS marketing campaign promoting a sale on high efficiency cook stoves drove a 300 percent increase in cook stove sales. In just over a year, Living Goods drove penetration of clean cook stoves to over 50 percent of families in the villages we serve. This is exactly the sort of impact we strive for and aim to grow over time with new products and new markets.
At Living Goods we are aiming to radically disrupt the status quo and bring game-changing improvements to the lives of the poor. Even if we are wildly successful we can't possibly deliver that scale of change alone. That's why we open our playbook to the world. We're open-sourcing our model, methods and tools and we encourage visionary consumer businesses, ambitious social entrepreneurs, and forward-thinking NGOs to learn from us and deliver vital products and services to the billions of people living in poverty. To accelerate this effort we launched a replication services team to support collaborations with like-minded partners across all sectors. We're looking for partners to join us in building a thriving consumer market in severely underserved communities. No one company, NGO, or government can do this alone.
The challenge ahead is daunting, but the opportunity to design distribution platforms that better serve the billions of people living in poverty is at hand. I remain determined that together we can close the gap between design and impact -- turning ideas into action, and giving billions of people access to smart new products that can change their lives.
Photo credit: Esther Havens
Follow Chuck Slaughter and Living Goods on Twitter @Living_Goods.
Calling all HuffPost superfans!
Sign up for membership to become a founding member and help shape HuffPost's next chapter