Counter-Conference for Safety & Liberation. Video by Christen Hill.
Rep. Keith Ellison sees white supremacy as a tool to get white people to vote against their own self-interests. "How else would you get a farm worker to defend the use of free labor in the civil war? It's why so many people are willing to reduce wages, services and programs that they themselves rely on today." Ellison said. "Ending white supremacy would improve the lives of all Americans."
As if to prove his point, police shot another unarmed civilian in the last few weeks. This time, however, the victim was Justine Damond, a white woman from Australia and the officer was Mohammed Noor, a black man of Somali descent. This in the wake of the acquittal of Jeronimo Yanez, the officer who killed Philando Castillo in front of his family. How district attorneys and city officials handle the two cases will either expose racial bias or finally demonstrate that no one is safe if police are allowed to act as if they are above the law.
Prosecutors are part and parcel of holding police accountable. They need to recognize they have a critical role to play in breaking down a criminal justice system that treats black and brown people unequally in order to support white supremacy.
"We need prosecutors who will pursue cases against officers who have broken the law and conduct proper investigations rather than whitewash their cases," Rep. Ellison told the Black Freedom Cohort, a collective of racial justice organizations from around the country, at their "Safety and Liberation Counter-conference" in July. The conference brought together hundreds of activists to examine the nature of safe communities and chart a course to our freedom from the insanity of our current police state. Activists organized a counter conference in Minneapolis in response to the National District Attorneys Association (NDAA) convention, which held its annual conference in the city at the same time.
Not long ago, activists might have appealed to the president or demanded equal protection from the Department of Justice. In the world we now find ourselves, President Trump encourages police to slam suspects' heads into car doors and his Attorney General, Jeff Session, decides not to pursue civil rights investigations. The NDAA convention was a rare opportunity to impress on state and county prosecutors the urgency and severity of the situation. The activists staged a rally to demand that the district attorneys hear our demands.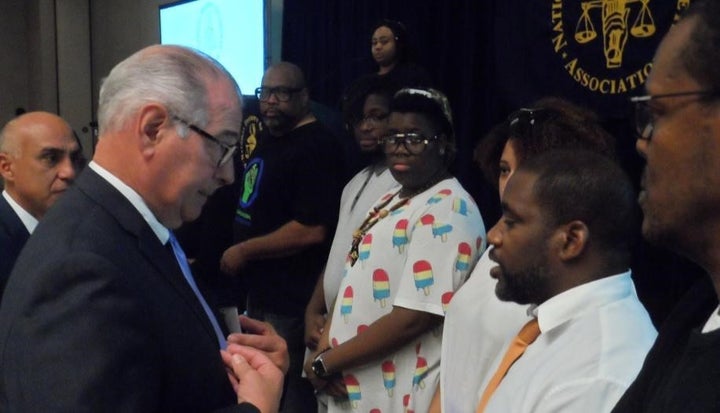 A dozen activists marched into the NDAA convention hall to present an oversized petition signed by the 200 protesters gathered in the hotel lobby downstairs. They arrived during a lull in the meeting. Tanya Watkins of SOUL from Chicago took the stage. "Prosecutors are supposed to ensure justice for the people and not protect corrupt systems," she said. "It is our belief that many of you have failed to uphold justice for black and brown communities."
Watkins then listed our demands to change fundamentally the criminal justice system so it treats black and brown people fairly:
Advise NDAA members to commit to establishing and fully funding pre-arraignment diversion programs that allows people arrested for petty offenses, including low-level drug possession or sale, to get the help and support they need without needlessly exposing them to the consequences of a criminal conviction.
Encourage all NDAA members to end the practice of direct file, which automatically places juveniles in adult courts.
All NDAA members should commit to considering immigration consequences for defendants as part of determining what to charge, and not prosecute immigrants for minor offenses.
Advise members to commit to using independent prosecutors to investigate cases of alleged police brutality.
All NDAA members should support an end to monetary bail and use a risk assessment system to determine when someone needs to be incarcerated.
All NDAA members should develop a restorative justice program in their county that will serve as an alternative to incarceration, including for those people that commit violent offenses.
NDAA President-elect and Hennepin county attorney, Michael Freeman tried to negotiate for a smaller meeting with fewer activists. The delegation's last offer was for the DAs to come downstairs and renounce their endorsement of Sessions as Attorney General. When they could reach no agreement, Freeman adjourned the convention for the day and dismissed the DAs from the hall. While their demands were not yet met, it was a clear demonstration by the Black Freedom Cohort that without justice, there will be no peace.
The direct action took place on Philando Castillo's 33rd birthday. While the NDAA may not have considered this fact, its significance was not lost on Aja Henry, a lesbian Pan-Africanist who took part in the protest that followed and felt emboldened by the experience. Police shot Castillo a block over from her grandmother's house. Officer Yanez has stopped Henry's brother several times. Henry, who lives in the diverse, working-class, North Minneapolis neighborhood of Robinsdale, said unwarranted stops by police are common. "They roll up in unmarked cars and ask 'Where you going?' It got worse when I got involved with the Black Liberation Group." Henry was attracted to the group's effort to protect the Somali population but drew the line when they invited her to join their gun club and take part in weapons training. "That's when I hooked up with Take Action Minnesota. They showed me there are other ways to fight back."
Erik Shelley is the communications coordinator for Michigan United, a coalition working to reform our broken immigration system, advance housing justice, protect the rights of low-wage workers and develop leadership. Go to Michigan United for more information.
Popular in the Community